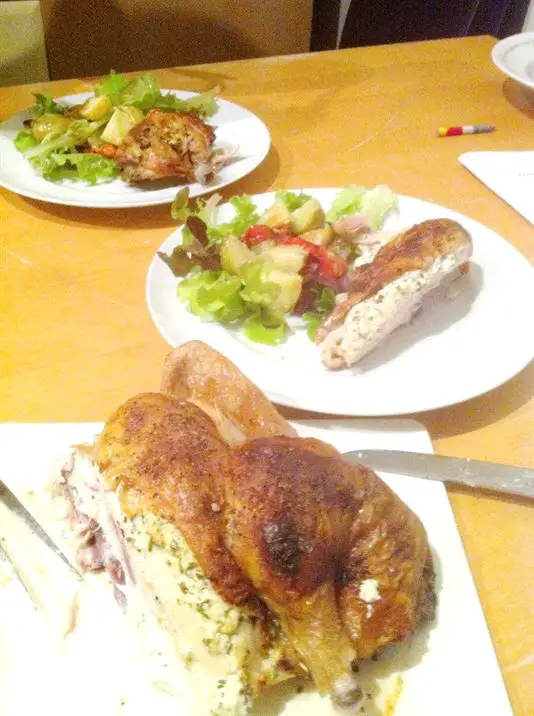 This is a quick and simple way to have a lovely Sunday roast without all the stodge. The cheese melts into the flesh, keeping it incredibly succulent and moist and the skin becomes almost like crispy crackling
(Btw Ive added this to @Maris_World  Linky #FoodieFriday. Why not pop over for some other ideas).
Serves 2-4
1.5kg free-range chicken
100g mild goats cheese
2 garlic cloves, crushed and finely chopped
1 tbsp fresh thyme leaves, finely chopped
1 tbsp fresh flat-leaf parsley, finely chopped
Squeeze of lemon juice
Salt and freshly ground black pepper
1. Preheat the oven to 200C/Gas 6. Rinse the chicken inside and out with cold running water.
2. Make the stuffing by mashing the goats cheese, herbs, garlic, salt and pepper together in a small bowl.
3. With a pair of kitchen scisssors, carefully remove the backbone. Reserve to make stock later.
4. Open the chicken out, breast side up, onto a chopping board, and flatten using the heel of your hand.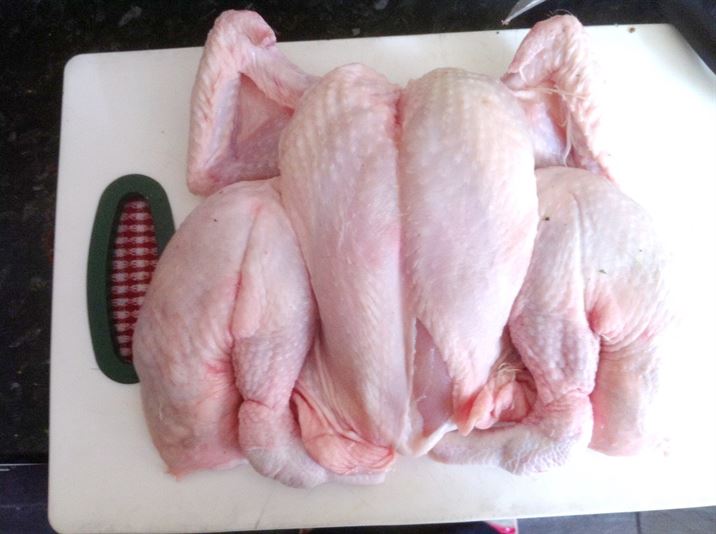 5. Using your fingers, carefully pinch the skin of the chicken away from the breast and leg meat, then create pockets by inserting your fingers between the skin and meat. Take care not to tear the skin.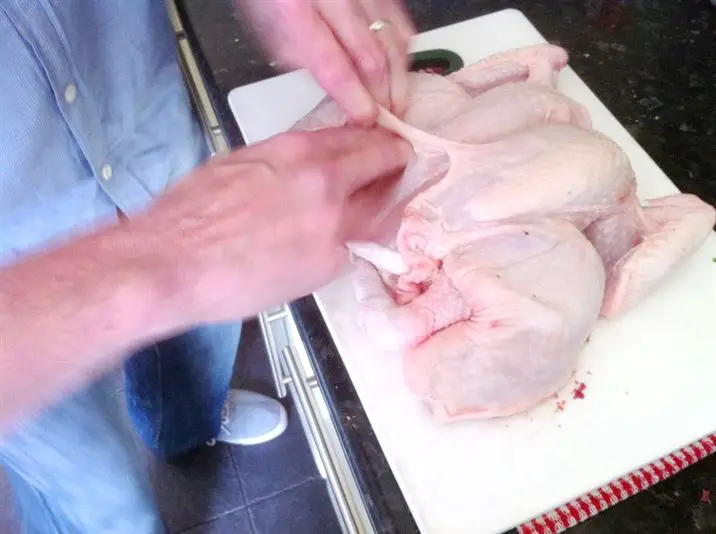 6. Insert spoonfuls of the stuffing mixture into the pockets youve created. Pull the skin over so that all the stuffing is sealed.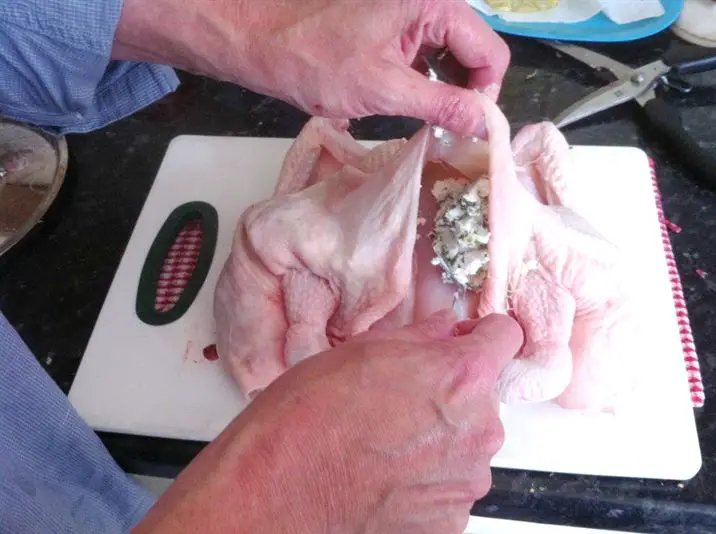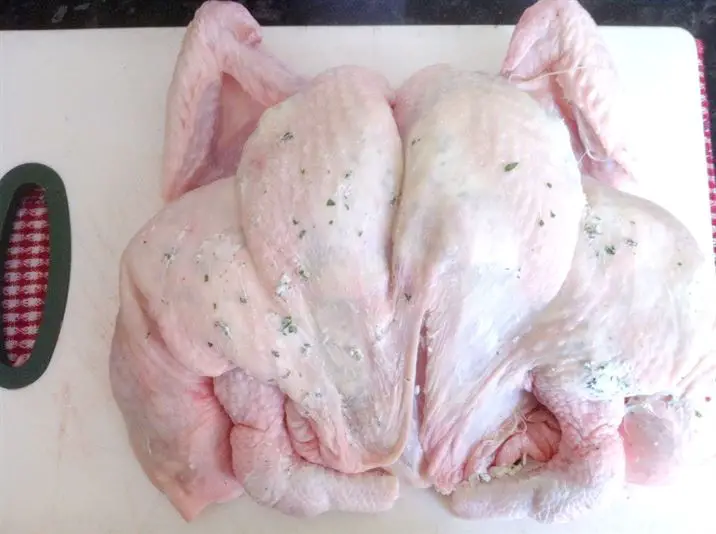 7. Place the chicken on a roasting tray and roast for 45 mins. To check its cooked, insert a skewer into the thickest part of the leg. If the juices run clear, its done.
8. Leave to rest for 20-25 mins. Carve into portions.
Serve with warm new potato salad and a dressed salad of lettuce and roasted peppers.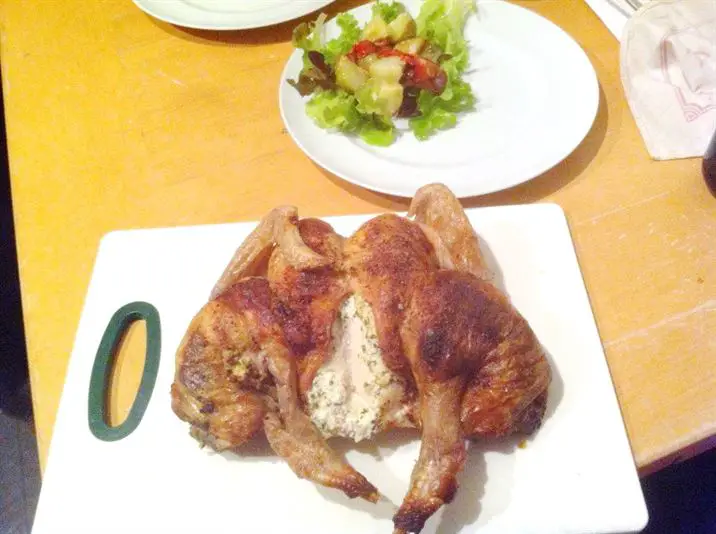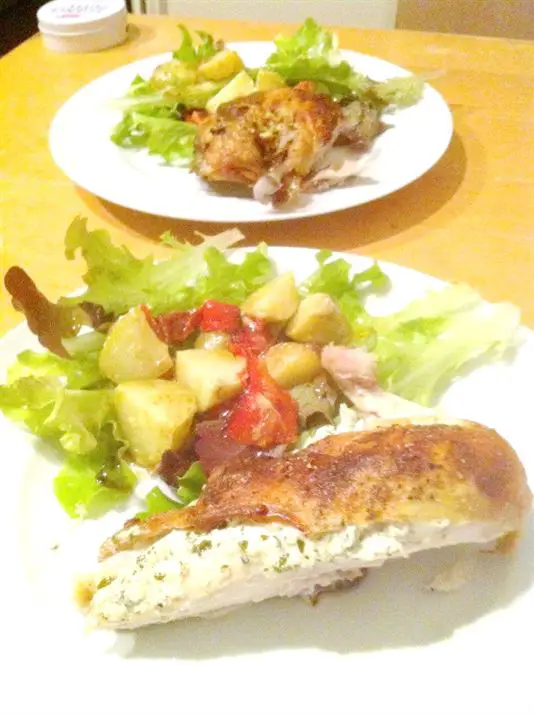 Do you have a great stuffed recipes? Add it to the Linky below. Thanks..
Mister Linkys Magical Widgets " Auto-Linky widget will appear right here!
This preview will disappear when the widget is displayed on your site.
For best results, use HTML mode to edit this section of the post.