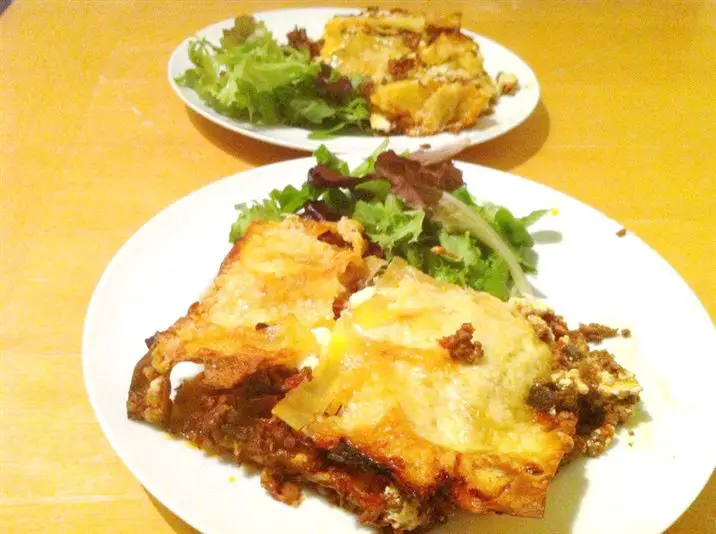 I have @DawnLindsell to thank for the first part of this recipe, and my obsession with cheese for the second part. I know most lasagnes are made with a Bechamel sauce, but Ive always found these too creamy and thus I've never been keen on lasagne. Far too sloppy for my liking. However, I thought Id give it a go with three cheeses to see what the result might look and taste like. OK, looks-wise, it leaves something to be desired. But it can't be topped on the taste front, trust me.
Serves 2, but double the quantities for 4
2 tbsp olive oil
250g lean mince beef
1 onion, finely chopped
2 garlic cloves, crushed and finely sliced
2-4 dried chillies
1 Portobello mushroom, chopped into chunks, or a handful of button mushrooms, halved
200ml beef stock
1 can chopped tomatoes
2-3 tbsp tomato puree
1 tsp dried mixed herbs
1 tsp dried oregano
1 tsp black pepper
4 sheets lasagne
100g grated mozzarella
100g ricotta
100g Parmesan
1. In a large frying pan, heat 1 tbsp oil and brown the mince. Drain, reserve and wipe the pan clean.
2. Add the rest of the oil to the pan and gently fry the onion and garlic until softened. Add the mince, then the tomatoes, puree and stir to combine. Add the herbs, pepper, stock and chillies. Bring to the boil, then transfer to a slow cooker or casserole dish.
3. If using a slow cooker, cook on Low for 2-3 hours. If using a casserole dish, cook in a low oven (160C/Gas 3) for 2-3 hours. The mixture needs to be moist but not watery. If there is still too much liquid, transfer to a pan and reduce the sauce to the right consistency.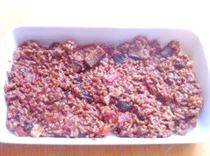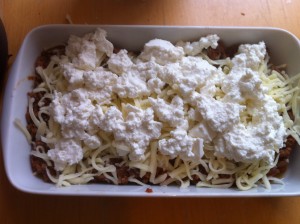 4. In a baking dish, spoon the mince mixture into a layer, approx. 1 cm deep. Cover with a layer of lasagne sheets. Scatter over the mozzarella and crumbled ricotta. Add another layer of mince, then another layer of lasagne. Scatter over the Parmesan and cover with tin foil.
5. Preheat the oven to 180C/Gas 4. Cook the lasagne for 40-45 mins, then remove the foil and cook for a further 10 mins until the cheese on top is bubbling. Unfortuantely (as you can see from the picture) my foil stuck to the cheese and half of it came away when I removed the foil.
6. Serve with green salad leaves and hunks of garlic bread.