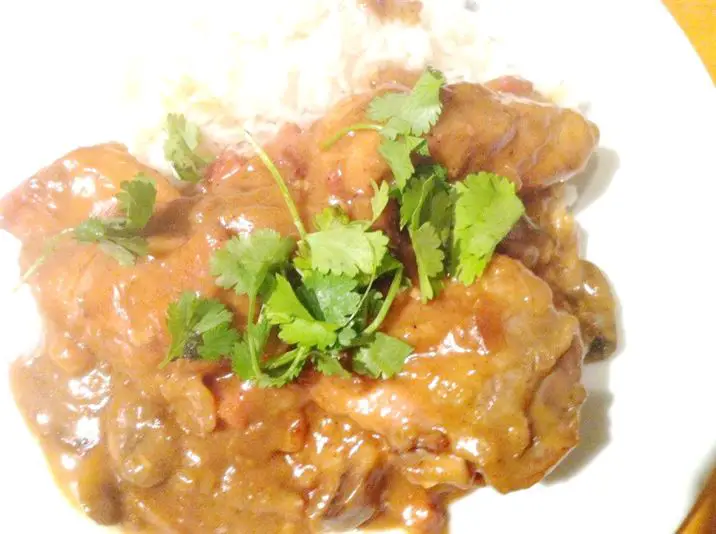 This is a deep, rich, luscious beast of a dish. A classic winter warmer. The chicken falls of the bone and the sauce is so unctuous you could spread it on toast. 
4 chicken thighs, skin on
Salt and black pepper
1 tbsp plain flour
100g unsalted butter
1 onion,  peeled and sliced
1 leek, white part only, sliced
2 garlic cloves, peeled and bashed
200ml sherry
300ml chicken stock
200ml double cream
4 sprigs thyme, leaves picked
100g button mushrooms, quartered
To finish and serve
100g Pancetta lardons
10g Parmesan cheese, finely grated
10g Gruyere cheese, finely grated
1 tsp Dijon mustard
Fresh parsley
1. Season the chicken thighs with salt and pepper and dust with a little flour.  Melt half the butter in a casserole dish and sear the chicken until golden brown. Remove the chicken from the pan and set aside.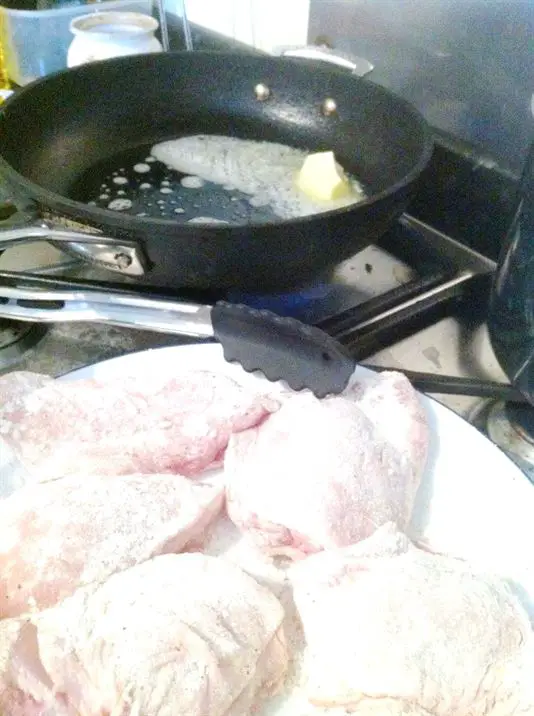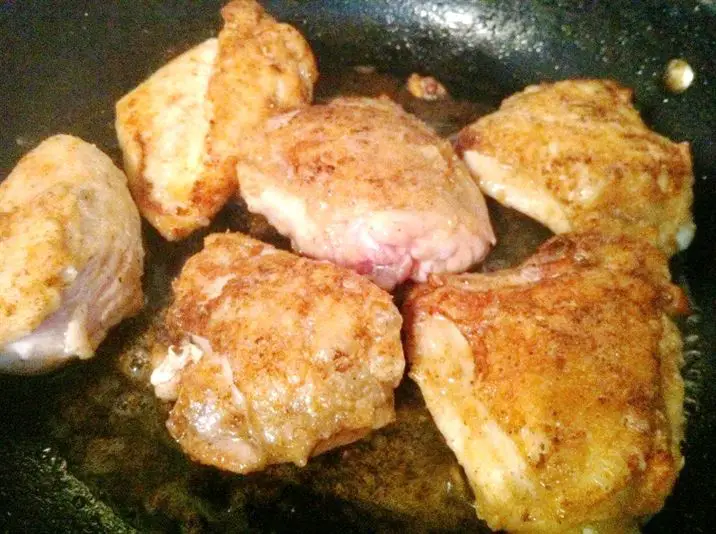 2. Add the onions, leek and garlic to the pan and cook until translucent, approx. 15 mins.
3. Preheat the oven to 100C/gas 1. Pour the sherry into the onion pan and bring up to the boil. Set alight to burn off the alcohol. When the flames have died away, reduce the heat, add the chicken stock and cream, and simmer for 20 mins.
4. Return the chicken to the pan and bring to a simmer. Cover the casserole dish and place in the preheated oven for 45 mins or until the chicken is completely cooked. Allow the chicken to cool in the liquid.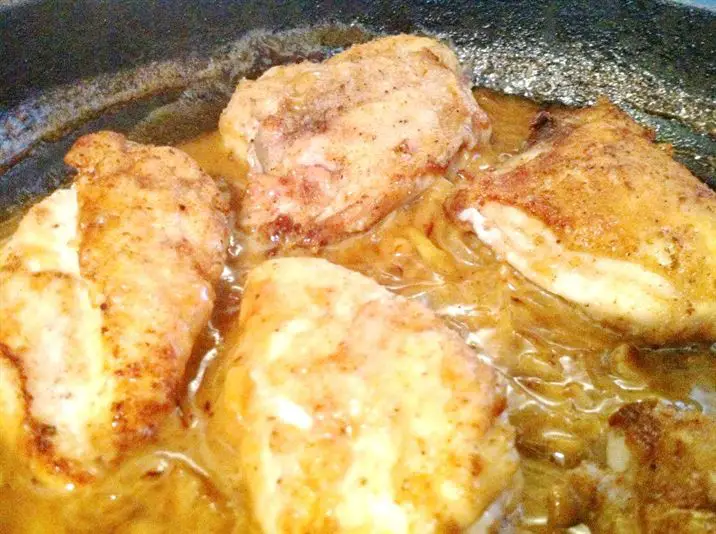 5. Once cool, remove the chicken from the pan. Strain the sauce through a fine sieve and discard the vegetables. Place the sauce back in the casserole over a high heat and boil to reduce by half, skimming off any impurities that rise to the surface.
6. In the meantime, in a frying pan, melt half the remaining butter until foaming, and add the mushrooms. Caramelise to a golden colour, approx. 15 mins. Add the mushrooms to the casserole with the reduced sauce and simmer for 2 mins.
7. Wipe the frying pan and, over a medium heat, render the fat out of the lardons until they are soft, approx. 10 mins. Remove the lardons and drain on kitchen paper.
8. To serve, add the Parmesan, Gruyere and mustard to the casserole. Season with salt and pepper. Add the chicken thighs, stir, and place over a medium heat for 10 mins to warm them through. Garnish with the lardons and herbs.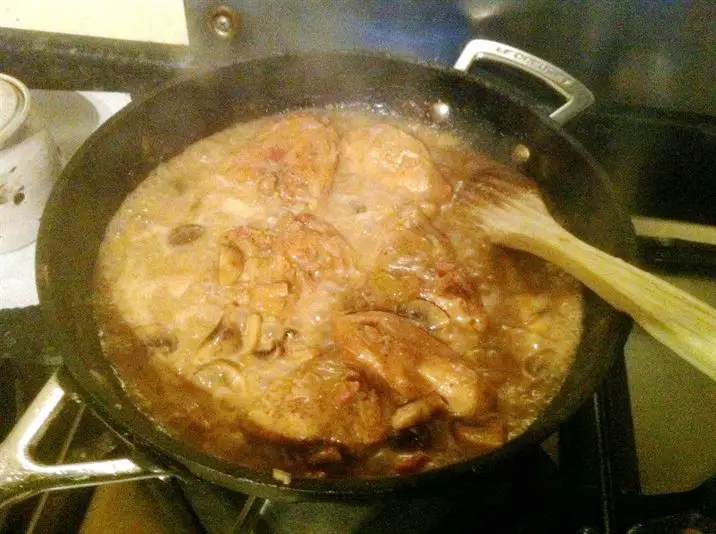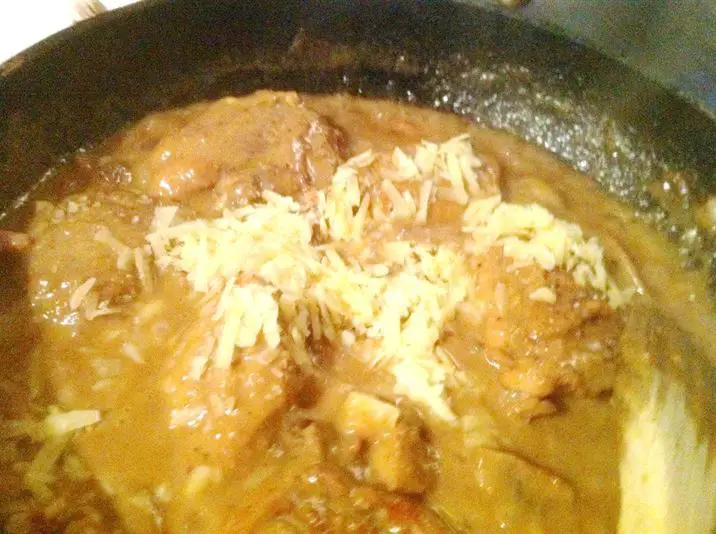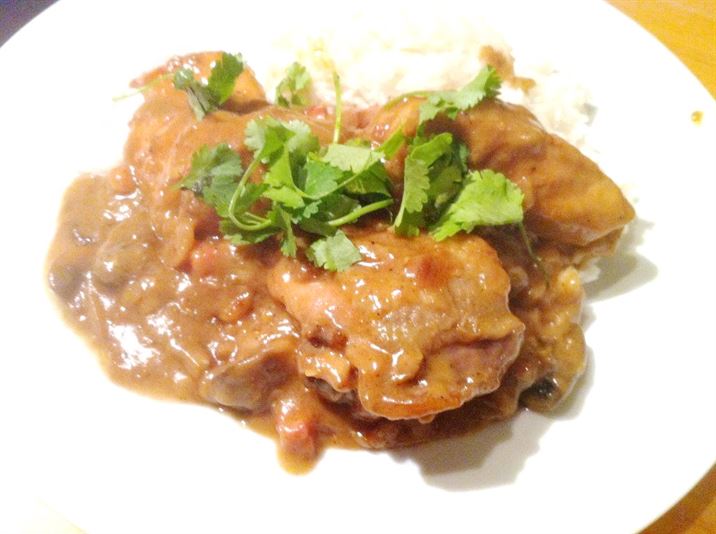 Would you like to share a CHICKEN dish? Add it to the Linky below¦
Mister Linkys Magical Widgets " Auto-Linky widget will appear right here!
This preview will disappear when the widget is displayed on your site.
For best results, use HTML mode to edit this section of the post.