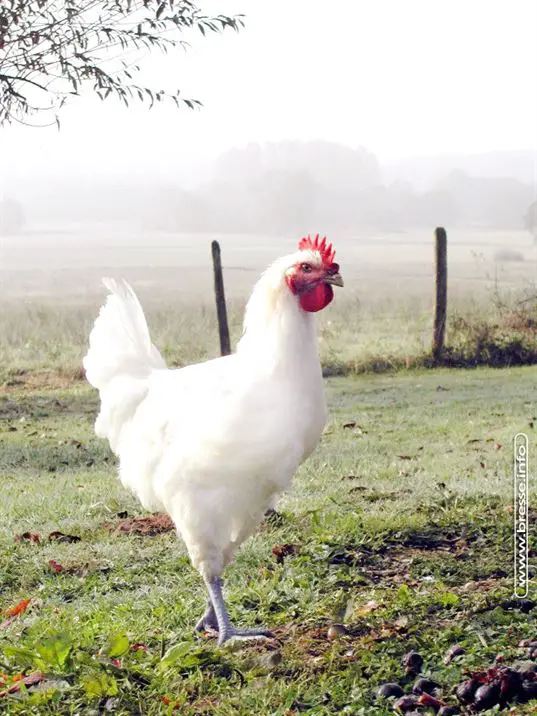 My family eats a lot of chicken. Always free-range, often organic pricier than battery birds, but a price worth paying for a clear conscience.
This stance was reiterated by posts Ive read by top foodie blogger Rebecca, of EnglishMum fame, who is passionate about animal welfare.
This ignited a chain reaction in me. I wanted to source the best chickens possible, both in terms of welfare standards and eating experience.
That search led me to the undisputed King of Chickens, the Poulet de Bresse, from the Lyon region of France.
It was Heston Blumenthals book In Search of Perfection that got my juices flowing about le Bresse, although his search was a tad more adventurous than my Google exploration.
In his chapter on Roast Chicken, he hopped across the channel to hunt down the only A.O.C accredited birds in the world. This means that only those raised in and by the standards of Bresse are allowed this badge of excellence, much like Parma ham can only come from Parma.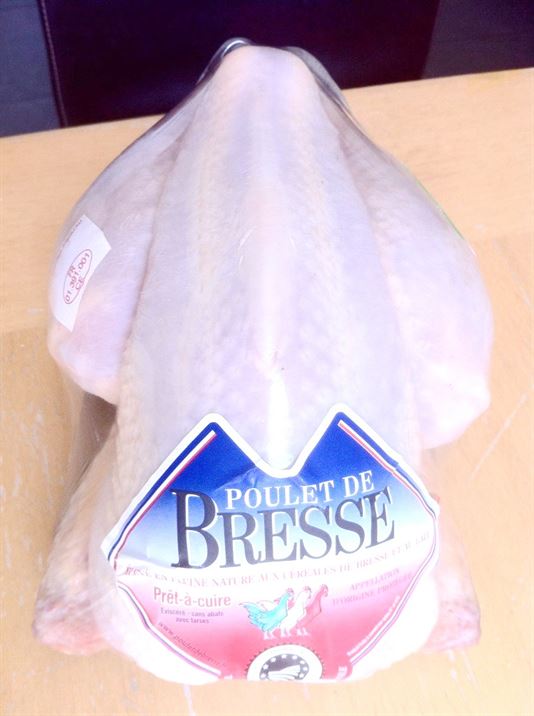 I then read about Simon Hopkinsons love of the beautiful blue-legged Bresse in his best-sellling book, Roast Chicken and Other Stories.
After devouring these accounts, almost drooling with plaudits, I had to have one. Im more than happy to spend up to 15 for the most important meal of the week the Sunday roast and I do so by sourcing my birds from my local farmers market, where Fosse Meadows organic chickens are sold.
These are good brilliant, in fact, and worth every penny but are they perfect?
I had to find out. Enter, by the wonderful tool of tinternet, Gareth Jones. His food blog is one of the best Ive ever read, his depth of knowledge extraordinary, but it his passion for the magnificent Bresse that is infectious.
His post Eggs on Legs made me even more convinced that I had to experience the whole journey and go super-organic.
I dropped him a line and asked his advice on how I could get my hands on this perfect poulet and to share his wisdom on the best way to cook it. Given the additional cost I was expecting to pay, I wanted to make sure I got it 100 per cent right.
I wont paraphrase our email exchanges, because I couldnt possibly do justice to the mans contagious enthusiasm for the subject. Instead, I re-publish them here.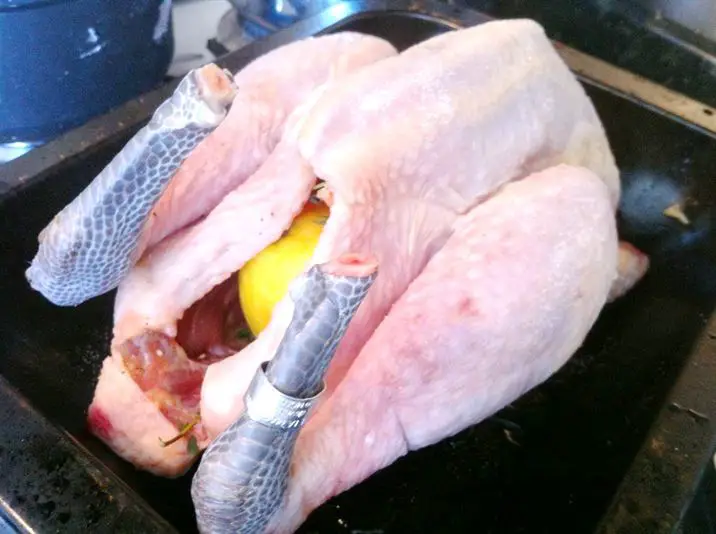 Hi Gareth,
Ive been looking for Poulet de Bresse. Your blog came up on a Google search. I was wondering if you had a recommendation for how to get my hands on one of these beauties.
Many thanks.
Keith
Hi Keith, thanks for the compliment.
Poulet de Bresse is something really special. The poulet is just part of the Bresse family for Christmas theres Chapon and Poulardes en roule.
In London, Harrods, Allens of Mayfair and a few other places sell Bresse birds. Cooking a Bresse bird is critical too they are around 120 days old and raised free range on a white maize and milk rich diet. This gives them their incredible texture and flavour. They need careful handling in the kitchen. I adore them and the entire farming community in Bresse who make me so welcome. The Poulet de Bresse is the worlds only AOC bird.
Look at their website: www.pouletdebresse.fr
The bird must be fresh, fresh. The skin must be without any drying out, but not wet like a British hybrid Egg on Legs (that includes 90%+ of ALL supermarkets birds, including Free Range and Organic).
Let me know how you found your first manifique Poulet de Bresse
Best
Gareth
Hi Gareth,
I found this online a chicken would cost around 32.
Expensive, but seems reasonable given the superiority.
http://www.frenchclick.co.uk/p-3982-poulet-de-bresse-10-20kg.aspx
Keith
Hi Keith
Not over-priced Harrods sometimes has them for around 25 pounds (laptop not allowing pound sign this morning!). Freshness is essential. Dont see Poulet de Bresse as chicken its a Poulet de Bresse 120 days old, pure breed, AOC, limited production (around 350,000 pa in total).
Industrial chicken companies like Moy Park and Cargill who make their money from Eggs on Legs will slaughter +7 million each per week in this country.
Your toes in the water time to dive in Id say!
Best
Gareth
Hi Gareth,
My blue-footed beauty has arrived and I plan to cook it for Sunday lunch.
Before I do so, though, yours words dont see it as chicken have been ringing in my ears.
Ive cooked chicken in the traditional way lemon, garlic, tarragon/herbs, in a hot oven to crisp the skin before lowering the temperature for 1 hour, and then rest etc and Ive tried Heston Blumenthals perfect technique a couple of times, which involves brining, rinsing, then low-temperature cooking for six hours, before browning the skin in a hot frying pan.
The latter produces extraordinary results, but no juices; the former is fool-proof and failsafe.
If you get a moment before Sunday, I would be very grateful if you might share a tip or two.
Many thanks,
Keith
Hi Keith,
First thing to remember is the Bresse bird is more muscled so will need 10-15 mins more roasting time than same size regular Free Range birds.
I was trained to always remove the wishbone I think thats on the site somewhere. All simple to do: using your sharpest knife, lift the neck flap (ie skin) and find the wishbone then run the blade up the bone on both sides until you can feel where its attached to the breast bone either pull it away with your thumb and forefinger, or use the knife to cut through the gristle. You want to remove the wishbone as clean as possible, doing as little harm to the precious breast meat.
Wishbone removed makes carving, French or English fashion into a dream task.
Roasting: what you do sounds good and classic (tarragon is herb is personal choice; mine is usually thyme).
Anyway, the method: make sure the bird is as dry as possible inside and out. Place a good sprinkle of coarse sea salt into the cavity truss the bird tightly and lightly sprinkle the outside again with coarse sea salt (Le Guerande would always be my choice here).
Heat the oven to 220C place the bird in the middle to roast unbasted, un-anythingd. Drop the temperature to 180C for the last 15 mins. An average table bird of 1.5/2kg will be roasted within the hour slightly longer for a fine bird like a Bresse. Never prick the thigh as just about evefry Brit sleb chef will tell you instead slight tip the cavity juices out just enough to see if theyre pink or clear. If pink the bird needs another few minutes.
The flesh will be moist and the skin crisp the bouquet exquisite. They are the three reasons we eat chicken and the three criteria on which to judge chicken.
All to do is rest the bird for 15 minutes under a foil tent ie not touching the bird, but instead allowing the air to circulate.
Sauce is you and your familys affair, but Im happy to make suggestions if asked.
You now have all day tomorrow to choose a wine that honours the Bresse Poulet. Bresse is in south Burgundy so is Macon and the Cotes du Maconnais. Thats just a suggestion white or red.
Salut.
Gareth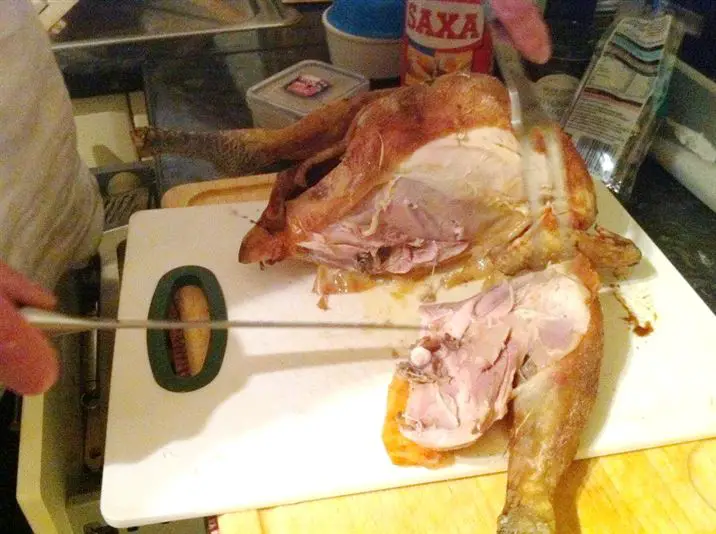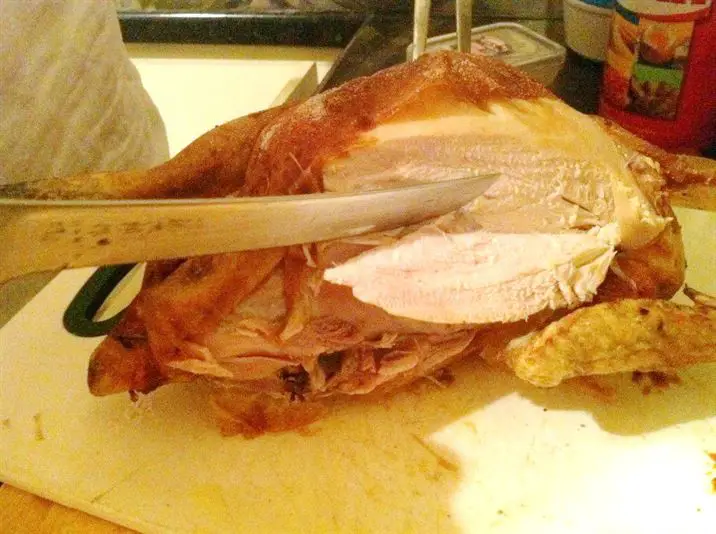 So that was the insight and advice but what was the reality?
The Bresse duly arrived by courier on Friday morning and was handed over like a bank manager hands over his takings to Securicor. This was precious cargo, and no mistake.
I opened the packaging to reveal the familiar tricolore labelling that I had by now seen on many a website. But further than that, once Id unwrapped the bird, was a ring on its leg, a tag on its thigh, and a label on its skin all badges of quality control.
What struck me first about my 1.5kg Bresse was the colour of its legs they were blue-black. But the next thing was how meaty its thighs were, and how long and slender were its breasts. Those legs had done some serious exercise, searching for grubs and insects; the lack of volume in the breast suggested a marathon runners physique and nothing like the bodybuilder pecs you see on a supermarket bird.
I followed Gareths instructions to the letter and was rewarded with a taste that took me back to my childhood: It tasted of CHICKEN!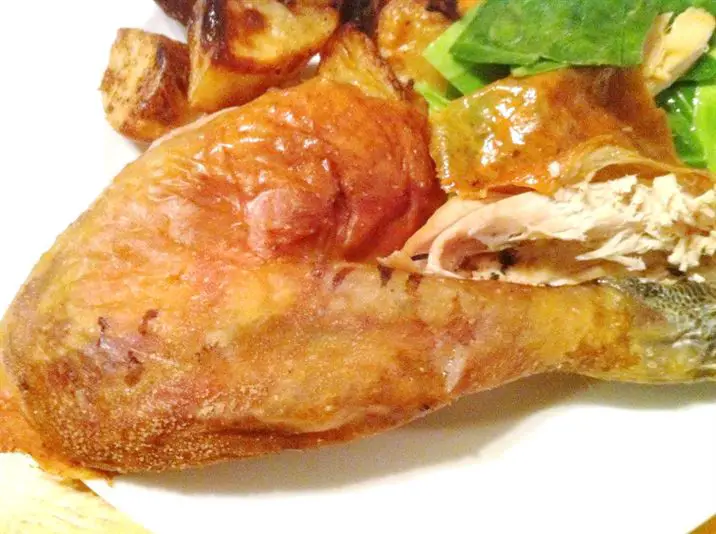 Not the bland vehicle for other flavours so many of us have got used to in modern-farmed chickens, but CHICKEN yer actual fowl that was brought to the West from Far East Asia centuries ago.
The skin was as thick and crisp as something that had came out of a snack bag. The leg meat was dense, yet tender, dark and strongly-flavoured, with a hint of gaminess, and fell away from the bone; the breast meat was more subtle in taste, almost delicate, but never bland. If Im honest, I think Id left it in the oven for 10 minutes too long because, although the legs were perfectly cooked, the breast was a tad dry.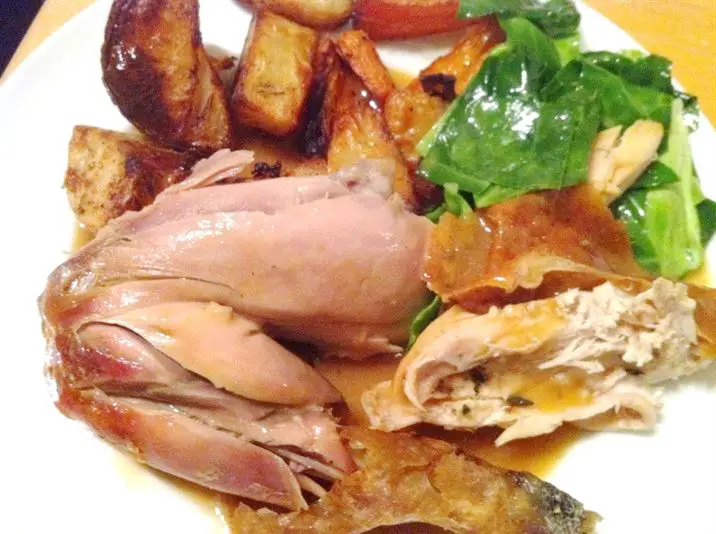 However, this was redeemed by the wondrous juices that had accumulated in the pan the pure essence of chicken, combined with the zinginess of the lemon and the fragrance of the thyme and garlic Id stuffed into the bird. It made a stunning gravy, requiring no thickening. And a couple of spoonfuls took the chickenyness of the Bresse meat to another level.
By now, youve surely gathered that I was sold on the Bresse before Id even tasted it, and so my verdict may be skewed by bias.
So I asked my wife, whose reaction to me paying 32 for a chicken was HOW MUCH? This had better be worth it.
And her verdict?
The best chicken Ive ever tasted, she declared, as she ran her finger across her empty plate to mop up the last drop of gravy.
My search for Chicken Perfection is over. I found it…in Bresse.