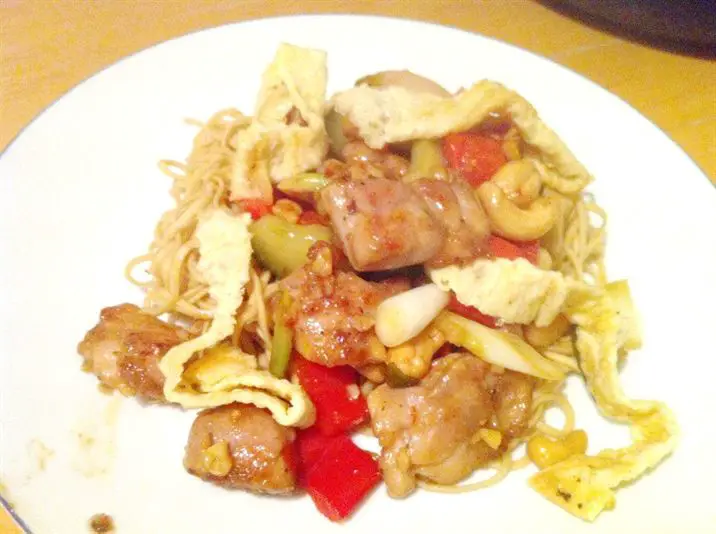 Our quest for healthy eating this month (and this month only) continues with this delicious take on the classic Indonesian dish, Nasi Goreng. Hope you enjoy it. We did!

(Btw, this is the first time Ive joined in with @Maris_World Linky #FoodieFriday. Why not pop over for some other ideas.)

Serves 2

4 skinless, boneless chicken thighs, chopped into chunks
2 tbsp Teryaki sauce
1 tsp cornflour
1 tsp ground black pepper
3 tbsp sunflower oil
1 egg, beaten
3 garlic cloves, finely chopped
Thumb-sized piece of ginger, peeled and finely chopped
3 red Thai chillies (the very small, slim ones), deseeded and finely chopped
1 red pepper, deseeded and roughly chopped
3 spring onions, white part only, roughly chopped
1/4 cucumber, deseeded and roughly chopped
2 tbsp cashew nuts or peanuts
1 tsp fish sauce
1 tbsp lime juice
1-2 tsp brown sugar
1 tsp dark soy sauce
Dried medium noodles, enough to serve 2 people

1. In a bowl, mix the cornflour, pepper and Teryaki until smooth and velvet the chicken by thoroughly mixing together. Put in the fridge for 1 hour.

2. Heat 1 tbsp of oil in a large frying pan until smoking hot and stir-fry the chicken for 6-7 mins until just cooked. Remove with a slotted spoon, transfer to a plate and set aside.

3. Wipe the frying pan clean and heat 1 tbsp of oil then add the beaten egg, swirling around so that it covers the bottom of the pan, to make an omelette. Cook for 1-2 mins, then transfer to a plate, slice into ribbons and set aside.

4. Wipe the frying pan clean and heat 1 tbsp of oil and gently cook the garlic, ginger and chillies until soft, about 3-4 mins.

5. Add the spring onions, peppers, nuts and cucumbers and stir-fry for 1-2 mins. Now add the fish and soy sauces, lime juice and sugar. Return the chicken to the pan and cook for 2-3 mins until the sauce has almost evaporated.

6. Meanwhile, bring a large pan of water to the boil and cook the noodles according to packet instructions, approx. 3 mins.

7. Stir the noodles into the rest of the ingredients.

6. Garnish with the egg ribbons.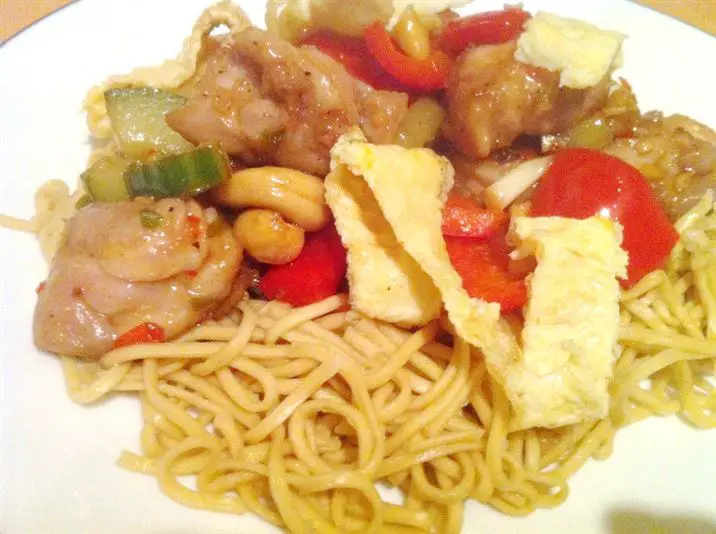 ¢ Do you have a Healthy New Year Recipe youd like to share? Add it to Mr Linky, below.

Mister Linkys Magical Widgets " Auto-Linky widget will appear right here!
This preview will disappear when the widget is displayed on your site.
For best results, use HTML mode to edit this section of the post.
NEXT WEEKS RECIPE SHED THEME WILL BE¦PIES