The lovely Sally Whittle, founder of Tots 100 and blogger at Whos The Mummy, tells me her favourite ingredient is cheese, so Im dedicating this fantastically cheesy recipe to her.
I think hearty is an appropriate word for this dish as it contains both pasta AND potatoes.
Its Nigella Lawsons take on classic macaroni cheese, which I thought sounded perfect for a cold winters night. The domestic goddess points out that there is no macaroni in her version as she has used penne instead. She says she adapted it from the Alpen magrone recipe that she found iun a bookk called Winter in the Alps by Manuela Darling-Gansser. Nigella has adapted Manuelas recipe and I have adapted Nigellas adaptation of Manuelas by replacing Nigellas penne with farfalle. And so the world goes round¦!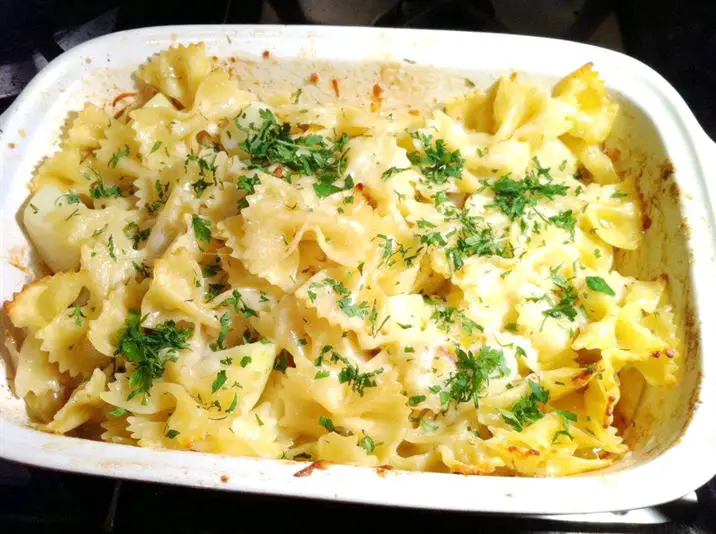 Serves 4
2 medium-sized potatoes, peeled and cut into 3-4 cm cubes
1 tsp salt
2 handfuls dried pasta (I used farfalle, but you could use penne)
2 tsp olive oil
1 garlic clove, finely chopped
200g pancetta cubes
Half onion, finely chopped
1 tsp dried thyme
100ml dry white wine
200ml double cream
160g Gryuere cheese, grated
1. Fill a large pan of water to cook the pasta in and add the potato cubes and salt. Bring to the boil and let it bubble for 5 mins before the pasta goes in. Add the pasta and cook for a little less time than it says on the packet. Farfalle needs about 8-9 mins.
2. Put a deep- heat-proof baking dish on the hob on a very low flame and add the olive oil. Gently cook the garlic for around 2-3 mins until soft, then add the pancetta. Cook for 4-5 mins, stirring frequently, until the fat begins to render. Add the onion and thyme and cook for a further 4-5 mins, until the pancetta is crispy.
3. Add the wine and let it bubble for a few seconds to burn off the alcohol, then add the cream and stir through.
4. Once the potatoes and pasta are cooked, drain, but remove a cup of the cooking water. Add the potatoes and pasta to the baking dish and stir through, to cover them with the creamy pancetta mixture. Add the reserved pasta liquid and half the grated Gruyere and stir through, then add the rest of the cheese, but reserve a little for sprinkling at the end.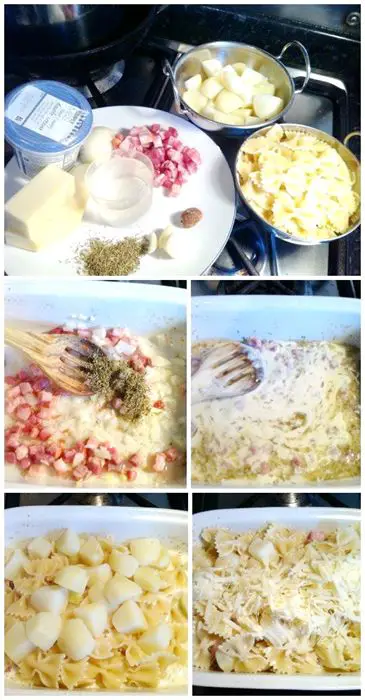 5. You can do all of the above a day in advance and store the macaroni in the fridge. When you are ready for dinner, preheat the oven to 180C/Gas 4 and sprinkle over the rest of the cheese. Heat the pasta until it is piping hot and the topping is pale and golden, approx. 20-30 mins.
6. Serve with a sprinkling of flat-leaf parsley.