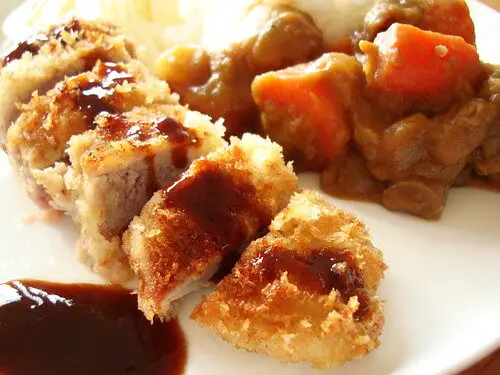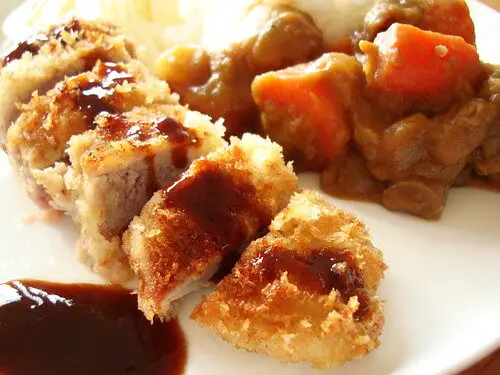 A little preamble as to why I chose to make this popular Japanese dish. I made tonkatsu (without the curry) three years in a row for the LSE Japan Society annual party when I was a student. It was a real hit, even though I and the flat stank of grease for days after. I've only ever made it in 16 kilogram batches, so many many years on, I decided to try and make it for one.

I didn't quite succeed, as I made enough for three, so I have to practise a little more at reducing the quantities. I've been making and eating Japanese curry for many years, so I made this as well, because tonkatsu is often served with it. You can have one without the other, so I've written recipes for both.

If you want to make both Japanese curry and tonkatsu, then make the curry first as it takes about 30 minutes. And at the same time boil some Japanese shortgrain rice in a saucepan or rice cooker. At some point, finely shred some white cabbage to serve raw with the tonkatsu. And start preparing the tonkatsu so that everything is ready to be served at the same time.

Japanese curry ingredients: (serves 2 to 3)


5 medium-sized potatoes

2 carrots

1 onion

6 or 7 normal-sized mushrooms

2 tbsp raisins

vegetable oil

Japanese curry sauce (you can buy this in Japanese supermarkets in block form. There are various brands including S&B and House and they range from mild, medium, medium-hot and hot. Medium hot tastes of barely anything and isn't remotely the same as a medium hot Indian curry!)

Japanese pickled vegetables (optional but nice as an accompaniment)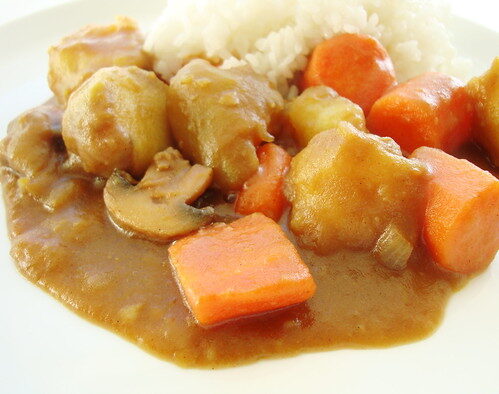 What to do next:

Peel and chop onion. Peel and chop carrots and potatoes into chunks (not too small, otherwise they will disintegrate in the cooking process).

Because I made the curry to accompany the tonkatsu, I didn't add any meat, but if you're making it separately, you can add chicken, pork or beef. Cut your choice of meat into pieces the same size as the vegetables.

Over the years, I've experimented with additional ingredients such as apple and banana. In recent years, I've been adding mushrooms and a small handful of raisins, both of which make the curry even more delicious.

Heat some vegetable oil in a large saucepan, then fry onion, carrots and potatoes until lightly browned. If you are using mushrooms and raisins, add them now (if you're using meat, throw it in at this stage too). Add about 2 inches of water (you can always add more later) and bring to the boil.

Turn heat down to low and simmer for about 10 to 15 minutes with the lid almost covering the saucepan. Stir occasionally to make sure nothing sticks to the base, and add water if necessary, a little at a time.

I used 2 small blocks of curry sauce (my packet came with 10 servings, one block per serving). The curry sauce isn't particularly healthy, I don't think, looking at the list of ingredients, but once in a while, I don't mind eating something like this.

Continue to cook over low heat for another 10 minutes, stirring occasionally, until sauce thickens. It's ready to eat! Japanese curry also tastes great the next day. Just reheat in a saucepan and add a little water so that the sauce doesn't stick or burn.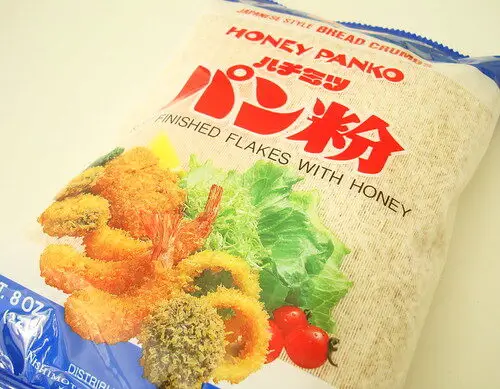 Tonkatsu ingredients: (serves 3)


350-400g pork tenderloin (I bought mine from Paganum online butchers)

panko breadcrumbs

1 egg, beaten

salt and pepper

vegetable oil

white cabbage, finely shredded – to serve

Bulldog tonkatsu sauce – to serve
What to do next:

Beat an egg, adding a little salt and pepper to it. Lay out some panko breadcrumbs on a plate. It's going to be wasteful, but you'll need more on the plate than you'll actually use. Cut pork tenderloin into approximately 7 inch long pieces. If your meat is very thick, I would suggest cutting it in half lengthways, otherwise it won't cook in the middle.

Blot meat with kitchen paper, then dip into egg and coat liberally. Roll both sides in breadcrumbs, making sure you cover the entire surface of the meat.

Heat oil in frying pan. I used just enough to lightly coat the base of the pan, as I didn't deep-fry the meat. I don't like to use so much oil and I also don't like how sometimes tonkatsu is over-fried and tastes too oily, while the meat is overcooked and dry (NB however since making this, I've discovered that it's actually less fattening to deep-fry than shallow fry, as with the latter, more oil is actually absorbed into the food than with the former method, which effectively seals it. So try both methods and see what you think).

My way takes longer, as I turned the heat down to low so that the meat would cook through slowly without the breadcrumbs burning. Don't keep touching the cutlets as the breadcrumbs will fall off. The frying process took about 15 minutes, I would estimate. The breadcrumbs should be a lovely golden brown, with no burnt bits.

Remove from pan and rest on a plate lined with kitchen paper for a few minutes before cutting into thick slices. The meat should be cooked through but still tender and succulent. Lay in a little row on your plate, drizzle with Bulldog sauce, and serve with curry, rice, shredded cabbage and pickles. Eat while hot!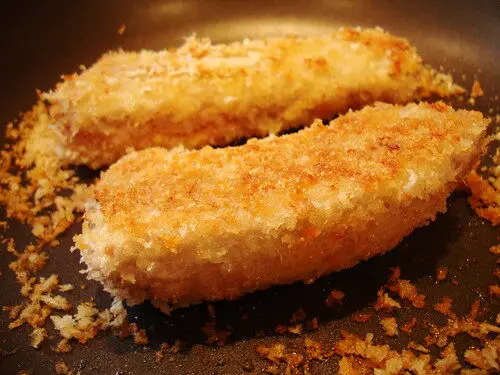 I hope you'll enjoy making this at home! It is a long recipe, but it's not complicated. Making this has certainly brought back many fond memories of student days for me!

See more Japanese recipes on Lay The Table

@ Lay The Table