Whenever the weather becomes warmer, I feel like eating lighter and more refreshing dishes. After making zaru soba and sampling two delicious cold appetisers (five-spiced beef salad and spicy potato slivers) at Ba Shan last week, I was in the mood for more.
So I turned to Ken Hom's recipe for a street snack, Chinese cold noodles. I own just one Ken Hom book (bought from a secondhand book stall!) as I think his style generally has become too Americanised. This one though, The Taste of China, I enjoyed reading because it was written in 1989 after a lengthy 'traveleating' journey around China, with informative sections on the role of food in Chinese culture and history, useful descriptions of ingredients, as well as recipes based on what he discovered.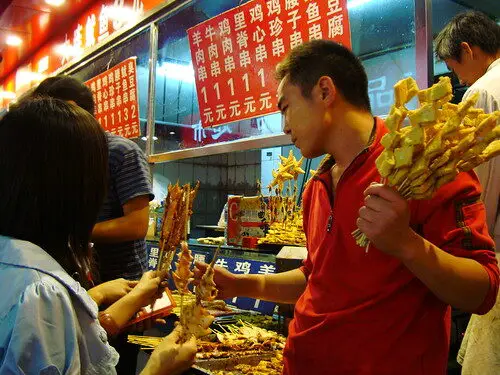 I also chose to replicate this Sichuan-influenced recipe (not that dissimilar to dan dan mian) because he first ate these noodles at Wangfujing night market (click here to see my photos from last year) in Beijing. I used to go there too when I lived there in the mid-90s, although it must have been completely different when Hom visited, with far less culinary options. He does point out though that the night markets offered better food than most of the state-owned restaurants. To quote from Hom: 'Like most of the food stall offerings, this dish is easily made, can be served at room temperature and is a pleasure to eat'. I totally agree!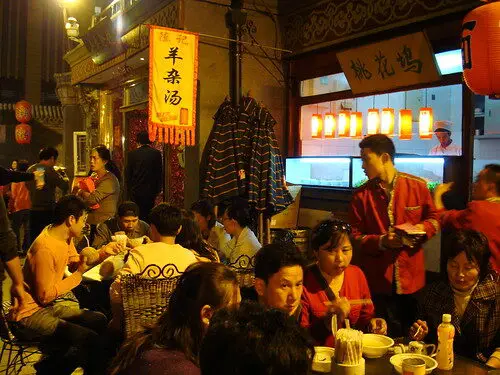 Wangfujing Leng Mian (Wangfujing Cold Noodles)

Ingredients:
(serves 4 as part of a Chinese meal or 2 as a single dish)
I've written the recipe out exactly as it appears in the book, but adapted the quantities.
450g / 1lb fresh or dried Chinese egg noodles (I'm not sure whether this is a mistake, but I only needed to use 2 portions of noodles weighing 45g each and it was plenty for lunch for two!)
450g / 1lb cucumbers (I used half a normal-sized cucumber)
175g / 6oz fresh bean sprouts (I used 150g)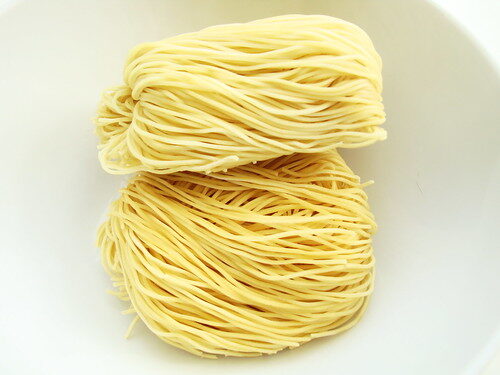 Sauce –
1 tbsp finely chopped garlic (you may not want to quite use so much, as it will be added raw. But I did, and it was excellent)
1 tbsp finely chopped peeled fresh ginger
2½ tbsp sesame paste or peanut butter (I didn't have Chinese sesame paste, so used tahini instead. Tahini isn't as strong though, so it's best to stick with Chinese sesame paste)
1 tbsp white rice vinegar
2 tbsp granulated sugar (I didn't have this, but it's used as a garnish to sprinkle on top at the end, to counter the spiciness of the dish)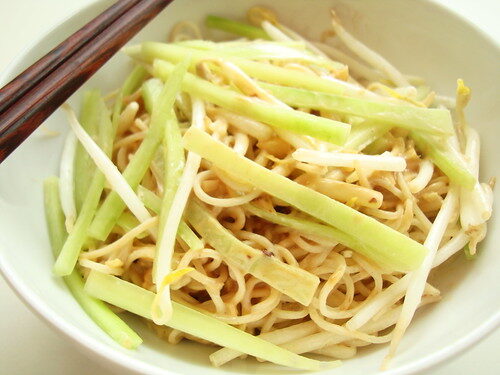 What to do next:
Boil noodles according to instructions, drain, rinse in cold water and toss immediately in sesame oil.
Peel and slice cucumbers in half lengthways, and remove the seeds using a teaspoon. Cut into fine long shreds. Rinse bean sprouts and drain.
Mix sauce ingredients together in a bowl or in a blender (I did the former as I don't like blended sauces. Also, try the sauce and adjust the flavour to your own taste. I thought it needed a little more soy sauce, so the quantity for light soy sauce might be incorrect too).
When you are ready to serve, toss the noodles with the sauce, cucumber and bean sprouts. Sprinkle with granulated sugar and serve immediately.
The fresh bean sprouts and cucumber are a refreshing contrast to the spicy sesame sauce. I hope you'll like this little gem! It's going to be a favourite in this household for the next few months…