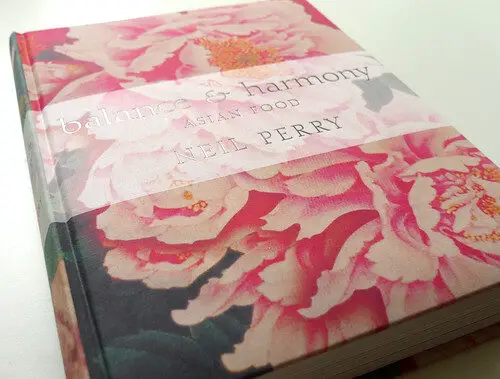 When I first came across Australian chef and restaurateur Neil Perry's Balance & Harmony – Asian Food in a bookshop earlier this year, I was impressed with its beautiful padded cover and glorious photos. It has to be one of the most beautifully designed cookery books I've come across recently. However, I had little time to do anything but briefly flick through the pages. So when I was offered a review copy by Murdoch Books, I was pleased to be able to spend more time going through it, and of course choose a recipe to replicate, as I do with all my cookery book reviews.

At 400 pages, Balance & Harmony really is a tome. And Perry's passion for Asian cooking clearly shines through all the recipes. In the introduction, he describes his love for Chinese food from childhood and that 'it was my greatest culinary influence until I reached my thirties'. He has owned various restaurants in Sydney – Wockpool and XO (both of which have closed) and currently has three restaurants including Spice Temple , which serves 'regional Chinese food…which draws inspiration from the provinces of Sichuan, Yunnan, Hunan, Jiangxi, Guangxi and Xinjiang'. The menu looks innovative and I hope the food is as incredible in reality – braised beef short ribs in superior stock with wild bamboo pith & wild Chinese mushrooms; Hunan style crisp pork belly with fresh & dried chillies and mushroom soy; hot pot of fresh shiitake, oyster, enoki & wild Chinese mushrooms,Yunnan style.

There is a simple introduction to the cooking equipment required, and it's heartening to read that one does not need much more than a wok, cleaver, Chinese cooking strainer, two types of wok spoon, mandolin and pestle and mortar (I only have three of these items!). A list of 52 basic Asian ingredients follows. Recipes are listed under Basic Techniques, including braising and boiling (sweet black vinegar pork belly; braised duck legs in soy sauce), steaming (whole steamed snapper with ginger & spring onion, stir-frying (stir-fried chilli pork), deep-frying (deep-fried squid with garlic & peppercorns) and tea-smoking (tea-smoked quail).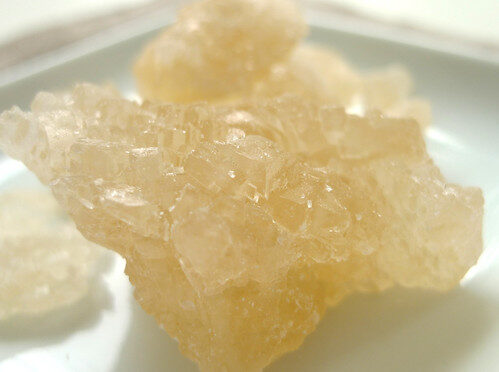 The second half of the book consists of more advanced recipes and banquet menus. Examples include spicy beef shank soup; Chinese roast duck; tangerine peel chicken; Shaoxing marinated king prawns; braised bitter melon; prawn rolls with tofu skin; and Chinese sausage steamed in rice. The list of ingredients for each recipe is neither overly long nor complex, while the instructions are clear and concise. All the dishes are designed to be part of a shared meal and as a result, he does not 'specify serves for each recipe'.

Perry writes that 'much of the food in this book is inspired by Chinese cookery, however the flavours of Thailand, Malaysia, Indonesia, Japan and Korea find their way in as well'. Most dishes are indeed Chinese, but I would have appreciated slightly more direction from Perry with regards to the region. Chinese cuisine is so diverse and to not include more detailed information and background about each dish seems like a missed opportunity.

However, I do feel that Balance & Harmony would make a wonderful present, and I will certainly use it on a regular basis, as there are cooking techniques I'd like to master, like tea-smoking, along with countless recipes I'd like to try, most particularly for XO sauce and Chinese roast duck.

So what recipe did I choose to replicate? After some deliberation, I decided to make braised chicken, tofu and glass noodle hot pot. I love clay pot dishes, and glass noodles is one of my favourite ingredients. The dish was easy to prepare, truly delicious and will be added to my favourite dishes. The only other ingredient my mother would have added would be some sliced dried Chinese mushrooms to give it even more flavour, so that's what I will add next time. I ate this on its own with some steamed jasmine rice.

Braised Chicken, Tofu & Glass Noodle Hot Pot

Ingredients:

350g / 12oz free-range or organic chicken thigh fillets, cut into bite-sized pieces
100g / 3½ fried tofu, soaked in warm water for 5 minutes & gently squeezed dry
2 spring onions, cut into 5cm / 2 inch lengths
3 slices of peeled ginger
1 tsp crushed yellow rock sugar
2 spring onions, extra, finely chopped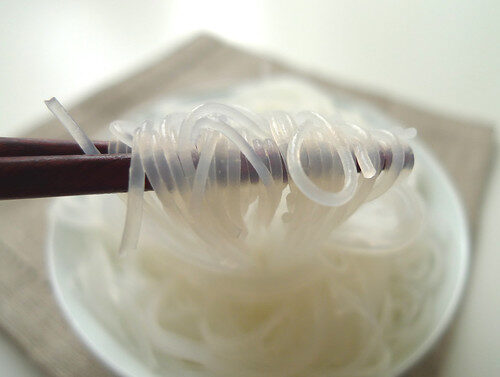 What to do next:

Soak the noodles in warm water for about 5 minutes until tender. Drain, chop into 3 cm / 1¼ lengths and toss with a splash of vegetable oil.

Heat the vegetable oil in a clay pot (Perry recommends using one, but a standard pot is also fine), add the spring onion lengths and ginger and stir-fry until fragrant, then add the chicken pieces and move them around the pot until they become opaque.

Add the soy sauce, Shaoxing, and rock sugar and stir to coat the chicken, then add 1 litre / 35 fl oz/ 4 cups water. Bring to the boil, reduce the heat and simmer gently for 15 minutes, skimming the surface occasionally to remove any scum.

Add the tofu (as the cubes were very large, I cut them into smaller pieces so that they would be easier to eat) and simmer for a further 5 minutes. Stir through the noodles and extra spring onions to serve.

If you liked reading this, have a look at my other Book Reviews…

@ Lay The Table