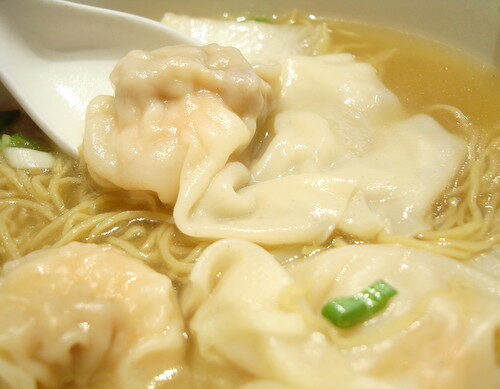 When I was researching restaurants to visit in Hong Kong last year, I came across passionate debates on Chowhound and other forums on where to eat the best Cantonese wonton noodles, focusing on crucial details such as the size of the wonton, the silkiness of the skin, the taste and texture of the filling, and the all-important clear broth.

Mak's Noodles and Tsim Chai Kee, both located on Wellington Street, Central, were most frequently mentioned as the best places to sample this classic street food, but there were others obsessively arguing that other wonton noodle restaurants were far superior. I ended up going to Mak's Noodles because their second branch was conveniently located just down the road from my hotel.

For the princely sum of HK$28, I got four small wontons on a small bed of noodles, but I knew to expect this anyway. Despite their size, each wonton was firm and crunchy, the silky skins floaty and the broth delicious (Mak's broth is made from powdered dried flounder, dried shrimp roe and pork bones). I ordered another bowl of just wontons as I was still hungry afterwards!

I had another bowl from King's Palace at the airport on the way back to London. The wontons were larger and the broth tasted slightly different, but they were also rather good. More recently, I ate wonton noodles at HK Diner in London's Chinatown, much more expensive of course when compared to Hong Kong prices, but the portion was substantial, with about five or six large wontons.

To satisfy my craving, I decided to make my own. As Ken Hom put it so aptly, 'there are probably as many variations on the basic theme of this recipe as there are cooks'. Although I have read that some people add pork bones and/or dried shrimp to the chicken stock, I live in a meat-free household so I rarely cook with meat (this privilege was only granted to me a few months ago, on the proviso that I have a separate set of kitchen utensils) and didn't want to inflict the heavenly smell from hours of stock making on the poor husband. I therefore used Hom's recipe from his classic Taste of China (his only book that I trust, because it was based on a journey through China that he made, collecting recipes along the way) that didn't require pork bones and bought an expensive bag of fresh chicken stock from my supermarket.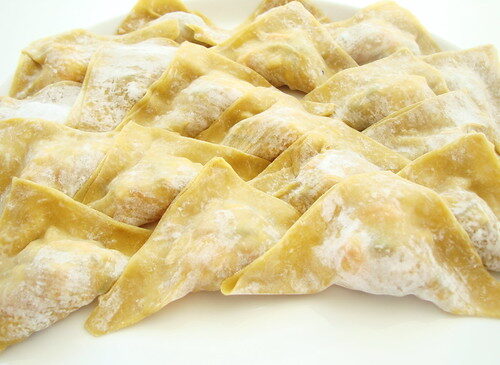 Ingredients: (serves 2 as a single dish)

1 pack thin square wonton wrappers (made of wheat flour, egg, water and baking soda. They come in different sizes and I chose the smallest)
225g / 8oz thin wheat or egg noodles
850ml/ 1½ pt chicken stock
3 tbsp finely chopped spring onions as garnish
Filling –

100g / 4oz fatty minced pork
100g / 4oz raw prawns, de-veined and coarsely chopped
1 tsp rice wine or dry sherry
freshly ground pepper to taste
What to do next:

Mix the filling ingredients together in a bowl.

Place 2 tsp of filling in the centre of a wonton square. The amount of filling you use should be proportional to the size of the wrapper. It's important not to use so much filling that the wrapper tears. Although it is quite stretchy and malleable, the wrapper is still delicate. On the other hand, you don't want to end up with a measly sized filling and too much wrapper.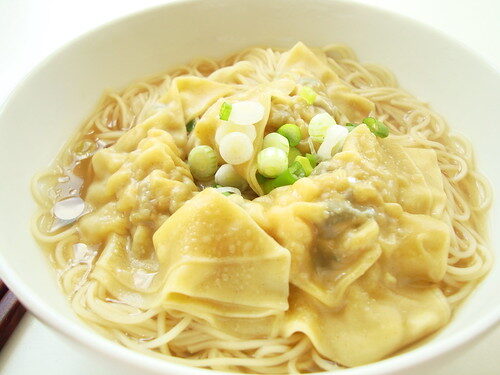 I simply folded the wrapper into a triangle, sealing the sides as firmly as possible. If you need to, dab a little water on the edges. Also remember to squeeze as much air as possible out of the wonton during the sealing process (otherwise you'll see what happens during the boiling process!). Cover the wrapped wontons with a damp towel to stop them from drying out.

Bring two large pots of water to the boil and blanch the wontons for 3 minutes and noodles  for 3 to 5 minutes, drain well and set aside.

Bring the stock to a simmer, and season if necessary with salt. Add the noodles and wontons, and simmer for another minute. Garnish the soup with the spring onions and serve at once.

This is a convenient and easy dish to prepare, particularly as you can freeze any uncooked wontons as well as the stock, and use dried noodles. You can also add Chinese greens such as gai lan or choi sum as an extra ingredient.

I hope you'll enjoy this!

Other Chinese recipes on Lay The Table can be found here, including one for Sichuan wontons.

@ Lay The Table