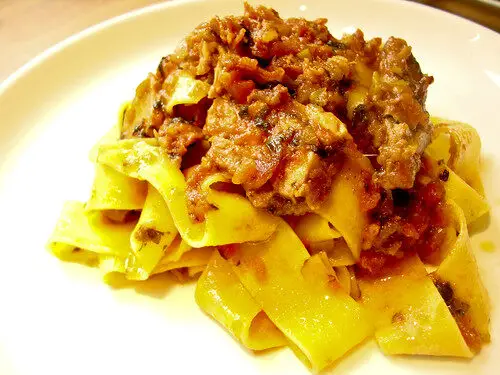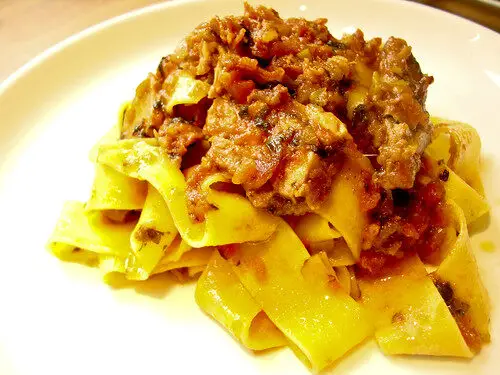 I was excited to receive cookery book The Real Flavour of Tuscany from Quadrille Publishing to review. Books that take time to explore the culture and history of food appeal to me far more than those that consist of no more than a collection of recipes grouped into 'starters', 'mains' and 'puddings'. This one, de Mori's fourth book on Italian food, tells the story of Tuscan cooking through 25 portraits of local 'gastronomic and food-related artisans', with around 90 recipes for dishes such as ribollita (twice-boiled Tuscan bread soup), risotto al midollo di bue (risotto with marrow) and insalata di trippa (tripe salad).

Even if you end up not making any of the dishes in this book, it's still worthwhile getting this just to read about the artisans and the products they create. I particularly enjoyed the stories of mushroom hunter Silvano Mugnaini (with three recipes using fresh porcini mushrooms and one with chanterelles), the family Frullani who are chestnut growers (recipes for drunken roasted chestnuts, chestnut polenta with ricotta and chestnut flour cake) and Lardo di Colonnata producer Fausto Guadagni (with tips on how to make it, how it should look and taste and how to eat it).

It was difficult to choose just one recipe from the book to replicate, although I'll most certainly be turning to this book again and again for inspiration in the future. In the end I settled for pasta ribbons with duck sauce, because I love pasta, and I love duck even more. I discovered the recipe in the section about artisan pasta maker Giovanni Fabbri and it is in fact his mother-in-law's famous recipe, made using the family's ducks. According to him, 'most pastas get their names from the thing they look like', hence the wonderful sounding semi di mela (apple seeds), lumache piccole (little snails) and creste di gallo (rooster's crests).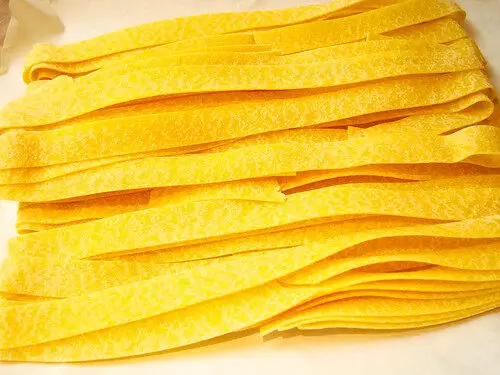 I didn't get to use Fabbri's pasta, made from just semolina and water, but instead chose an artisan pappardelle from my local supermarket that was expensive, but well worth the cost and formed the basis for three meals. I actually made this twice, because the first time I tried to cut corners and failed miserably. The second time, I followed the recipe to the word (except that instead of using a whole duck, I used two large duck legs) and was successful. It does take time and effort, and I don't think I've spent so much time on one dish in ages, but I was pleased with the result and it did feel like I was dining somewhere in Italy as I ate it!

Pasta ribbons with duck sauce –


Ingredients:( this serves 6, so I reduced the amount of ingredients to make 2 large meals for myself)

1 celery stalk, finely chopped
1 small duck, cleaned and cut into 8 pieces
100g thickly sliced prosciutto, chopped
handful of flat-leaf parsley, chopped
handful of basil leaves, torn into pieces
800g tomatoes, peeled, deseeded and chopped
sea salt and freshly ground black pepper
500g dried wide pasta noodles (such as pappardelle)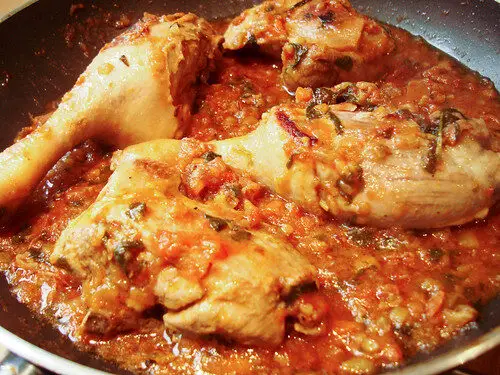 What to do next:


Warm the olive oil in a large frying pan. Add the onion, carrot and celery and cook over a medium heat until soft. Lay the duck pieces in the pan, then add the prosciutto, parsley and basil. Cook, turning the duck, until lightly browned on both sides.

Pour in the wine and let the alcohol evaporate, then add the tomatoes and season with salt and pepper. Cook over a low heat for 30 minutes, adding a little water if the pan begins to dry out.

Bring a large pan of water to the boil.

Remove from the heat and lift out the duck on to a board. Pass the sauce through a mouli (hand mill) or mash with a fork. Remove the skin and bones from the duck, slice the flesh and return to the pan with the sauce. Check the seasoning.

Cook pasta until al dente. Drain, toss with the sauce and serve immediately.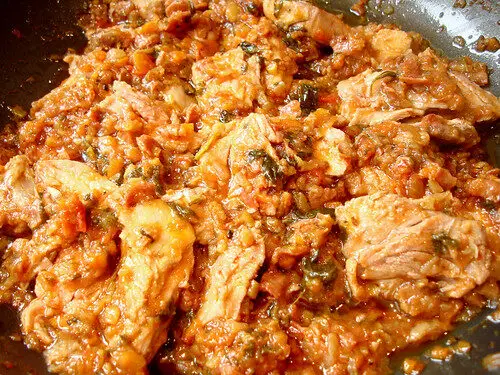 The set of photos for this recipe can be seen here on Flickr.

More recipes on Lay The Table, divided into different categories, and the other Book Reviews.

@ Lay The Table