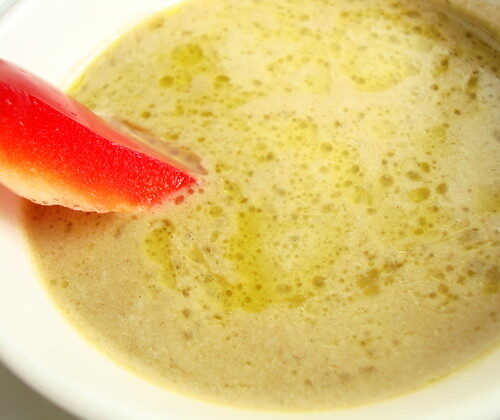 A guest post from the resident chef and husband. This was incredibly delicious and unbelievably filling! And very quick to make, which is why I've placed this in the Quick & Simple series.
'This classic Piedmontese recipe is taken and adapted from one I was recently served in Italy by two excellent chefs for a fantastic Saturday lunch. It's super healthy and much more filling that it looks. Bagna Cauda simply means 'hot bath' or 'hot sauce' in Piedmont dialect and is a kind of super healthy fondue.
You will need the freshest examples of the following vegetables, although you can use that can be eaten raw:
Fennel
Chicory or other bitter salad leaf
Mixed sweet peppers
Large salad onions
Celery (preferably with leaves on)
Alternative vegetables:
White cabbage
Carrots
Courgettes
Radishes
Celeriac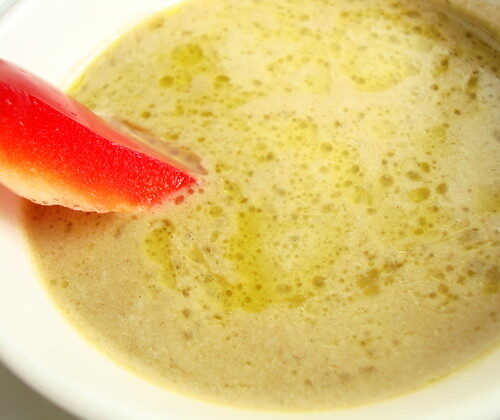 Bagna Cauda
4-5 large cloves of garlic
1 heaped tbsp butter
350ml fresh milk
100g jar of anchovies in oil (salted are also fine)
white pepper
extra virgin olive oil
Wash, drain and slice all the vegetables into large pieces suitable for hand dipping.
Heat milk in a small saucepan. Crush garlic and add to pan. Bring milk to the boil. Keep boiling for 5 minutes until the milk has evaporated and reduced down. Your pan may have some browning on the base. If so, place the milk and garlic into a fresh saucepan, adding the butter and melt gently, taking care not to burn it.
Add 3 or 4 tablespoons of olive oil and all the anchovies and a little white pepper. Heat gently and with a wooden spoon mash the garlic and anchovies into a thick paste. You can speed this up a little by using a hand blender. Once you have a pale brown paste, you can add a little boiling water to achieve a more liquid consistency.
Now you need to make the bath to keep the sauce hot. Boil some water in a kettle and pour into a medium-sized breakfast bowl. Place a smaller bowl (or even a ramekin) into this bowl, and ladle in the sauce. This will create a hot bath to keep the sauce nice and warm.
Serve the vegetables in a large bowl. Dip vegetables into the bagna cauda and enjoy! If the sauce becomes thicker as you eat, you can add a little more olive oil or a tiny drop of boiling water.
Eat with chunks of fresh bread and ideally a fresh young frizzante white wine'.
See more Quick & Simple Recipes on Lay The Table.
@ Lay The Table
Tags: cookery, cooking, food, food & travel, Italian, Italy, recipe, traveleating