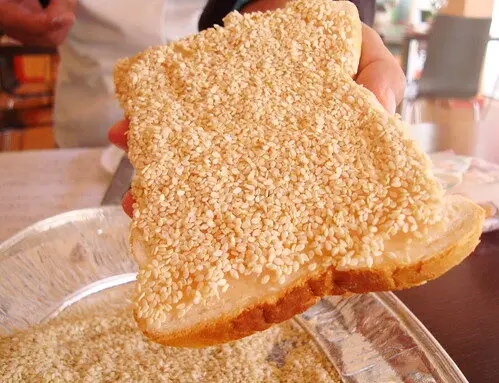 Although I cook Chinese food at home and I know more or less how to combine various ingredients and achieve the flavours that I want, I've always regretted not learning more from my mother when I was younger. In order to build up my confidence, I've been planning to attend a Chinese cookery class for some time. However, it hasn't been easy finding one in London and as far as I know, there are no venues that offer regular classes. Occasionally Guo Yue will hold a class or cookery demonstration at either Books for Cooks or Divertimenti, but I've yet to attend one of these.

So when I found out that successful Chinese restaurant Sweet Mandarin runs cookery classes every Saturday morning, I asked Lisa Tse, one of the three sister owners, if I could attend the beginners' class in return for a write-up. I already knew of Sweet Mandarin through Helen Tse's book by the same name (their family story about three generations of women, starting with grandmother Lily who was the first Chinese woman to open a restaurant in the UK), so I was keen to meet the sisters. Furthermore, Sweet Mandarin appears to be the only Chinese restaurant in the country to offer cookery classes, so it would be a rare opportunity to cook in a commercial kitchen (neither Books for Cooks nor Divertimenti offer cooking facilities with a five wok range!). That's how I found myself in Manchester bright and early last Saturday morning.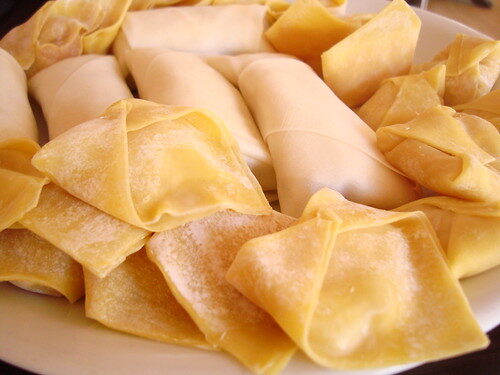 Sweet Mandarin is located in the hip Northern Quarter of Manchester. Lisa runs the classes, and as a bonus, Helen was taking a break from her US book tour to help her sister out. The class size was much smaller than I imagined, being limited to a maximum of 5 to 6 people, as Lisa likes to be able to watch over each student and provide individual assistance. After meeting my three fellow students, the class kicked off.

We started off by learning to wrap vegetarian spring rolls and chicken wontons. I've made spring rolls and wontons at home before, but was never that good at wrapping, so this part was particularly useful. We also made a chicken version of prawn sesame toast. All these were later deep-fried, but not by us (the use of a deep fat-fryer is another fear I've yet to overcome).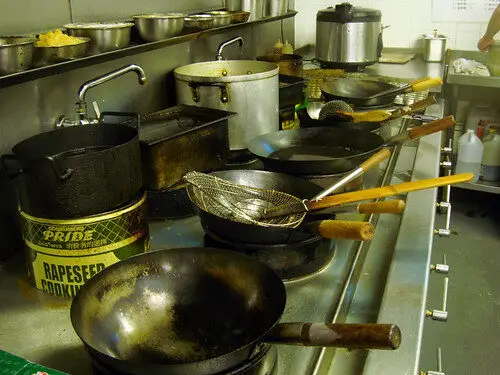 We then moved on to make two simple soups – wonton and chicken & sweetcorn, both classic Cantonese soups. I'd never seen soups prepared in a wok before, so this was an eye-opener for me. Incidentally, I've also never used a five wok commercial range before. When I was young, my parents would never let me in the kitchens of any of our restaurants, so commercial kitchens have always been a bit of a mystery to me. The five woks were set in a large sink, with taps providing water to both cool down the area (the heat from the gas is intense) and wash the woks (which was a constant requirement, after each dish had been cooked). We learned to scrub our woks, using only water and a scrubber, so that they were immaculate before being used for the next dish.

After the soups, which were first demonstrated, then we had to make our own small bowls, we moved on to stir-fries. Wok cooking produces quick and healthy meals, as very little oil is required to cook the food. We were reminded to have all our ingredients chopped up and ready (I have to admit that in the beginners' class, these are done by Lisa but in the intermediate class, students have to do all the chopping themselves), and to keep tossing and moving the food around to spread the heat evenly (which was a struggle for me as the wok was quite heavy).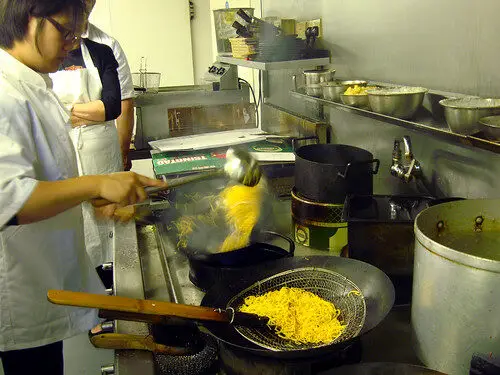 Lisa taught us to make stir-fried beef strips with ginger and leeks, kung pao chicken, crispy vegetable chow mein and egg fried rice. Each dish was demonstrated, then we each had to cook one dish for everyone else to eat at the meal after class. I chose egg fried rice because I knew it wasn't an easy dish to perfect. And I was so right. Remember to use cooked but cooled down rice (my mother uses refrigerated leftover rice from the night before), otherwise the result will be a soggy mess.

I added two beaten eggs to the heated wok and scrambled them. Then I added the rice, salt and a bit of soy sauce. During the separating process using the ladle (you have to make repeated pressing motions to separate the grains), everything started to burn because I forgot to stir at the same time. Luckily Lisa rescued the rice for me, and I continued the separating process until each grain was separated and it was ready to serve. The result was a marvellous light dish, with not a single grain of rice stuck to another.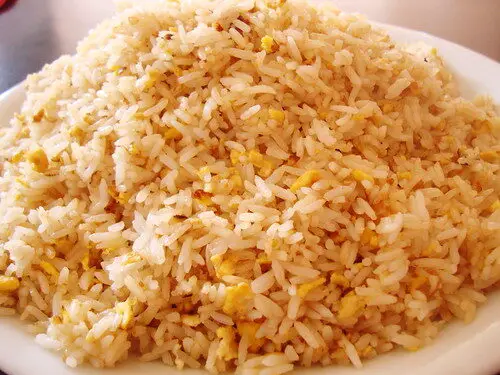 I enjoyed myself very much, even though I was slightly apprehensive to start with, being a Chinese food blogger attending a Chinese beginners' cookery class! However, Lisa and Helen were both incredibly patient teachers and were always right next to us in case we needed help with the woks. Only fresh ingredients were used, and there was no sight of any dreaded MSG in the kitchen. The recipes we were taught demonstrated the basic principles of wok cooking, and of course they can be adapted in a myriad of ways at home, so that the chow mein can be served with beef, or the wonton soup with noodles and so on.

The kitchen isn't large, hence the restriction on student numbers, but it's a great space for learning wok techniques and for observing both Lisa and each other cooking at close quarters. There is no better way to learn than hands-on and I'll be able to put into good use what I learned on Saturday. So even though you may think you know how to make a stir-fry at home, some simple but effective techniques can be picked up in just a couple of hours.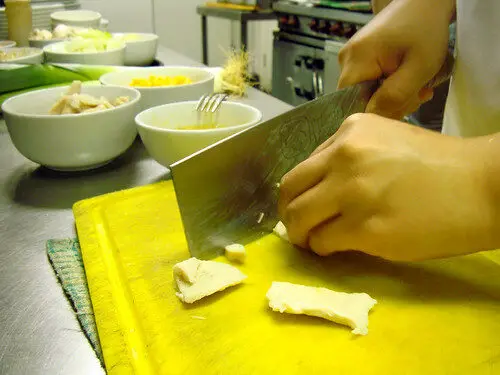 As a result of attending the class, I overcame my fear of using and controlling a wok, even though it would be impossible to recreate the intense heat of a five wok commercial cooking range in one's own domestic kitchen. I've improved on my wonton and spring roll wrapping skills. And best of all, I learned to prepare a really good chicken and sweet corn soup, which I never order in a restaurant because it's always so horribly gloopy, and almost perfect egg fried rice. Finally, we all got to eat what we prepared, not only during the class but afterwards too!

Apart from the beginners' class (vegetarians, please note that there is a special beginners' class for vegetarian Chinese cooking), Sweet Mandarin also offers an intermediate class called Stir Crazy, and best of all, from the autumn, there will be a dim sum class in which students will learn to make various dim sum (har gau, cheung fun etc) from scratch. Watch this space as I'm definitely returning to Manchester to make dim sum!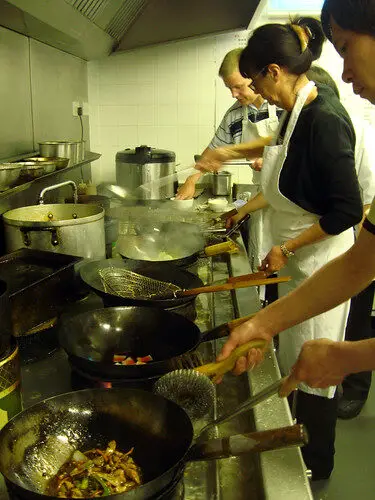 Recipe for chicken & sweetcorn soup (courtesy of Sweet Mandarin):

Ingredients: (serves 4)

100g skinless chicken breasts, finely diced
50g corn kernels (fresh, tinned or frozen)
2 tbsp cornflour (mixed with water)
What to do next:

Heat wok and add chicken stock. Add chicken, sweetcorn and salt. Bring to the boil, stirring. Add cornflour, but it's best to add this mixed with water using your fingers so that you can judge the amount and it might not be necessary to use all of it.

Then swirl egg in, which also helps to thicken the soup, hence the warning about adding too much cornflour. The soup should be light in texture, with just a hint of thickness.

Add sesame oil, stir in and taste the soup in case you need to add a little more salt. Serve in small bowls. It took me about 7 minutes to make one small bowl of soup, so it will take a little longer to make enough for four.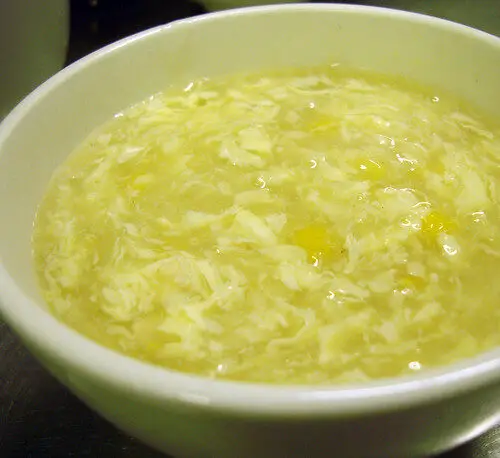 To see the entire set of photos taken during cookery class, click here, and here for the other Chinese recipes on Lay The Table.
Contact details:
Sweet Mandarin
19 Copperas Street off High Street
Manchester M4 1HS
Tel: 0161 832 8848
sweetmandarin@gmail.com
www.sweetmandarin.com