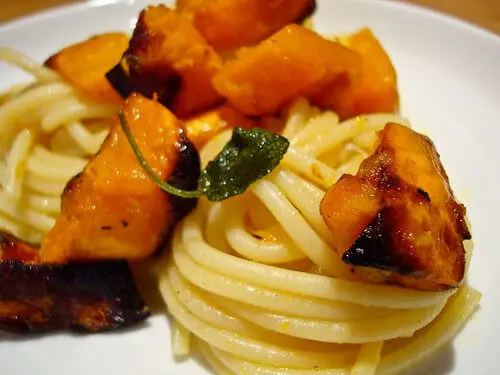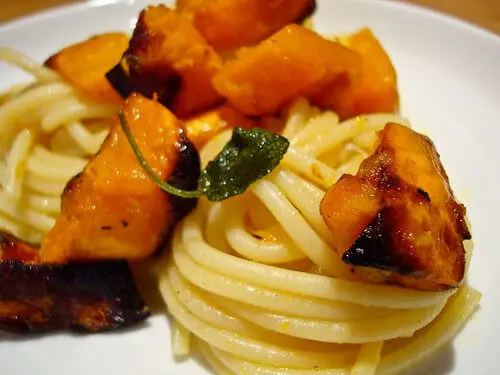 This simple dish, spaghetti con zucca al burro e salvia, is 'inspired by' the delectable tortelli di zucca that we had at Italian Michelin-starred Dal Pescatore six months ago. The pumpkin tortelli, made with amaretti biscuits, is one of the restaurant's signature dishes. As it's just one of various courses, only five pieces are served, which leaves you wanting more and more.

The vegetarian husband has recently been making his version of roast pumpkin in a butter and sage sauce, served with spaghetti. It's proved so popular with friends and family that I decided to photograph it yesterday. So here finally is the recipe!

Ingredients: (serves 2 hungry people or 4)


spaghetti or tagliatelle

1 medium sized pumpkin

8-10 fresh sage leaves

4-5 fresh bay leaves

olive oil

butter

sea salt and black pepper to taste

grated Parmesan or Grana Padano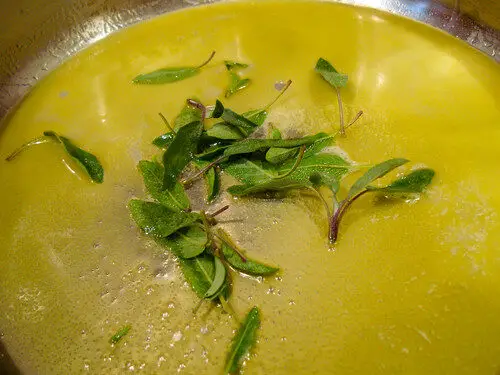 What to do next:

Peel pumpkin (we've also used kabocha squash and onion squash) and remove seeds and pith, then cut flesh into rough cubes. Place on a baking tray, drizzle with olive oil and sprinkle sea salt. Add fresh bay leaves and turn pieces over to make sure they are properly covered with oil. Roast in oven on the highest heat for around 15-20 minutes, until the pumpkin pieces are softened, nice and crispy around the edges.

While the pumpkin is roasting, boil water for spaghetti. Using a large frying pan, add one tbsp olive oil and another heaped one of butter. You can change the mix of oil to butter to 50-50 if you prefer.

Fry around 10 fresh sage leaves for 2 -3 minutes, taking care not the burn the butter (don't use dried sage as it will be impossible to remove the pieces if you prefer not to eat the leaves). Add salt and black pepper to taste.

Remove bay leaves and add pumpkin to frying pan. Gently turn them over into the butter and sage, taking care not to pulp them in the process.

Drain spaghetti and add to frying pan. Carefully toss ingredients together and serve with plenty of Parmesan or Grana Padano. Happy holidays!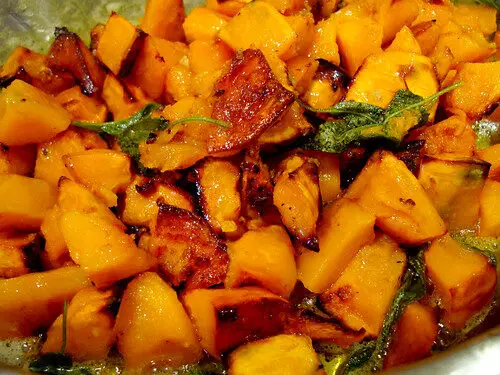 Other Italian Recipes on Lay The Table that you might like:

How To Make Spaghetti With Hot Smoked Salmon
How To Make Fresh Tortelloni
How To Make Minestrone Soup
How To Make Mushroom Risotto
How To Make Fresh Egg-free Pasta
How To Make Fresh Italian Pesto Sauce
See more Italian recipes on Lay The Table.

@ Lay The Table