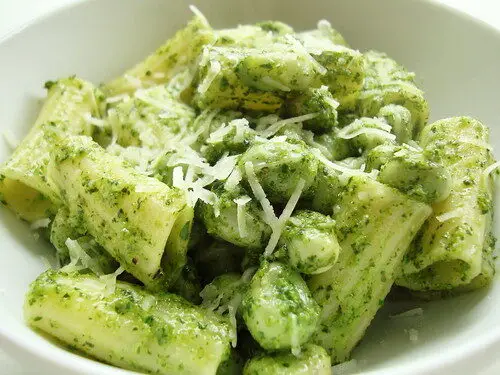 Today we're having relatives over for a simple Sunday lunch. We turned to a trusty favourite of ours that is quick and easy to make – the husband's fresh pesto, served with pasta. There's nothing worse than slaving over a hot stove while your guests have to entertain themselves. With this recipe, you hardly need to be in the kitchen once they have arrived, as the pesto can be prepared in advance. It takes just a few minutes to make, so you only have to wait for the pasta to cook. The garlicky tang and incredible aroma are divine, and it also looks like you've put a lot of time and effort into making it. Use home-made pesto over a jar any day.

Ingredients: serves 4

large bunch of fresh basil – the larger the better

one clove of garlic

handful of Brazil nuts or pine nuts

extra virgin olive oil

sea salt and freshly ground black pepper

fresh Parmesan or Grana Padano

pasta (any type you like – we use rigatoni or penne)

handful of fresh or frozen broad beans, garden peas or green beans (optional)
What to do next:

Heat water in saucepan for pasta. Add when water reaches boiling point.

Meanwhile, roughly chop nuts in food processor or blender, remove and set aside. Pour a cup of olive oil into the food processor or blender.

Roughly chop basil and add (depending on the type of processor you have, you might have to do this in stages, otherwise it might not evenly chop up all the leaves).

Peel garlic clove and add, along with salt and pepper to taste. Blend well until you get a pale green thick paste. Follow with the nuts.

Drain pasta when ready.

Add pesto to pasta, with a little olive oil to loosen the sauce and mix well. You can also add pre-cooked fresh broad beans or peas, which gives the dish a little more bulk and texture.

Mix in plenty of freshly grated Parmesan or Grana Padano (TIP: don't add the cheese to the pesto mix in the blender, because with the heat from most blenders, the cheese will simply melt and stick to the blades, as the husband discovered one day). Guests can then add more cheese at the table.

Enjoy!