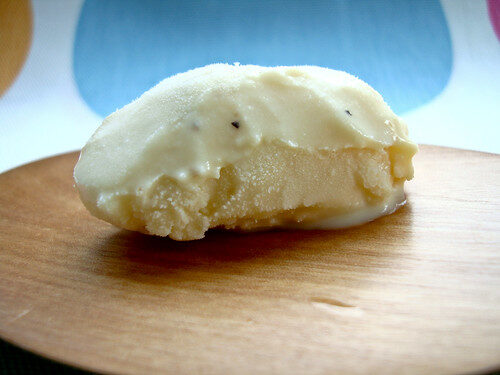 This is another Indian recipe that I've tried at home since attending cookery workshop Easy Indian With Manju Malhi at Books for Cooks in Notting Hill, London last month. It's taken from the recipe booklet handed out at the workshop, and can also be found on Manju's website and in her Easy Indian cookery book. It was a hot Saturday afternoon when I made this, and it was exactly what I craved!

Ingredients: (for 4 people)

250ml / 9fl oz evaporated milk (I went for the 'light' version)
250ml/ 9 fl oz condensed milk (as above!)
200g / 7oz thick double cream
seeds of 2 to 3 cardamom pods, crushed
What to do next:

Add cornflour to small bowl and slowly stir in milk until blended, then set aside. Pour evaporated milk into saucepan and bring to boil over high heat. Add condensed milk, double cream, cardamom seeds and cornflour mixture. Continue boiling, stirring constantly for another minute.

Remove pan from heat and leave mixture to cool slightly, then transfer to blender (or use a hand-held mixer) and blend for 2 minutes, or until smooth.

Pour mixture into freezerproof container with a lid and freeze for at least 6 hours, or ideally overnight, until ice cream is set. Take it out of the freezer 10-15 minutes before serving, so that it softens a little. Serve 2 small scoops per person, as it is quite rich.

NB This is particularly tasty with blueberries and a Nairn's ginger oat cake…

Other Indian Recipes that you might like:

How To Make Indian Saag Aloo
How To Make Indian Tarka Dal
How To Make Indian Vegetarian Desi Pasta
How To Make Indian Cumin & Coriander Potato Cakes
How To Make Indian Cabbage With Red Chillies
How To Make Indian Vegetable Upma
Click for all the Indian recipes on Lay The Table.

@ Lay The Table