Mini ice cream cone cake pops. I remembered these cute little mini cones that flew home with me from Texas:) I bought them specifically to make faux ice cream cone cake pops. I found these cute sugar cone cake pops by Miss Candiquik awhile ago, and have been wanting to make some ever since.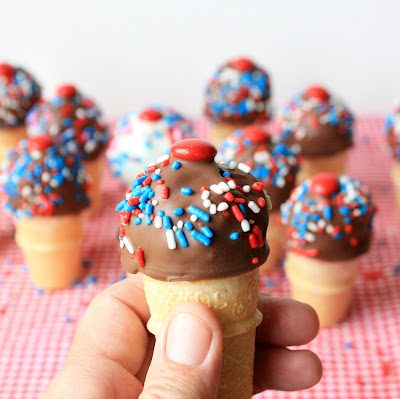 I'm so glad I did! Besides being yummy, they were a lot of fun to make and not too labor intensive. I know it might be too late to whip some up for Independence Day, but they would be a perfect treat for any summer day!
Print
Mini Ice Cream Cone Cake Pops
---
1

box of white cake mix

1

package mini ice cream cones Sprinkles Red m&m's Red, white and blue gel food coloring (or any colors you'd like:))

10

–

16

ounces of candy melts

16 ounce

tub of cream cheese frosting
---
Prepare cake mix and divide evenly into three separate bowls. Add a different color of food coloring to each bowl and mix thoroughly.
Pour each into a separate, small cake pan and bake cakes according to package directions.
Let cakes cool for 5-10 minutes in their pans, then remove from pans and let cool completely.
Crumble each cake into fine crumbs and set aside in bowls.
Add about 1/4 cup-1/2 cup of icing to each bowl and mix thoroughly. You want to add enough frosting to make the cake crumbs stick together, but not mushy.
Take a small ball of cake mix from each bowl and mix together to form a multi-colored cake ball the size of a mini scoop of ice cream:) Set the cake balls on a wax paper-lined baking sheet and place them in the refrigerator to chill.
According to package directions melt the candy melts in a deep dish.
Remove the cake balls from the refrigerator and place on your work surface. Have the mini cones and sprinkles nearby.
Dip each cake ball in the melted candy until completely covered. Using a fork, lift it out of the chocolate and place on the top of the mini ice cream cone. (You may want to first dip the rim of each cone in the melted candy to help the cake ball adhere to it.)
Decorate with the sprinkles and place the red m&m on top.
Set aside to dry completely. ENJOY!