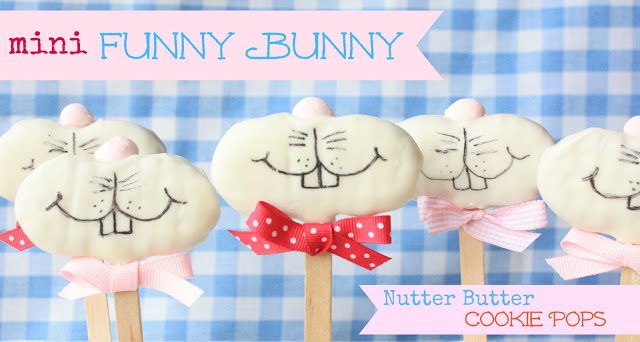 Do these little fellas look familiar? They're the mini version of my Funny Bunny cookies~so simple to make and no baking is required. You still have plenty of time before Easter to whip up a bunch! Did I mention how tasty these little pops are too? These bunny pops were happily shared on Skip To My Lou (Thanks Cindy!) over two weeks ago, but now it's time to share them on my home site, just in time to add to Easter baskets:) I always get such a kick out of the cute treats made from Nutter Butter cookies, that I bought a pack intending to make some sort of Easter treat, a bunny perhaps. I first held the cookie up vertically, but when I turned it sideways, I immediately "saw" a mini version of my Funny Bunny cookies. They turned out even better than I had imagined!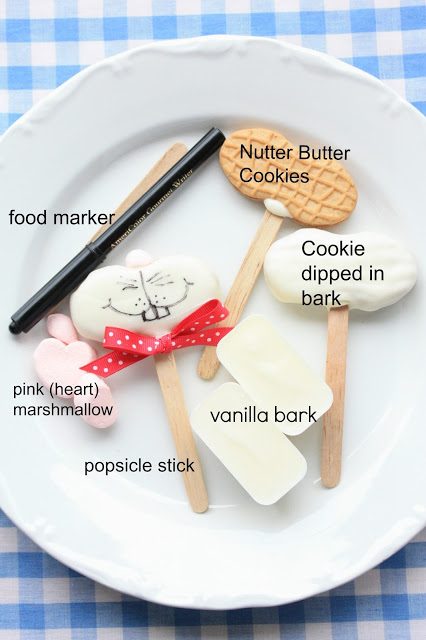 They're simple to make, and are sure to be a hit with kids and adults alike! Everything you need is in the photo above.
Mini Funny Bunny Nutter Butter Cookie Pops
1 package Nutter Butter cookies
1 16-24 ounce almond bark
Pink marshmallows (I had pink hearts left from Valentine's Day), or pink jelly beans work too.
Popsicle sticks
Black food marker
Ribbon (optional)
Styrofoam block
1. Melt the bark (in a deep bowl) according to package directions. Dip the end of a popsicle stick into the melted bark and gently insert it into the middle of the Nutter Butter cookie (oriented horizontally). Push bottom of stick into styrofoam block and let dry (15 min. or so) before the next step.
2. Holding the end of the popsicle stick, dip the cookie into the melted bark until completely covered. Let the excess drip off into the bowl.
3. While it is still wet, gently add a small, pink marshmallow (you may cut it, to shape it into a more nose-like shape) or pink jelly bean onto the top, middle, curved part of the cookie. Another option is to let the cookie dry first, and add the nose with a dab of melted bark later. Let cookie dry completely.
4. After the cookie is dry, use a food marker and add simple, bunny facial features…mouth, teeth, whiskers.
5. Add a bow with a dab of melted bark, or tie a ribbon around the stick.

HAVE FUN!
Linked to:
I'm Lovin' it Party
Kitchen Fun and Crafty Friday
Weekend Wrap Up Party