I know it's not even Thanksgiving yet, but when I first thought of turning these little marshmallows into elves (and Santas), I couldn't wait to see how they would turn out! Besides, Christmas is not that far off, and since Thanksgiving is so late in the month this year, Christmas will creep up on us even faster!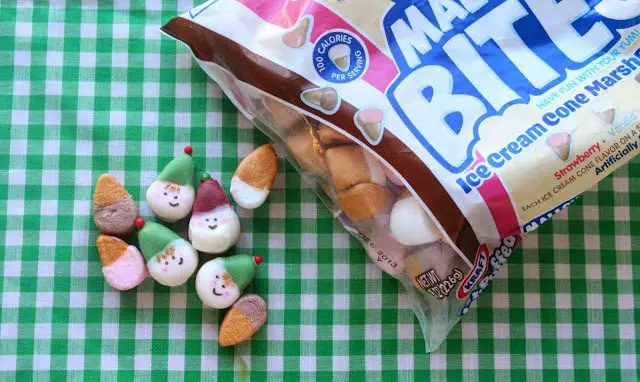 These little guys were really quite simple to make. All it took was a couple of dips in candy melts, a little sprinkle on top of each hat and edible marker details for the faces. It didn't take too long, especially since I was watching Christmas movies on the Hallmark channel while I made them:)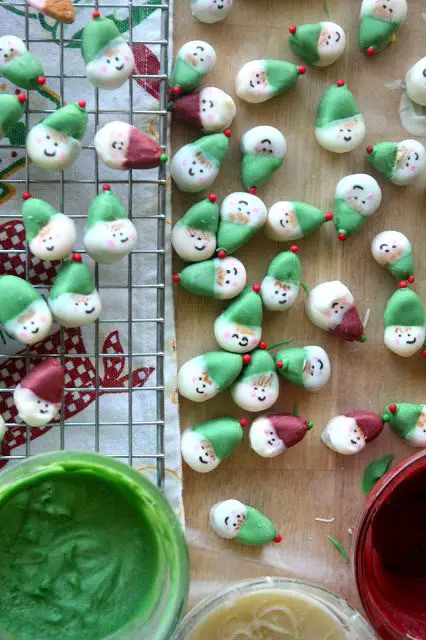 Aren't they cute? Each one is a little bit different and I'm pretty enamored with the lot of them. I get a kick out of this sort of thing:)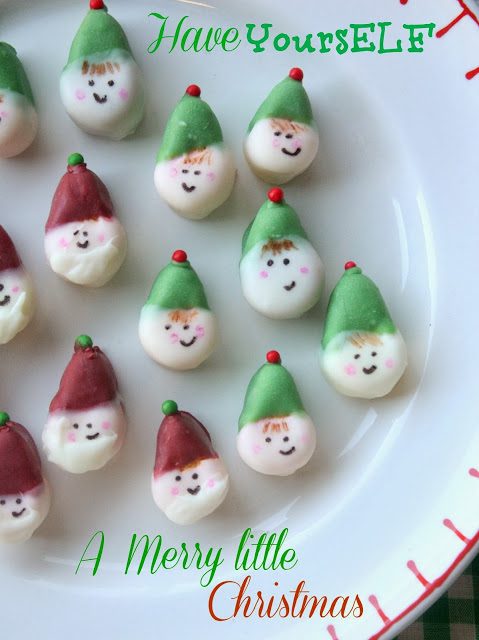 Put some of these little guys in a cellophane bag tied with a ribbon and you've got a cute little gift for a neighbor, teacher or friend.

Mini Elf Treats
Ingredients: Kraft Jet-puffed Mallow Bites Ice Cream Cone Marshmallows Green, red velvet and white candy melts Jumbo red and green sprinkles Brown, black and pink edible markers Wax paper Food Tweezers
Directions:
Melt white candy melts according to pkg. directions. Holding the tip of the marshmallow, dip into the white melted candy to cover the wide part ("ice cream" section) of the marshmallow. Set on wax paper to dry. Do this to each marshmallow. Melt the red and green candy melts. Hold the wide part of the marshmallow (already dipped and dried) and dip the tip ("cone" section) into the red or green melted candy. Set on wax paper to dry. Do this to each marshmallow. Using the edible markers to make hair (brown marker) on the elves, pink on cheeks for all, and black for eyes and mouth on all of them. Using the tweezers, pick up a jumbo sprinkle and barely dip the top of it into the melted red or green (depending on hat color) candy melt, and add to the top of the hat(mine all adhered right away). Gently set on wax paper to dry. For the SANTAS, use a toothpick and dab on a bit of the white melted candy to make a beard. Set on wax paper to dry.
HAVE FUN!

Linked to:
Two Cup Tuesday
From Dream to Reality
Kitchen Fun and Crafty Friday
I'm Lovin' it Party
Link Party Palooza