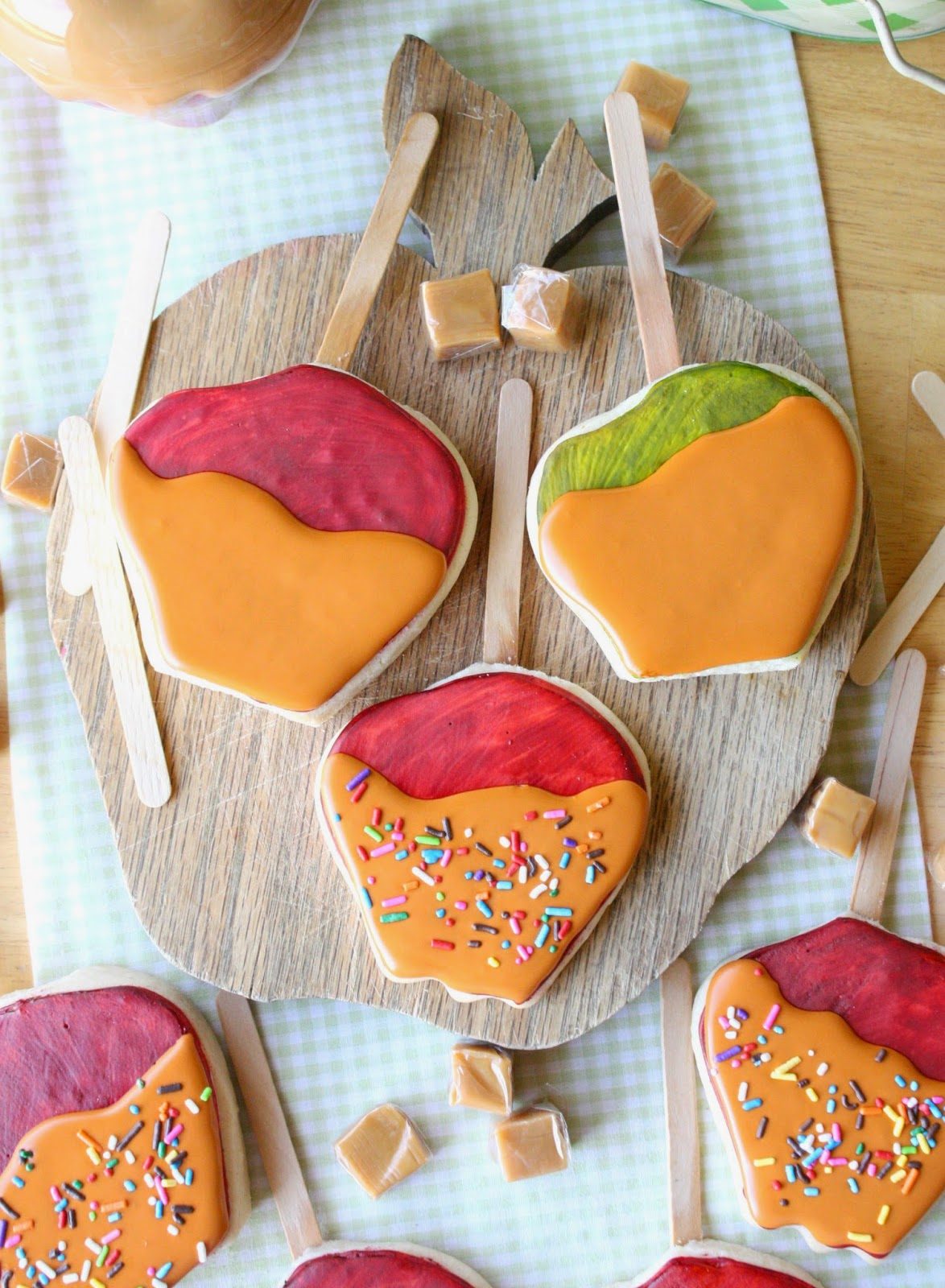 Fall is my favorite season (I think I may have said that a time or two)!  The flavors of the season are part of the reason…pumpkin, apples, fall spices, caramel, they all translate to comfort and home to me.
What better way to celebrate this time of year with caramel apples. Well, not real caramel apples, but cookies that look the part.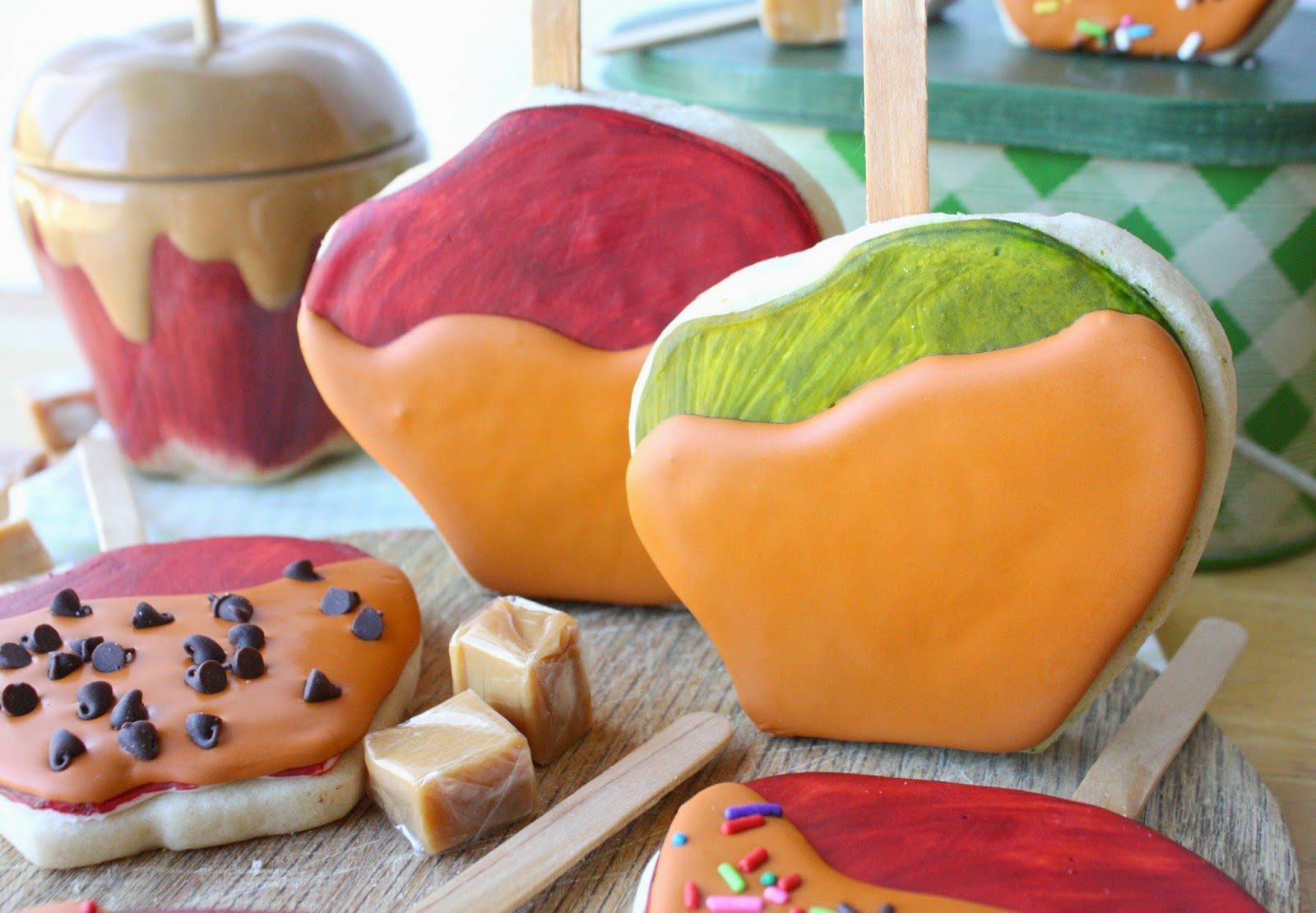 I had so much fun with these cookies, that I may just make some more, but this time I think I'll use actual caramel to coat the cookies. These cookies have been iced with white royal icing and then painted with gel paste food coloring. I then added the partial layer of caramel colored royal icing.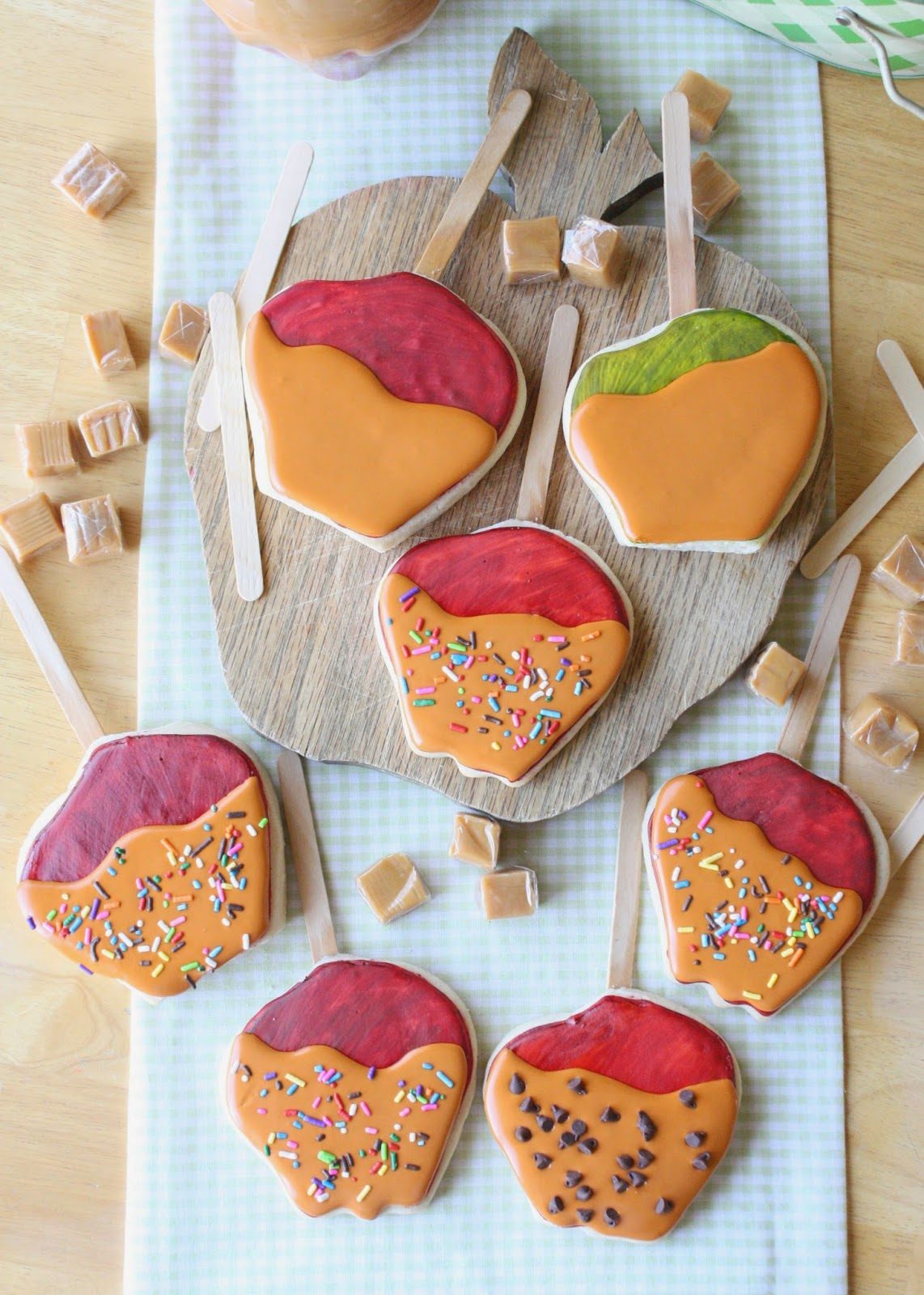 My son made the apple cutting board for me when he was in Boy Scouts, and I treasure it. 🙂 It was the perfect backdrop for these cookies.
Caramel Apple Cookies
Ingredients:
Sugar Cookie Dough
Royal Icing Apple cookie cutter Popsicle sticks Super red, electric green, orange, and chocolate brown gel food coloring (AmeriColor) Sprinkles, mini chocolate chips (optional)
Directions:
1. Roll dough out about 3/8-inch and cut out cookies with the apple cookie cutter (Mine had a stem and leaf which I cut off before baking) and place on the baking sheet. 2. Use a small, sharp knife and place a slit in the top of the apple and carefully insert a popsicle stick.
For the free standing, upright apples, I placed one cut out apple on the baking sheet and then gently pressed a stick on top of it (about a third of the way down), and then I placed another cut out apple on top of it and pressed them together, gently. I also trimmed them straight across the bottom, to assist in them staying upright.
3. Bake cookies as directed. 4.  Let cookies cool. 5. With the white, untinted royal icing, outline and fill each apple. 6. Allow cookies to dry overnight. 7. Using small paint brushes (for food use only) and "paint" the cookies with the red and green gel pastes. (You can also use other colors to add a more rustic look.) 8.  Allow the paint to dry completely.
9.  Tint the white royal icing to make it caramel colored: 4 parts orange, 1 part electric green, 1 part chocolate brown. Thanks, Lilaloa!
10. Add the caramel colored royal icing with a #3 tip: outline a fill, free form. Allow icing to dry completely. 11. Admire your handiwork:)
Have Fun!

Linked to:
I'm Lovin' it Party
Kitchen Fun and Crafty Friday Link Party
Link Party Palooza