Austrian chocolate balls. I've been on a bite-size treat kick lately, but I can't help myself. This is my own variation of a cookie recipe that was included in the magazine "holiday with matthew mead". This recipe caught my attention because it reminded me of the other non-chocolate snowball cookie(called by many different names). It too has ground nuts in it; I used pecans. I would probably have used walnuts, but I was out.
The recipe calls for dipping these delectable little chocolate balls into a chocolate glaze, but I chose to roll them in powdered sugar instead, as I fancied them looking like snowballs:) To keep them as authentic Austrian Chocolate Balls you should use the glaze option (That's how they are made when I checked the recipe internet-wide). They are very chocolatey cookies and their texture reminds me of a brownie. What's not to love?
Austrian Chocolate Balls
COOKIES
2 squares unsweetened chocolate
1/3 cup butter
1 cup granulated sugar
1 egg plus 1 yolk
1/2 teaspoon vanilla
1 1/3 cup all-purpose flour
1/2 cup nuts, finely chopped
GLAZE
1 square unsweetened chocolate
1 tablespoon butter
1/4 teaspoon vanilla
1 cup powdered sugar
2 to 3 tablespoons milk
Preparation:
Preheat oven to 350 degrees
1. In small saucepan over medium heat, melt together 2 squares of chocolate and 1/3 cup of butter. When smooth, pour into a large mixing bowl. Add granulated sugar, egg and yolk, and 1/2 teaspoon vanilla, and stir with a wooden spoon until well combined. Add flour and nuts and gradually stir until just combined.
2. Shape dough into 1-inch balls and place on ungreased baking sheet about 1 inch apart.
3. Bake 8-12 minutes, until balls are firm to the touch. Move cookie balls to wire rack to cool completely.
4. For the glaze(I opted to roll in powdered sugar instead), melt 1 square chocolate and 1 tablespoon of butter in small saucepan over medium heat until smooth. Remove from heat and stir in remaining glaze ingredients. Dip tops of cookies into glaze to cover. Allow to set completely. Makes 4 dozen cookies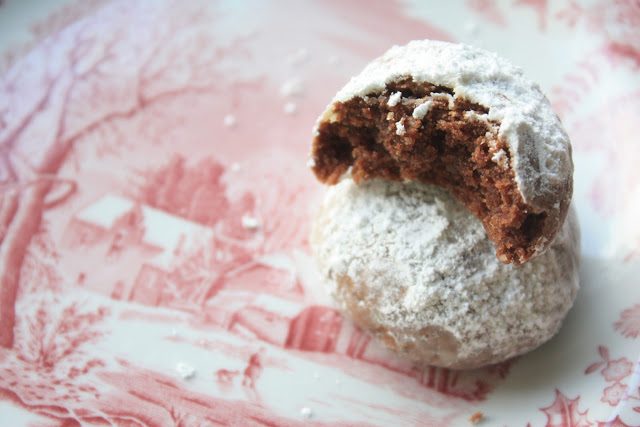 ENJOY!
This post is linked to Alicia's LAST "Tasty Tuesdays" blog hop, though she is passing it on to another blogger…check it out!