May is a significant month for me. Of course it's the month we celebrate Mother's Day; I celebrated my first official Mother's Day only four days after giving birth.
Five years later it was the month that my own mother left this earth. May is also the month that my oldest sister, a sweet mother to two girls, passed away nine years ago.
On this day, the 28th anniversary of my mom's passing, I like to remember her by making a special treat dedicated to her. These ribbon rose cookies were made specifically with her in mind.
Ribbon roses because her name was Rose.
The vibrant pink color is from a Wilton gel paste: Rose.
The recipe for the cookies is the play dough cookie recipe, chosen because my mom used to make me homemade, "magenta" play-doh when I was a child. I even wrote a post about that sweet memory in 2009.
The inspiration for my mom's tribute cookie was found on a new favorite site of mine, Treat Greetings (I sure love the name)! Cards are a major source of cookie inspiration for me, and this time I didn't even need to leave the house:) I knew I had found the perfect card when I spotted
this one: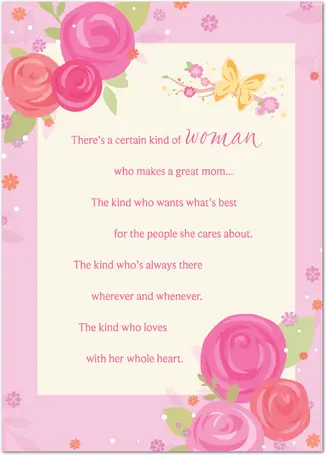 So pretty! If my mom were here, giving her the cookie and the card together would make a special, personalized Mother's Day gift. I know she would love it!
I have seen many royal icing ribbon roses on cookies, but don't recall seeing any (mini) ribbon rose cookies, adorning larger cookies, and knew the play dough cookies would be the best recipe for them. I was right:)
Ribbon Rose Play Dough Cookies:
Ingredients:
Play dough cookie recipe (omit lollipop sticks)
Royal icing
Directions: 1. Chill the dough 2. Taking a tablespoon at a time of dough, roll into a rope on wax paper. (The width and length will depend on how big you want your rose.) 3. Flatten the rope with your finger. 4. Starting at one end, start rolling the flattened rope up like a cinnamon roll (see photos) 5. Place on parchment lined baking sheet. 6. Chill for 10 minutes, to maintain shape. 7. Bake according to recipe. 8. Adhere roses to base cookie with royal icing. 9. Adorn roses with green tinted royal icing, using a leaf tip.
Happy Baking!
Linked to:
Two Cup Tuesday
I'm Lovin' it Party
Party in Your PJs
Kitchen Fun and Crafty Friday
Link Party Palooza