The other day on Facebook, I spotted an adorable school bus cake made by the talented Melissa of My Cake School. I was instantly inspired and knew her cake could be converted into a cute cookie:) I had even picked up a packet of foam buses (used for scrapbooking) in the dollar bins at Target, which ended up being the perfect template for the cookie.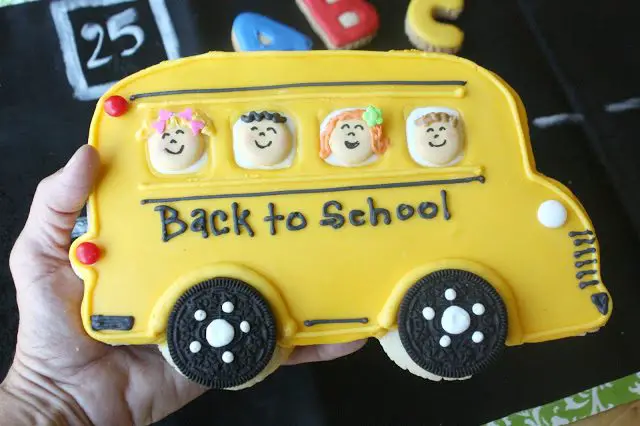 Though obviously not as big as the cake, this is a larger than average cookie, measuring 9 by 5 inches (6 inches counting the wheels). It would be a perfect treat to share with the whole family, or with friends. Wouldn't it be fun to surprise your kids with this giant cookie when they come home from school? I think so.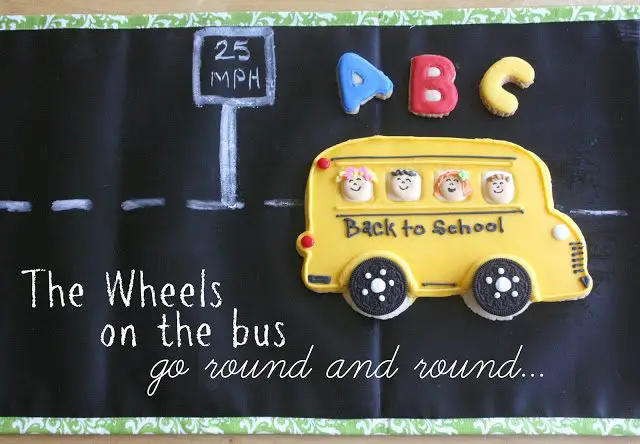 Another thing I came across on facebook recently is Scribble Linens*. This company has an awesome product! They sell reversible chalk cloths, one of which is pictured above as the backdrop for my cookie. Sarah of Scribble Linens kindly sent me a placemat and a table runner (pictured). I was so happy to receive them. The reversible fabric is very pretty, and the chalk cloth easily wipes clean! Unfortunately, I failed to take a photo of the fabric side of the table runner, but hopefully you can get the idea from the edging. I will feature the placemat in another post very soon, and then I can add the backside of the table runner also. Be sure to check out the Scribble Linens site for more information and creative suggestions for use. Thanks for your generosity, Sarah!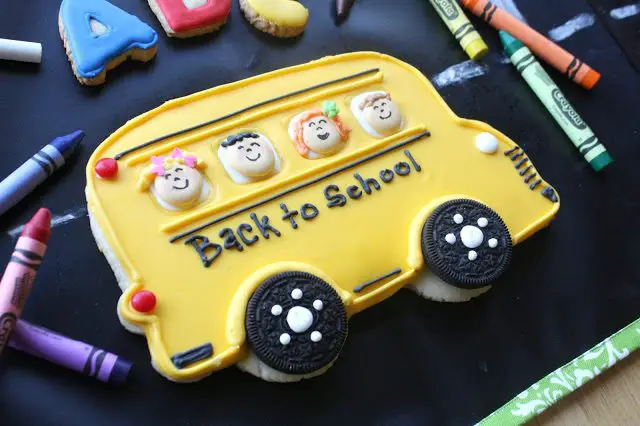 I really like how the little faces turned out. I hope my munchkins enjoy school as much as these students on the bus do that represent them:) Have fun making and sharing your school bus cookie, and remember…School is Cool! 🙂
Big Yellow School Bus Cookie
Supplies:
Sugar cookie dough
Royal icing Black edible marker Pink edible marker Yellow food coloring Black food coloring Ivory(or other tints for skin colors) food coloring 2 Oreo cookies 2 red hots (or m&m's) various sprinkles
Candy melts, various colors (for hair)*
Parchment paper
Directions:
1. Make a batch of sugar cookie dough according to the recipe. (I substituted almond extract for the vanilla…living on the wild side, I know:)) 2. Mix up the royal icing. Set a small portion aside for the black details, another small portion for the white details, and another for the ivory. Mix the remainder with yellow soft gel food color(I added a drop of orange to the yellow to achieve more of a school bus yellow). 3. Roll out the dough about 3/8-inch thick. 4. Place a bus template on the dough and cut around it with a sharp knife, making as many buses as you want, or just one. 5. Transfer to a baking sheet. 6. Bake at 350 degrees for about 15 minutes. 7. Let cool. 8. Outline the bus with the yellow icing and a #3 tip. Leave open space for the windows. Let dry for about 15 minutes and then fill with the yellow. Let dry for a couple of hours. 9. Put a drop of ivory food color gel in some of the reserved royal icing and mix well. 10. With a #3 tip, pipe circles onto parchment (or wax) paper and let dry completely 6-8 hours. 11. Meanwhile, add the yellow details to the bus. (refer to photo.) Use a #10 tip for around the 12. With the white icing, fill in the windows, detail the cookies, and add a headlight. 13. Using royal icing, add the red hots as rear lights and the Oreo cookies as wheels. 14. Let bus dry overnight. 15. With a #2 tip and the black icing, add the wording on the bus and the other black details. 16. Using a black food marker, add face details to all of the ivory circles. 17. Create cheeks by applying pink edible marker, and then wipe some off as desired. 18. Melt the various candy melts according to package directions and put each color in a decorating bag with a #2 tip. 19. Add the hair details, including sprinkle embellishments to the candy melts while they are still wet. (I used a flower for one girl, and then two small hearts for each pigtail bow.)
*I had candy melts on hand, but you can opt to use royal icing for the hair.
*Though I was given the Scribble Linens products, I was not compensated in an way, and the thoughts are my own regarding the product(s).
Linked to:
I'm Lovin' it Party
Kitchen Fun and Crafty Friday
Link Party Palooza