about these Vegan Potato, Tofu, and Bacon Freezer Breakfast Tacos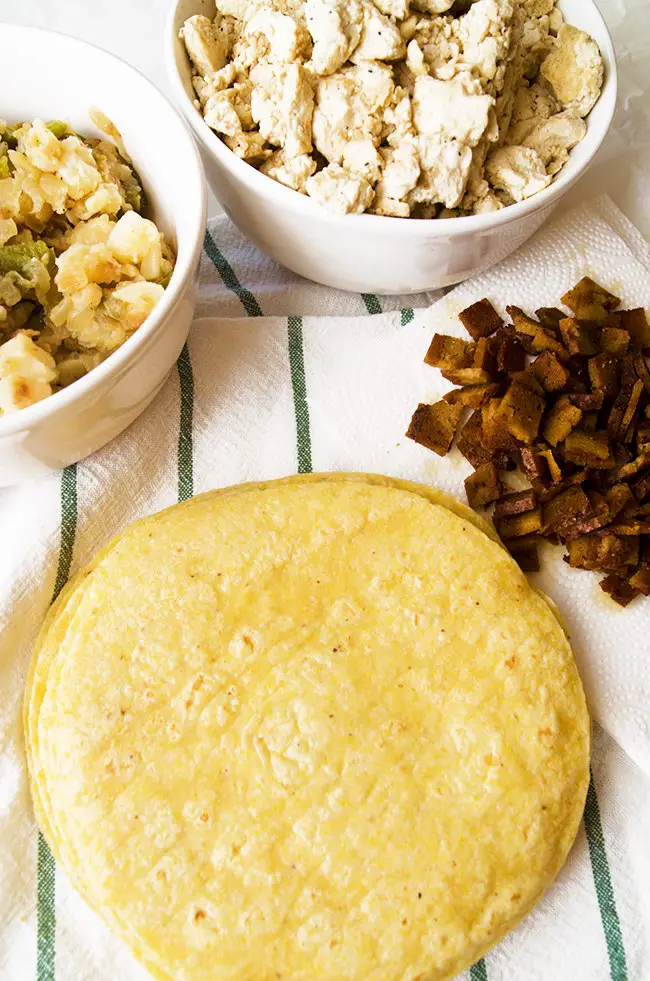 Hi, friends! I'm happily bringing you this easy vegan recipe because if your schedule is anything like ours, you need it. I feel like I'm always on here saying "we're so busy!!!!1!". You'd think we'd be pros by now. I think it's the fluctuation that makes it challenging.
We've been trying some new things to simplify our day-to-days which is how we found ourselves delving into freezer meals.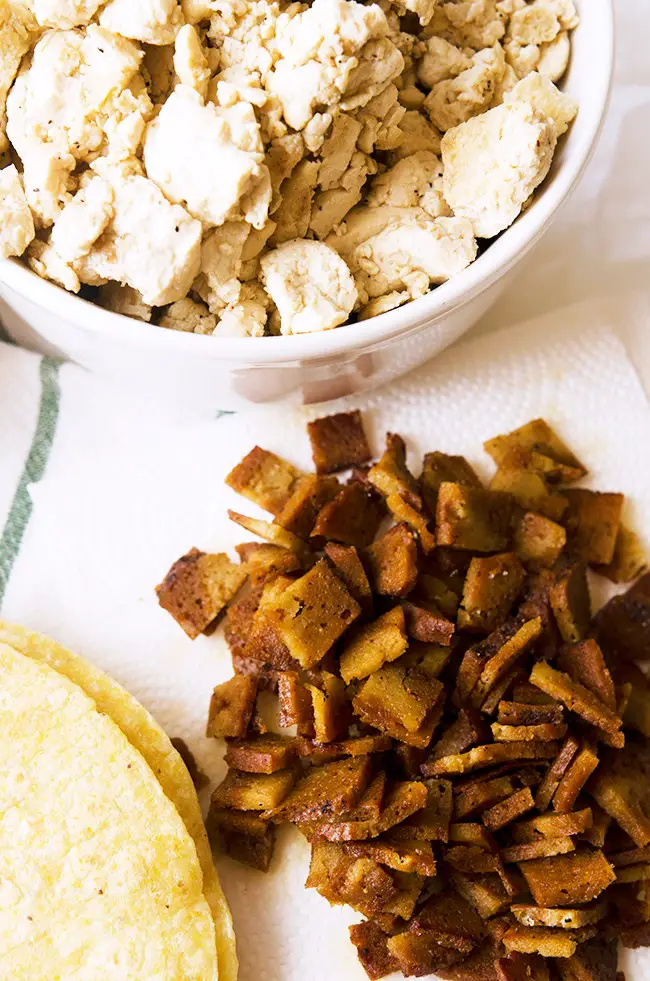 These breakfast tacos came about when I was on a freezer cooking kick thanks to The Make Ahead Vegan Cookbook, written by fellow vegan blogger, Ginny McMean (from Vegan in the Freezer). We picked up the book at the library and started cooking our way through. We made Rigatoni and Vegan Sausage Casserole, Onion Soup, Creamy Broccoli Bake (subbed green beans/added tofu!), Chickpea Balls and more. I spent days making double batches of recipes and storing one batch in the fridge and the other in the freezer for later. Y'all, the recipes fed us for literally weeks. It was amazing.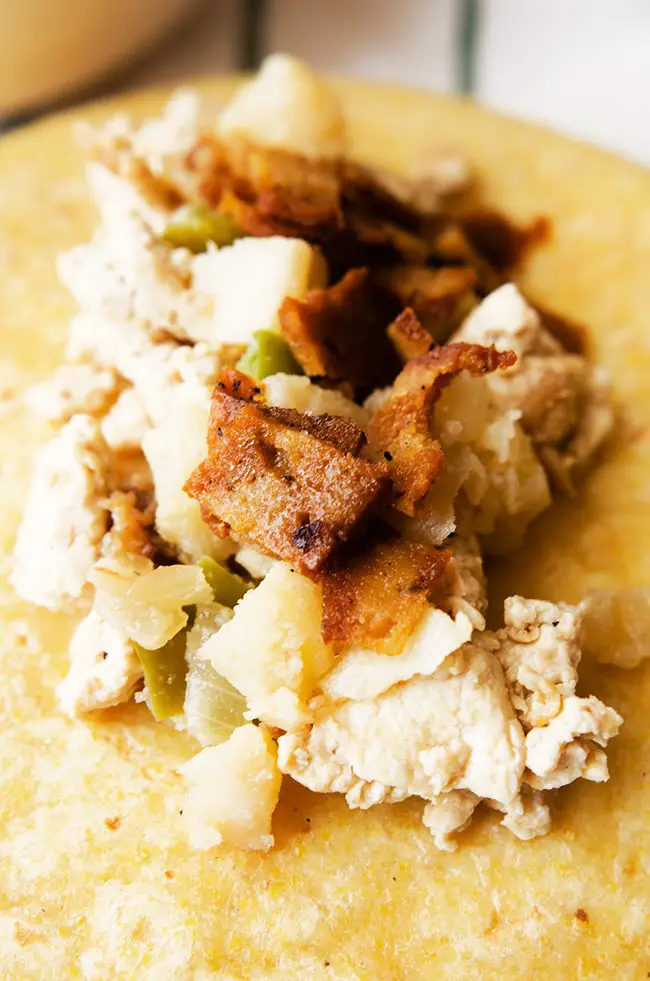 While I was freezer-meal planning, I realized that we needed an easy breakfast option. You know, for those early mornings when we roll out of bed 20 minutes before my husband needs to be on his way to work. We love breakfast tacos, but rarely have time for them during the week. I thought that they would be perfect for pre-making and freezing, and they were! They also reheat beautifully. 
It's great being just minutes away from breakfast tacos no matter how rushed we are in the morning.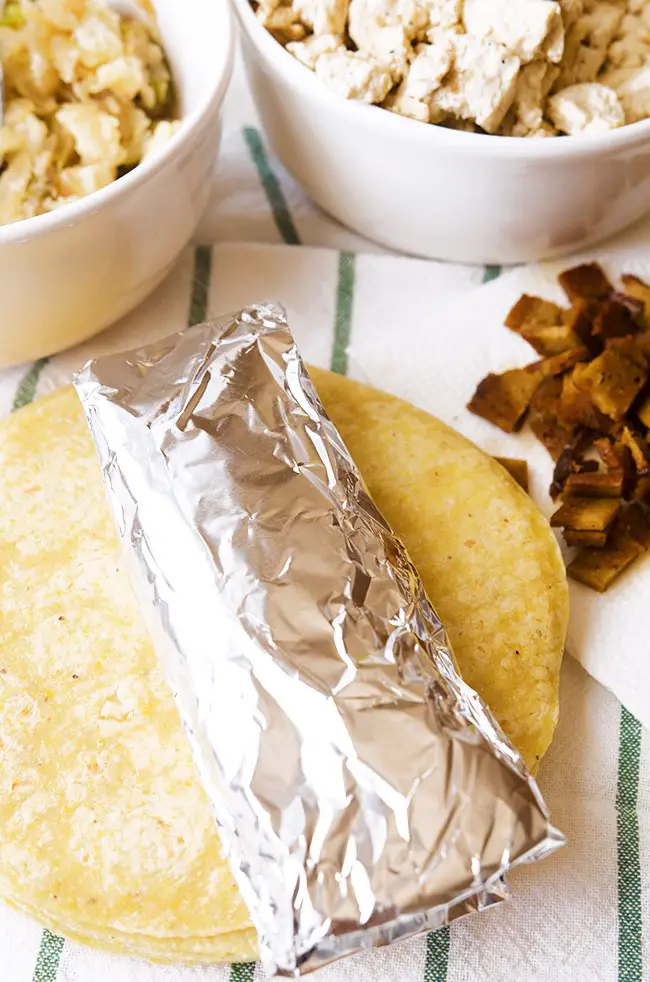 Honestly, if it weren't for these, we would be having smoothies for breakfast every day, and that's kind of a bummer. Even a simple tofu scramble can take too long when you're flying out the door. I mean, smoothies are great, but c'mon. Tacos > smoothies every time. 
I feel very strongly that a breakfast taco isn't a breakfast taco without tofu or potatoes, but that's me. You do you – change out the fillings per your preferences. But maybe consider definitely including tofu and potatoes. Trust me! Or don't. (But you probably should)
I hope that you all are enjoying your late summer/early fall. It is absolutely fall in our house, but technically we have a week of summer left. You know what that means right? It means it's time to start planning your fall while your FoMo is still manageable. Mine is off the charts, but that should be obvious! 
Lay The Table: 
  
Get my book!
Includes:
15+ cozy and delicious fall-inspired recipes (like Pumpkin Pie Almond Milk)
Helpful tips to make this your best fall yet
Step-by-step instructions to ensure that you don't miss out on any of your favorite fall activities or pastimes
Guides to celebrating Halloween and Thanksgiving the vegan way
Immediate download so let's get planning!
Vegan Potato, Tofu, and Bacon Freezer Breakfast Tacos
Makes 12 breakfast tacos
2 tablespoons vegetable oil
1 large onion, diced
1 large bell pepper, diced
2 cups frozen diced potatoes
6 strips vegan bacon (we like this recipe)
2 blocks firm tofu, drained and crumbled
1 tablespoon nutritional yeast
1 teaspoon garlic powder
Kala Namak (or regular salt)
black pepper
12 flour tortillas
Instructions 
1. Heat 1 tablespoon of the oil in a large skillet over medium heat. Add the onions and peppers, and cook, stirring often, just until the onion begins to soften. Add the potatoes to the skillet and stir them into the vegetables. 2. Turn the heat down to medium, and cover the skillet. Allow the mixture to cook for 5 minutes. Uncover the skillet, give the contents a stir, re-cover, and cook for another five minutes. Repeat this process until the potatoes are cooked through. Salt the potatoes and vegetables to taste and transfer them from the skillet to a bowl. Set aside. 3. Add the remaining oil to the skillet.Carefully add the tofu and stir it around to get it evenly coated in oil. It's fine if the tofu pieces are large. They'll break down during cooking. Cook the tofu, stirring and scrambling frequently until the liquid begins to evaporate. Add the vegan bacon.
4. Continue to stir the tofu and vegan bacon until and the tofu starts to brown. I use a metal spatula to do this so I can scrape up every bit of tofu that sticks as it browns. When the tofu is browned to your liking stir in the nutritional yeast and garlic powder. 
5. Turn off the heat and season the tofu scramble with kala namak and pepper to taste.
6. Take a tortilla and add about a spoonful of the potatoes to the center. Add a similar amount of the tofu scramble, and carefully roll up the taco. Wrap the taco in foil, and set it aside. Repeat with the remaining ingredients. 7. Place the wrapped breakfast tacos in a plastic freezer bag, and store them in the freezer.
To reheat: Unwrap a frozen breakfast taco, and re-wrap it in a paper towel. Place the paper towel-wrapped taco in the microwave, and microwave for 1 minutes, or until it is cooked throughout. Serve immediately with salsa and other fixins (if you have time!).