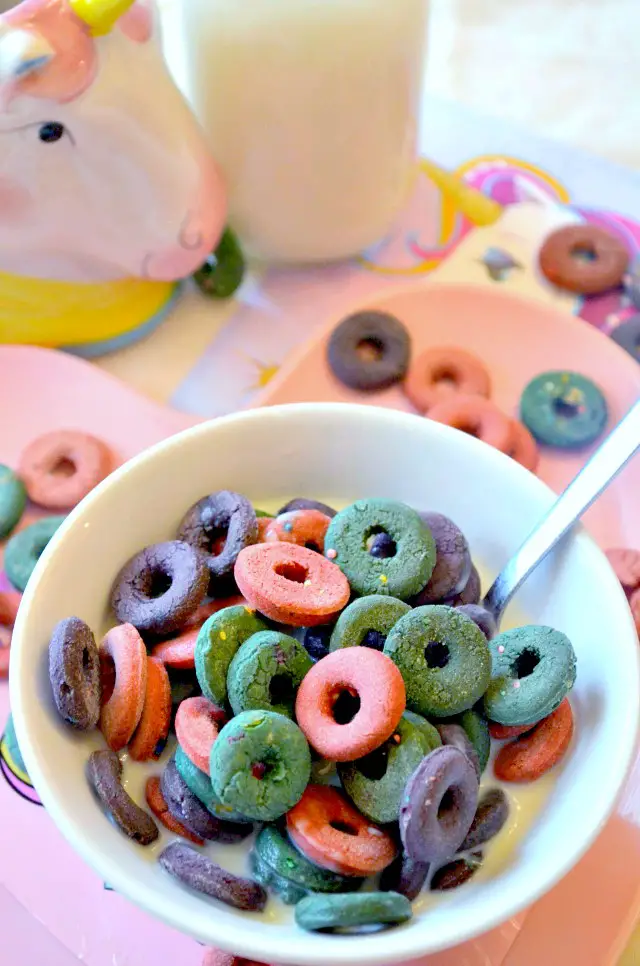 I first saw Kellogg's Unicorn Cereal on an Instagram post, and basically freaked about as much as someone can freak about a cereal. I LOVE unicorns. This moment we're having with unicorn stuff is right up my alley. As sick as some people are with unicorn food, pillows, toothbrushes, shoe horns, what-have-yous, I'm fully into it. 
❤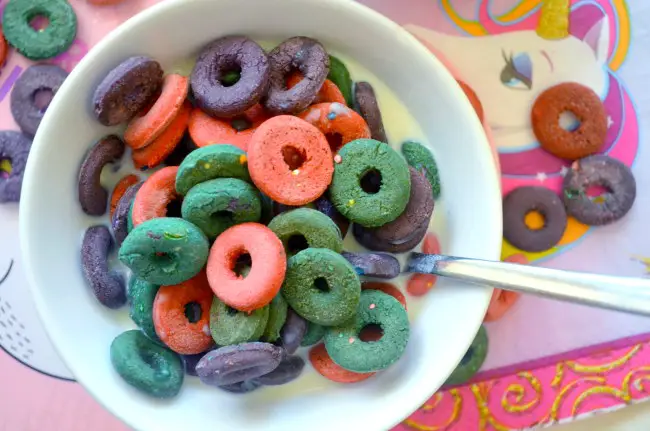 I immediately grabbed my purse and went to all the surrounding stores I could think of in search of this beautiful breakfast, but to no avail. I came home empty-handed and totally bummed until I realized something annoying. Even if I did find the cereal, it probably wouldn't be vegan anyway. Thanks, D3 .
So what else could I do, but make my own? I have no chill.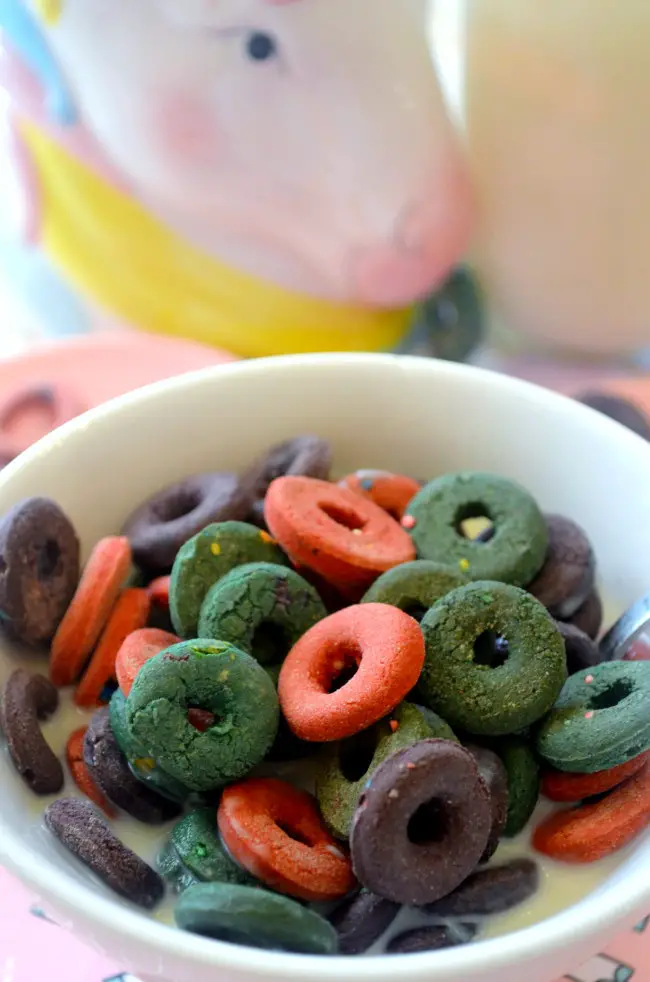 Let's talk about homemade cereal. It can be a fickle project. It's a little tedious which is fine if it works. However, it's not fine if you go through all the trouble of making the stuff only to have it completely dissolve once it gets in the milk. What we have here is not one of those failing recipes.
This DIY Unicorn Cereal stays together in milk for as long as any store-bought variety. Is it the oat flour, the cake mix? I don't know, but it just works. 
You're ready to settle into Saturday morning cartoons now, aren't you? Pro tip: She-Ra, He-Man, and The Real Ghostbusters are all on Netflix. You can also find Rainbow Brite and Carebears on YouTube!
This gorgeous technicolor bowl of magic is barely good for you and is made with actual cake mix for authenticity. I don't know what the OG cereal tastes like, but it's probably way sweeter and more artificially vanilla-ey. My version is sweet and vanilla-ey and cakey, but probably a little less so than Kelloggs'. So it's a more sophisticated type of junk food.
 print recipe DIY Unicorn Cereal | Vegan
1 1/4 cup oat flour (plus more for sprinkling), use GF if needed
1 cup brown rice flour
3/4 cup vegan vanilla cake mix, use GF if needed
1/4 cup granulated sugar
3/4 teaspoon sea salt
3/4 teaspoon baking powder
10 tablespoons boiling water
1/2 teaspoon vanilla extract
1/2 teaspoon almond extract
vegan pink and teal food coloring
vegan sprinkles
parchment paper
3/4 inch round piping tip
Instructions 
1. Preheat the oven to 300°F, and line a large baking sheet with parchment paper.
2. In a large bowl combine the oat flour, brown rice flour, cake mix, sugar, sea salt, and baking powder.
3. Make a well in the center of the dry ingredients, and add the boiling water and extracts. Using a large a spatula, mix the dry and wet ingredients until no lumps remain.
4. Separate the dough into three equal portions. Sprinkle your workspace with oat flour. Add the first portion of dough to the floured space. Drop a small amount of the pink food coloring into the dough and knead it in. Once the dough is evenly colored, shape it into a small bowl shape in the palm of your hand. Add a few shakes for sprinkles to the center of the well and proceed to knead them in until evenly distributed. Set this pink dough aside, and wipe down your workspace to get rid of any color that may have transferred. Repeat this step making teal dough with one of the remaining portions, and purple with the other remaining portion. To make purple, just use a little of the teal and pink food coloring together. Once your doughs are all colored and sprinkled, wipe down your workspace to ensure no color transfers. 
5. Tape a large piece of parchment your workspace. Add one of the colored doughs to the parchment, and cover it with another large piece of parchment. Use a rolling pin to roll the dough to 1/4 inch thick. Remove the parchment paper and, using the big side of a 3/4 inch round piping tip, cut out circles of the dough. Turn the tip around to the smaller round opening, and press that into the center of one of your cutouts to make a hole in the middle. You should be left with a ring-shaped piece of cereal dough. Transfer it to the prepared baking sheet. Repeat with the remaining cutout circles.
6. Repeat step 5 with the remaining pieces of dough.
7. Bake your unicorn cereal for 13 minutes. Rotate the baking sheet, and put it back in the oven for 12 more minutes, or until the cereal is very hard and very slightly browned. 
8. Once done, allow the cereal the cool completely on the baking pan. Store in an airtight container at room temperature. To eat, pour in a bowl, top with milk, and enjoy. This cereal stays crunchy in milk like any standard store-bought cereal.