I've had such a good time making food inspired by my new favorite show, Once Upon a Time! Did you watch the season premier? I've been busier than busy, and haven't had the opportunity to actually sit down and watch. I'm still enjoying it via my stomach.
To kick off this mini food series I made Apple Turnovers. Luckily, the only poison in these is cheap fat and sugar!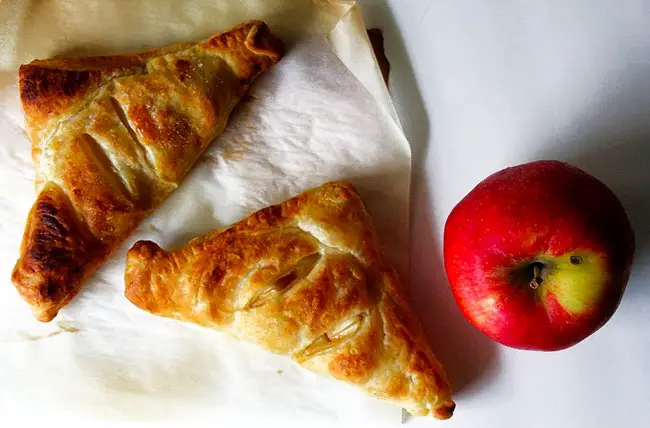 Vegan Apple Turnovers
Adapted from Apple Turnovers by Ina Garten
Ingredients:
2 lemons
2 big (or 3 medium) tart apples, peeled, cored and cut into a 1/2 inch dice
3 tablespoons sugar, plus extra to sprinkle on top
1 tablespoon all-purpose flour
1/4 teaspoon ground cinnamon
1/8 teaspoon ground nutmeg
Pinch salt
1 package (2 sheets) vegan frozen puff pastry, defrosted
Oil spray (I used coconut)
Directions
1. Preheat the oven to 400°F.
2. Put the cut apples into a large bowl. Zest and juice both lemons over the apples and stir to coat.
3. Add the sugar, flour, cinnamon, nutmeg, and salt to the apples and stir to combine.
4. On a lightly floured surface roll each sheet of the puff pastry to a 12×12″ square. Cut each sheet in half and then in half again to end up with 8 equal squares.
5. Brush the edges of each square with a little bit of water. Place about 1/3 cup of the apple mixture onto half of each square and fold the pastry diagonally over the apples. Seal the turnovers by pressing the edges with a fork. 
6. Spray the turnovers with a little bit of oil, and sprinkle with some sugar. Make 2 small slits on the tops and bake for 15-20 minutes, until brown and puffy. Serve warm with a big cup of coffee (or hot chocolate if you're partial to the ways of Storybrooke!)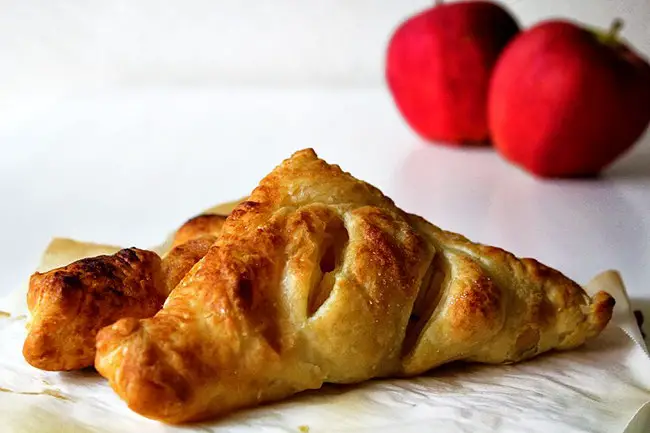 Come back this week for more Once Upon a Time inspired recipes!
Pin it!