Seitan Bourguignon
This Seitan Bourguignon came about in an effort to recreate one of my husband's all time favorite comfort foods. From living for a short period in France as a young boy to his father's tradition of making it every Christmas, Boeuf Bourguignon is a dish rooted in love and nostalgia for him.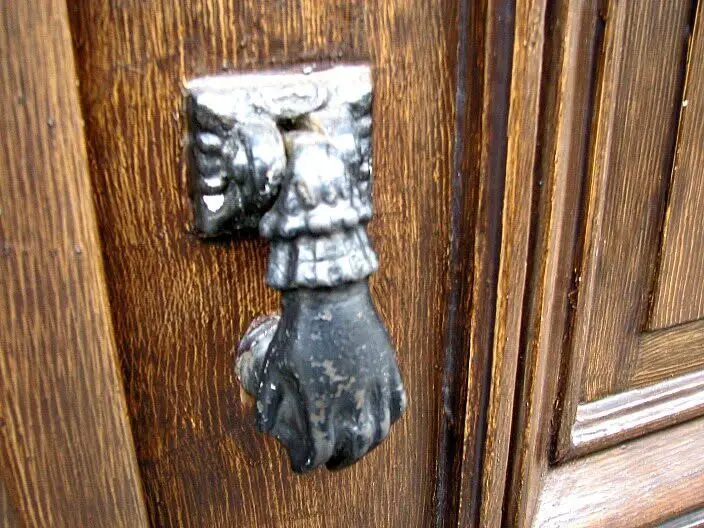 This is the door knocker on the apartment in Montmartre where he resided with his father and brother. Very bohemian!
Print
Incredible Vegan Seitan Bourguignon
---
Description
A perfect stew to celebrate a holiday with the family.
---
1 onion, diced
2 carrots, diced
5 mushrooms, cut into thin slices.
1 seitan, cut into cubes
Half a glass of red wine
2 glasses of water
Oil
2 tablespoons of whole spelled flour
2 bay leaves
Salt
Soy sauce
---
Sauté the vegetables in a frying pan with a little oil and salt for a few minutes.
Add the seitan, sauté a little.
Add the flour and stir well. Add the red wine and mix everything well.
Add the Laurel and water over the mixture. Cook for 30 minutes.
Add a little soy sauce at the end.
I've been attempting to properly recreate this dish for years. The broth was never the right texture, the lack of smokey bacon resulted in a shallower flavor, and the meat stand-in was always off. The broth needs to be (for lack of a better term) gelatinous while the "boeuf" needs to be fully infused with the flavor of the stew. I experimented with bought seitan and Gardein beefless tips, but neither absorbed any flavor. The flavor needed to be present at the source so I decided to make my own red wine infused seitan.
The red wine infused seitan turned out perfectly! The red wine not only provided the seitan with the proper flavor, but it also gave it a great stew-y color. To solve the problem of the broth I used a beurre manie and a little bit of cornstarch. For the bacon issue, I roasted some heavily salted mushrooms and added a huge spoonful of Magic Vegan Bacon Grease to the finished bourguignon. I won't say that the vegan bacon grease is a must, but it certainly takes this to the next level!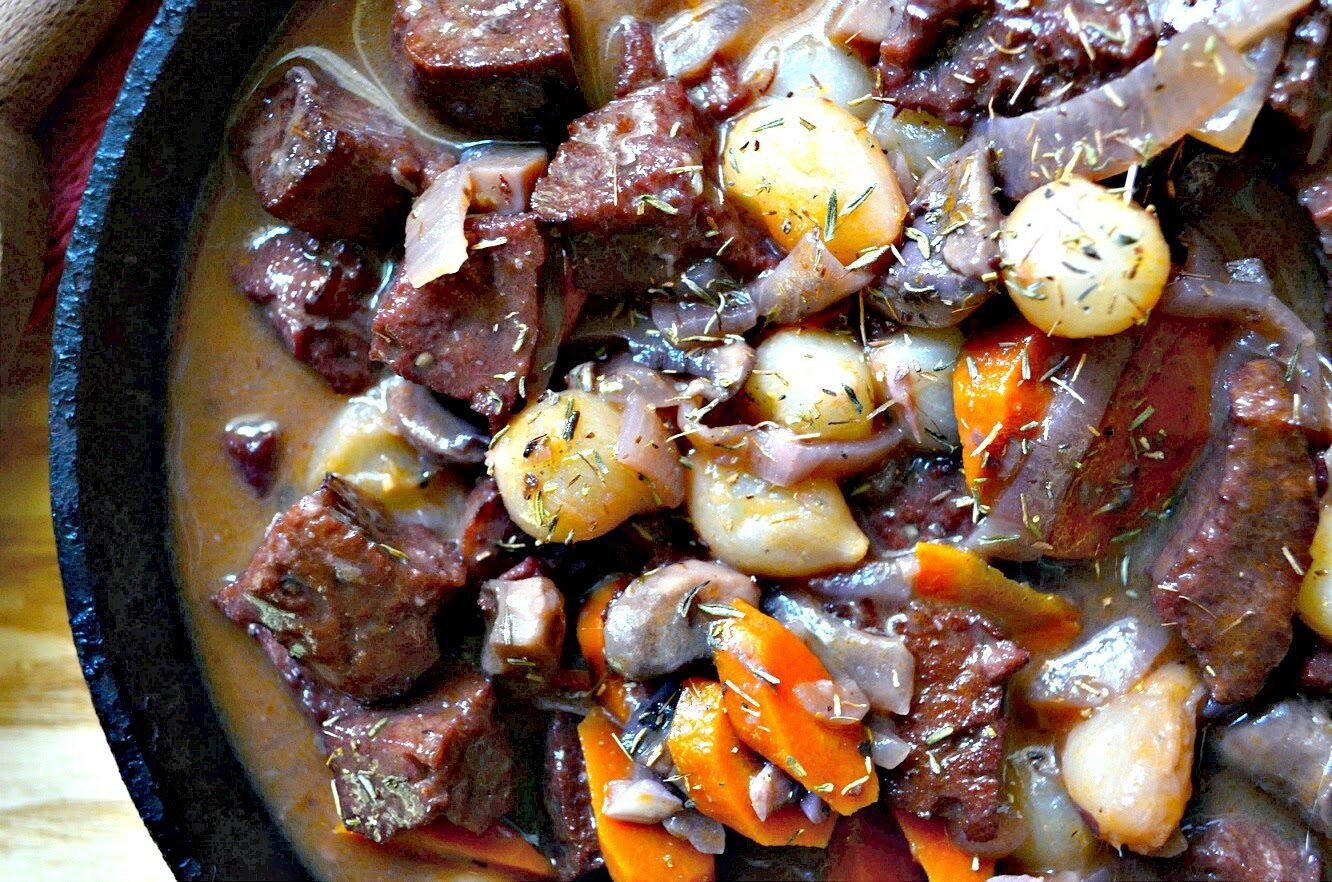 How did my husband like it? He LOVED it! He absolutely loved it. It was by far the best vegan stew I've ever made. I served it on top of mashed potatoes per his request, and it was one of the most homey and comforting meals to ever come out of my kitchen. It makes a ton, too! We ate it for days and days and then froze the leftovers. We actually ate the leftovers earlier this week, and I'm happy to report that it freezes just fine!
This recipe is not for the faint of heart in terms of health food. It is full of fat, wine, and gluten. Nature of the beast!
Mentioned in this post and recipe:
print recipe
Incredible Vegan Seitan Bourguignon

Pin it!