Iced Apple Chai Latte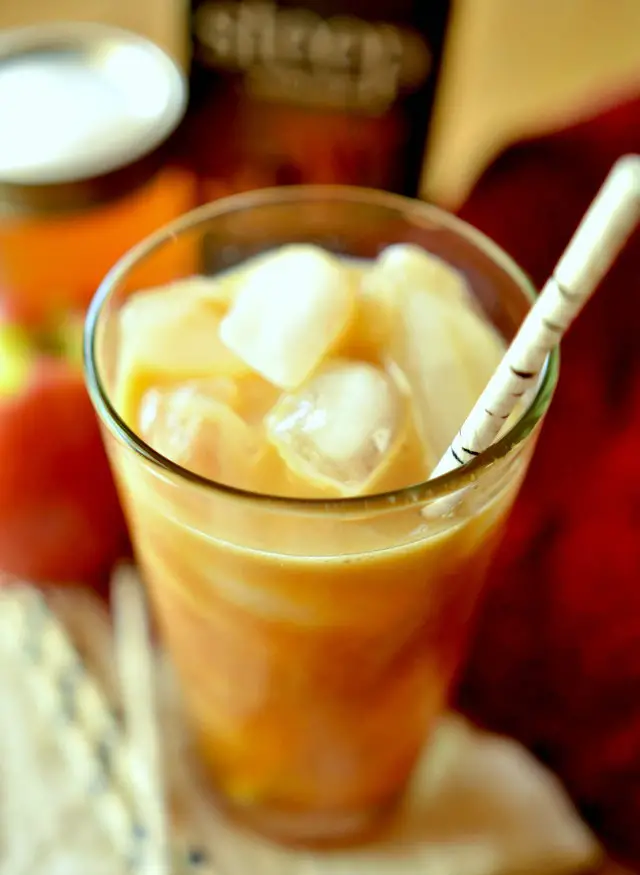 One of my first real jobs in the early 2000s was at a coffee shop located in a trailer on the side of a busy Texas highway. We had a drive-thru, blended drinks, sandwiches, espresso, soymilk, and a stereo system that blasted Motown anytime I had control of the tunes. While it wasn't the hip or artistic coffee house that I always dreamt of working in, it was a coffee shop and I loved it. 
As you can imagine, it wasn't the most sophisticated operation. We did have a quality espresso situation, but we also used a lot of drink mixes for blended drinks, mochas, etc., and this included a large selection of flavored chai tea lattes. Vanilla, caramel, chocolate, and hazelnut to name a few. The drink mixes weren't vegan so while I never tasted them, I did enjoy making them because they all smelled incredible. And my favorite mix by far was for apple chai lattes.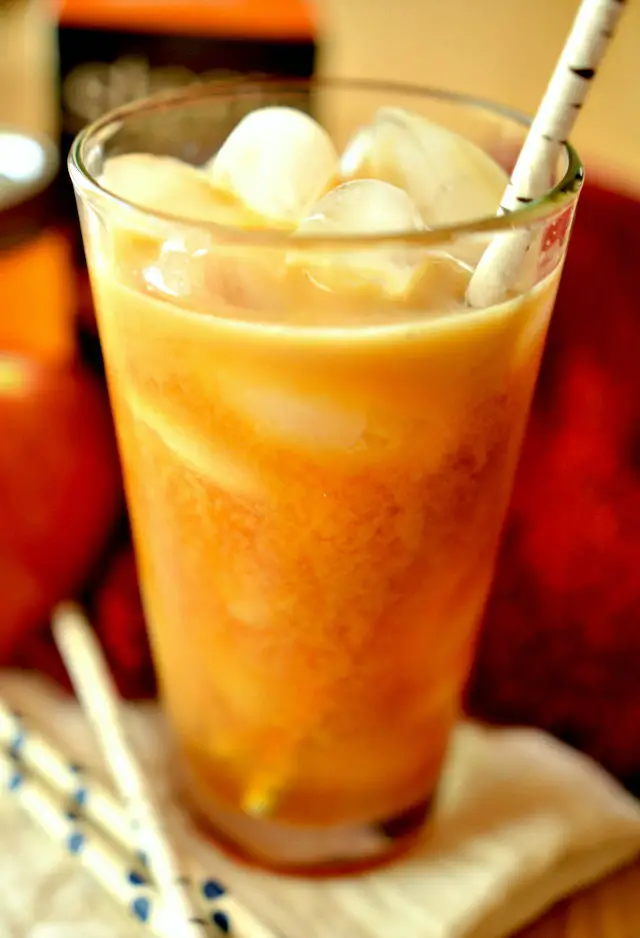 Whether hot, cold or blended, the apple chai mix would fill our tiny kitchen with a sweet and spicy aroma that made you feel like you were drinking spiced cider in a North Eastern apple orchard in October. Even if it was July, and you were working in a sweltering trailer on the side of the highway. 
I was only about a year into veganism at that point so I'll admit that cravings were plentiful and difficult. This dumb little drink mix was an item that I honestly had a lot of trouble saying no to. It was different back then, you know? I was young and I didn't know how to veganize anything. A lot of what kept me on track was just the stubborn will to make it work for the animals. And I'm so glad I did. Because now I'm 14 years into veganism and can veganize any damn thing I want. Including, at long last, an Apple Chai Latte.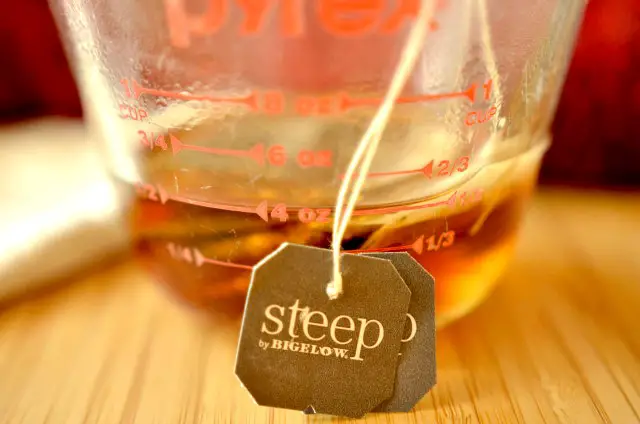 This drink is refreshing and sweet, and absolutely gives me that apple-orchard-in-October kind of feeling. However, don't think that makes it inappropriate for the current weather. It's a great alternative to iced coffee or any other iced tea or lattes you may be enjoying this summer. And I think it's pretty obvious why apple works so well with chai. I mean really. Apple, sugar, spices, c'mon. It's a win, win, win.
 print recipe Iced Apple Chai Latte
Makes 1 Iced Apple Chai Latte
1 large green apple, cored and sliced
1 cup apple juice
1 cup sugar
1/2 cup boiling water
2 bags chai tea
splash non-dairy creamer
lots of ice
Instructions 
1. Place the apple slices, apple juice, and sugar in a small pot over medium heat. Bring the mixture to a low boil, and allow it to boil until the syrup reduces considerably and becomes thick. 

2. When the syrup appears done, take it off the heat to cool. Once cooled, remove the apple pieces, and pour the remaining syrup into an airtight container or jar with a lid. Store in the fridge for up to a month. This is the syrup for your tea, but it can also be used on biscuits, pancakes, waffles, whatever you want. 

3. To make the latte, place the tea bags in the boiling water to steep. Steeping time depends on your tea's directions. I used the Organic Chai Black Tea from steep by Bigelow so I steep mine for 4 minutes. This seems like it'll be too strong, but the tea will be diluted later.

4. Once the tea is brewed, remove and discard the tea bags. Add in apple syrup (I like about 1 1/2 tablespoons) and creamer to taste. Fill a tall pint glass with ice, and add the brewed tea. The tea will melt the ice which is what you want. Add some more ice to your glass to make the drink iced. 

5. Enjoy!