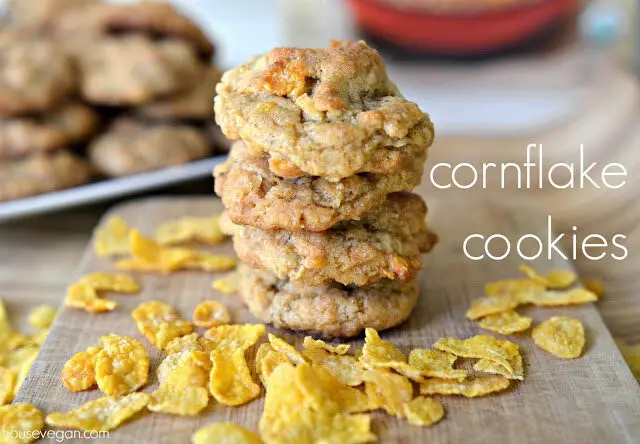 I can't think of a more 1970s cookie than the Cornflake Cookie. They make me want to settle into some Welcome Back, Kotter reruns with a big plateful and a side of cold almond milk.
My love for these cookies came in my early 20s when I was left with a huge box of Cornflakes after a breading experiment. I wasn't a big milk and cereal kind of girl so I needed something clever to do with my plethora of flakes. Cookies were a pretty easy choice!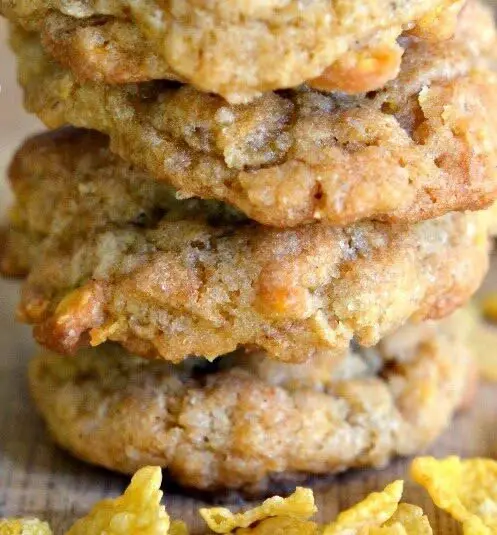 The recipe I used all those years ago was amazing. Super chewy on the inside, but still crunchy on the outside. I made the cookies a few times but ended up losing the recipe as time went on. Out of desperation I finally decided to write my own recipe based on the first one's best features. The result was perfect! Maybe even better than the original.
Thanks to bread flour and brown sugar these babies are unbelievably chewy. If you don't want to use bread flour feel free to sub it for the same amount of all-purpose flour. They won't be quite as chewy, but they'll still be delicious!
How to Make Vegan Cornflake Cookies
Ingredients:
3 tablespoons flaxseed meal
1/4 cup water
1 1/2 cups all-purpose flour
1/2 cup bread flour
2 cups cornflake cereal, crushed with your hands
1/2 teaspoon baking soda
3/4 teaspoon salt
1 cup non-dairy margarine, melted
1 1/4 cup brown sugar
1/4 cup white sugar
1 teaspoon vanilla extract
Instructions:
1. Preheat the oven to 350 degrees. Line a baking sheet with parchment paper, and set aside for later.
2. Whisk together the flaxseed meal and 1/4 cup of water until frothy. Set aside.
3. In a medium sized bowl combine the flours, cornflakes, baking soda and salt. Set aside.
4. In a separate, smaller bowl mix together the melted margarine, sugars and vanilla. Pour this wet mixture into the flour mixture and stir to combine.
5. Drop cookies by the tablespoon full onto the parchment lined baking sheet. Make sure to keep them 2″ apart! Bake for 10-12 minutes until brown around the edges. For best results let them cool on a wire rack for at least 10 minutes before eating. Repeat this step until you're out of dough.
6. Watching Welcome Back, Kotter is optional but encouraged.
Pin it!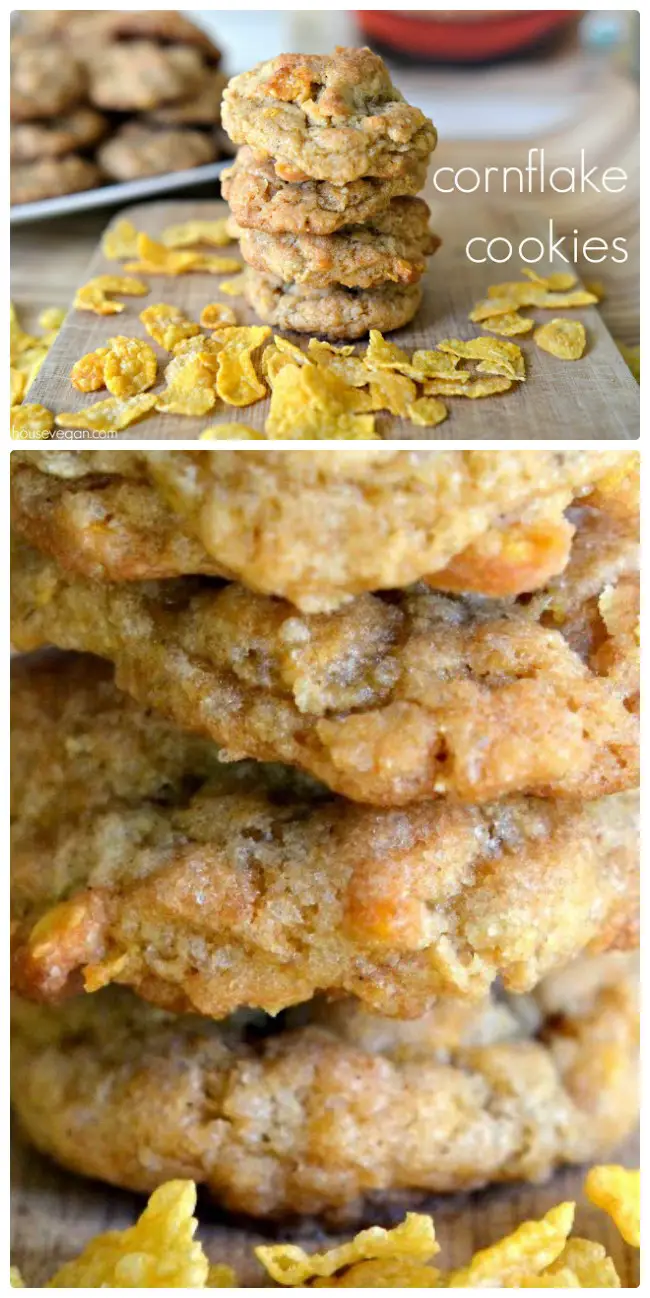 Let's be friends! on Twitter, Facebook, Google+, Pinterest, Bloglovin' & Instagram