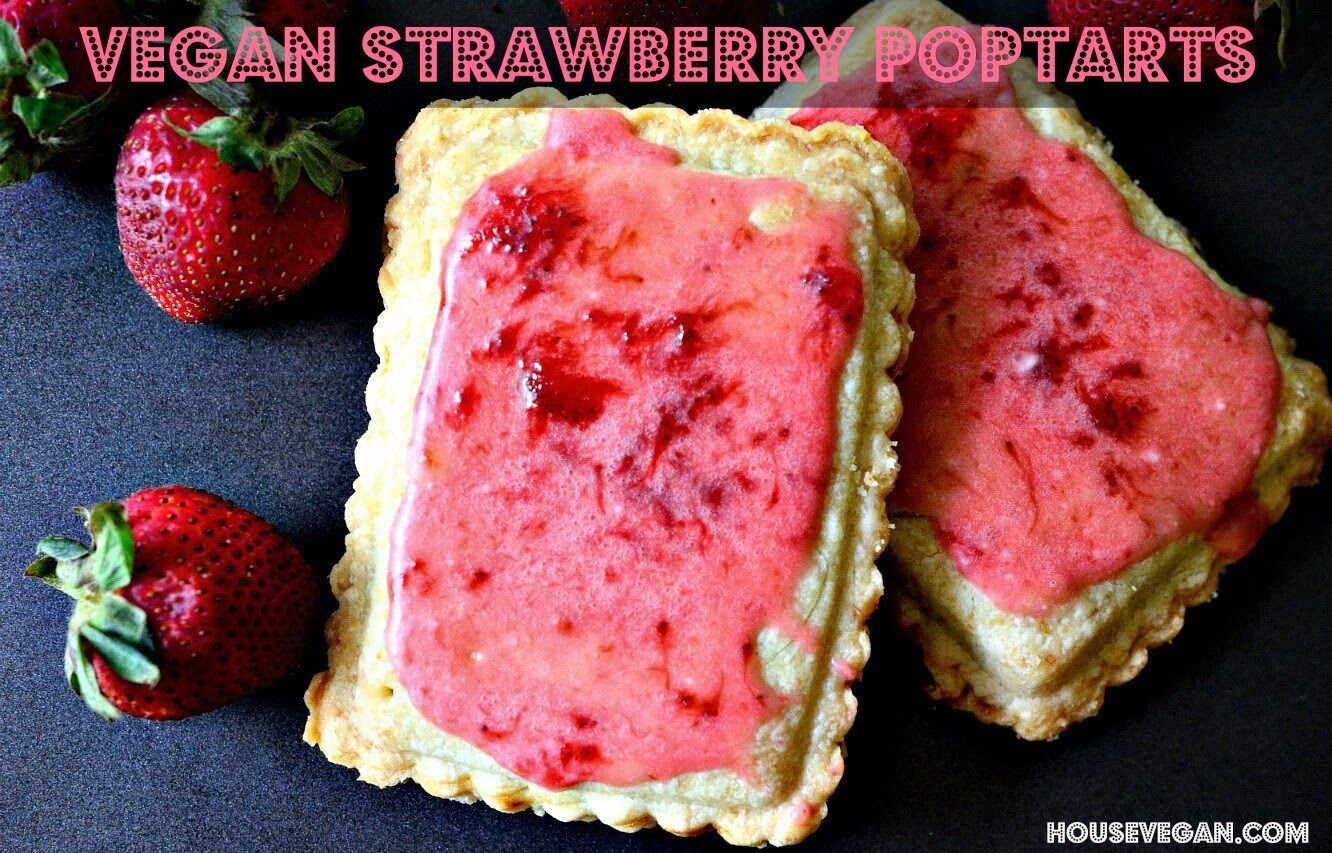 Spring brings a lot of food related happiness to the world. For instance, our local market recently had organic strawberries on sale for .99 a pound. .99! Needless to say, I went to town. 
I really wanted to bake up something delicious with my berries, and in my contemplation, I remembered a little tool in my kitchen that hadn't been used since the Fall: my Williams Sonoma Toaster Pastry Press. This baby had been sitting in my pantry since last year's Homemade Pumpkin Pie Pop Tarts. For shame! Strawberry Pop Tarts were the obvious use for my plethora of berries. 
Before moving on to the recipe let's talk about the OG Pop-Tart real quick. It's no secret that Kellogg's Unfrosted Strawberry Pop-Tarts (the vegan one) are delicious (in a Saturday morning nostalgia kind of way), but terrible for you. I'd like to really illustrate just how terrible they are for you in one paragraph: 
ENRICHED FLOUR (WHEAT FLOUR, NIACIN, REDUCED IRON, THIAMIN MONONITRATE [VITAMIN B1], RIBOFLAVIN [VITAMIN B2]), CORN SYRUP, HIGH FRUCTOSE CORN SYRUP, DEXTROSE, SOYBEAN AND PALM OIL (WITH TBHQ FOR FRESHNESS), CRACKER MEAL, CONTAINS TWO PERCENT OR LESS OF WHEAT STARCH, SALT, DRIED STRAWBERRIES, DRIED PEARS, DRIED APPLES, LEAVENING (BAKING SODA, SODIUM ACID PYROPHOSPHATE, MONOCALCIUM PHOSPHATE), CITRIC ACID, CORNSTARCH, CARAMEL COLOR, SOY LECITHIN, XANTHAN GUM, MODIFIED WHEAT STARCH, VITAMIN A PALMITATE, RED #40, YELLOW #6, NIACINAMIDE, REDUCED IRON, PYRIDOXINE HYDROCHLORIDE (VITAMIN B6), RIBOFLAVIN (VITAMIN B2), THIAMIN HYDROCHLORIDE (VITAMIN B1). 
My favorite part of the ingredient list: "CONTAINS TWO PERCENT OR LESS OF WHEAT STARCH, SALT, DRIED STRAWBERRIES"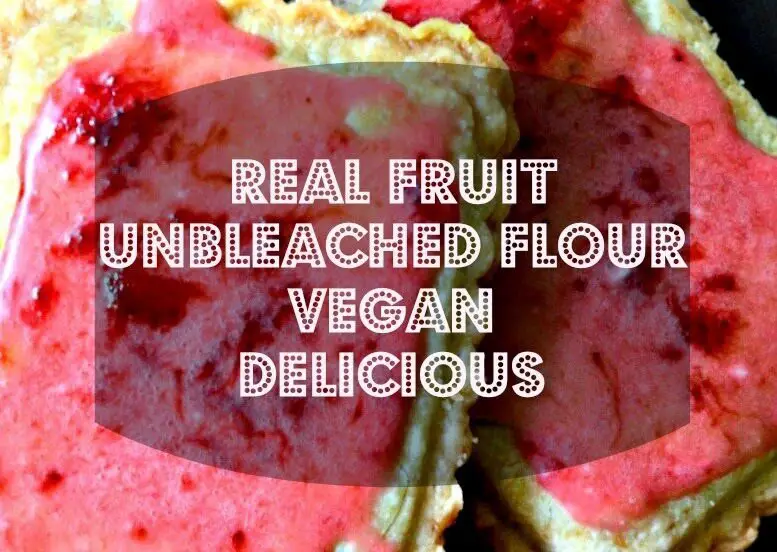 For the record, my Homemade Vegan Strawberry Poptarts are bursting with real honest to goodness strawberries – from filling to glaze.
Homemade Vegan Strawberry Poptarts
Ingredients:
1 batch Strawberry Poptart Filling (see below)
1 batch Vegan Pie Crust (see below)
1 cup powdered sugar
non-dairy milk
Directions:
1. Preheat the oven to 350ºF, and line a baking sheet with parchment paper.
2. Measure out 2 tablespoons of the strawberry filling and set it aside.
3. On a floured surface, roll the pie dough out to about 1/8 inch thick. Not too thin, not too thick.
4. Cut out your desired shape into even portions until you're out of dough. (I got about 16 pieces with the pastry press.) Place your bottom pieces on the prepared baking sheet. We're going to assemble the tarts right on the parchment to lessen the mess to follow.
5. Add a slightly heaping tablespoon of the filling to the middle of one of your bottom cutouts on the baking sheet. Top with another cutout, and pinch the edges together. Brush the top with some non-dairy milk, and repeat the process until you run out of dough. 
6. Bake your tarts for 25-30 minutes or until they're brown around the edges. Start checking on them regularly after about 15 minutes. Pie dough can be very moody! 
7. Let the finished tarts rest on a cooling rack until they are completely cool – at least an hour.
8. While your tarts cool make your glaze by combining the powdered sugar and reserved strawberry filling sauce. Slowly drizzle in enough milk to give it a thick and syrupy consistency.
9. Carefully spread the glaze over the tops of your tarts. Allow them to completely harden before storing.
10. To store: place tarts in an airtight container layered between parchment paper. I like to store them the fridge, but I took some to my Oma's house where they kept them on the counter for a few days and they were just fine.
Vegan Strawberry Poptart Filling
Adapted from this recipe on chow.com
Ingredients:
3/4 pounds strawberries, large diced
1/2 cup granulated sugar
1/2 teaspoon finely grated lemon zest (from 1 medium lemon)
2 teaspoons freshly squeezed lemon juice
1 teaspoon cornstarch
Directions:
1. Combine the strawberries and sugar in a saucepan. Mash the strawberries with a potato masher until the majority of the strawberries are mashed.
2. Cook the mixture over high heat stirring occasionally until bubbles form along the pan's edge, about 5 minutes. Carefully remove any foam from the surface of the sauce with a spoon. Add the zest and juice and stir to combine. Bring the sauce to a full boil, and cook until foam covers the surface, about 2 minutes.
3. Remove the pan from the heat and remove the foam on the surface with a spoon. Let your sauce cool to room temperature.
4. Once the sauce is completely cool stir in the cornstarch. It is very important that the sauce is cooled completely otherwise the cornstarch won't mix in properly. 
5. Store the sauce in the fridge for at least two hours to settle and thicken. Meanwhile, make your crust.
Vegan Pie Crust
Adapted from Ina's Perfect Pie Crust
Ingredients:
3 cups unbleached all-purpose flour
1 teaspoon salt
1 tablespoon sugar
1 1/2 cups vegan butter
1/3 cup vegan shortening
6 to 8 tablespoons ice water
Directions:
1. Add the flour, salt, and sugar to a food processor and pulse it a few times to combine. Add the Buttery Spread and Shortening to the flour and pulse until the Earth Balance is the size of peas. Slowly add the ice water until a dough forms. Dump the dough onto a floured surface and shape it into a ball. Wrap your dough in plastic wrap and place it in the fridge until you're ready to use it.
Pin it!
Let's be friends! on Twitter, Facebook, Pinterest, Bloglovin' & Instagram!