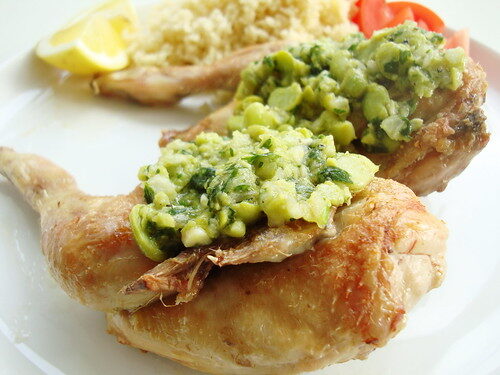 A few years ago, Australian chef Greg Malouf, who is of Lebanese origin, decided to travel with his ex-wife and writer Lucy to Lebanon and Syria to learn more about the cuisine and culture. Cookery book Saha was the collaborative result of that journey. I chose to review Saha because I had my own culinary experience in Lebanon in the summer of 1991, just after the civil war ended. I stayed with my then boyfriend and his family for two weeks in the hills above Beirut, and we drove around and explored different areas every day. There were no tourists then, which made my visit all the more unique. Of course I also got to eat a lot of Lebanese food, both home-cooked and in restaurants.

The book is divided into seventeen chapters, starting with an introduction to the places the Maloufs visited, the people they met, and unusual experiences (visiting a dairy, meeting a beekeeper, learning to make arak), followed by various recipes for dishes including kibbeh nayee (lamb tartare), mokh makly (lamb's brain) and Bedouin-style spinach, lentil and lemon soup.

I particularly liked the meat mezze chapter (The Butcher of Baalbeck) and the one on salad dressings (The Bekaa Valley). The bread chapter (The Daily Khobz) will definitely appeal to bakers, and just about anyone will love the ice cream & sorbets (Gardens of the World) and puddings & sweet pastries (The Storyteller of Damascus).

I wasn't so sure about the authenticity of some of the recipes, however, with ingredients such as wonton wrappers, egg noodles, Parmesan, mozzarella and Kahlua listed. The recipes appear to be Malouf's own interpretation of traditional dishes, often with a very modern twist, which is fair enough. I think though that he should have made this clearer in the introduction, as readers unfamiliar with Middle Eastern cuisine will be confused at the very least. The line 'This is my adaptation of a home-cooked classic that every Lebanese knows and loves' with which he introduces loubia bi zeit (green beans slow-cooked with cumin and tomatoes) should have been used more regularly.

It is understandable that not all the ingredients available in Lebanon and Syria can be found elsewhere in the world (and not everyone lives close to specialist Arab shops and supermarkets), so of course it is acceptable to use substitute ingredients, if it is made clear that this is what they are. A list of typical ingredients used in Lebanese and Syrian cooking would also have been very handy.

I much preferred the travel and culture sections of the book, and in particular learning about the production of arak, carob molasses and Bekaa Valley wine, harvesting pine nuts and pickling and preserving foods, while the superb photography (not just of food) was most evocative of the region.

I think that for home cooks, Malouf's Arabesque, published a year later, is a more useful source of information on modern Middle Eastern cuisine. It also contains the comprehensive A-Z of ingredients widely used in Middle Eastern cooking that I wanted to see in Saha, with descriptions, history and tips on how to select, prepare and cook them. And there are 170 recipes in total. I hope to write about it in the near future and try out some of the recipes.

From Saha, I chose to replicate Malouf's recipe for grilled flat chicken with broad bean crush, because I had grilled chicken quite often in Lebanon, and was intrigued by the sound of broad bean crush. 'The crush is also delicious on toasted bread, served as a canapé'. Here is the recipe, taken from the book.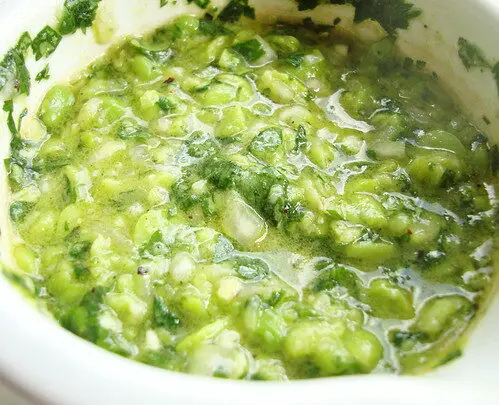 Ingredients: (serves 4)

2 x 500g (1lb) free-range chickens or poussins
Broad bean crush –

125g (4½ oz) broad beans, podded, blanched and peeled
1 shallot, very finely diced
¼ cup coriander (cilantro), finely chopped
50 ml (2 fl oz) extra virgin olive oil
freshly ground black pepper
Preheat your grill to its highest temperature and line the tray of the grill with foil to make cleaning up easier.

To prepare the chickens, cut them down the back and splay them open. Season them with salt and pepper and place them under the grill, skin side down, making sure they are about 3 cm  (1¼ inches) from the heat source.

Cook for 5 minutes, then turn and cook for a further 5 minutes, or until the skin starts to blister (my grill wasn't working properly, because it took a lot longer than 10 minutes to grill a poussin!)

While the chickens are grilling, prepare the broad bean crush. First, pound the garlic and salt to a smooth paste. Next, add the remaining ingredients to the mortar and pound them one by one, or tip everything into a food processor. Either way, what you are aiming for is a sludgy, rough texture (I did everything with a pestle and mortar and kept it even more rough in texture than Malouf's version).

When the chickens are cooked, smear on the broad bean crush and cook for a few more minutes. Serve with Arabic bread, lemon wedges and a soft leaf salad.

I have to admit, the broad bean crush was phenomenal, and I can't wait to make it again and eat it any chance I can. I actually added an extra clove of garlic too. It's highly highly recommended!

Saha (£30.00) and Arabesque (£20.00) are both published by Quadrille.

See more recipes on Lay The Table.

@ Lay The Table