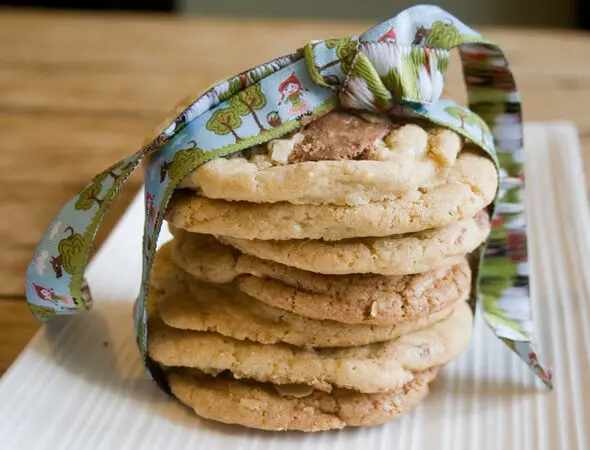 I spotted Toblerone cookies in the supermarket but as they're quite expensive and I'm going through a cookie making phase right now, I wanted to make my own. Cookies are so easy to make plus you can leave the raw cookie dough in the fridge for a couple of days so you can whip up a fresh and warm batch when you feel like it (also raw cookie dough goes great with vanilla icecream!)
{Makes about 20}
1 hour – Prep time: 15 mins – Cooking time: 10 mins – Resting time: 30 mins (unattended)
INGREDIENTS
300g normal-sized Toblerone, each triangle chopped in half
320g plain flour
180g light brown sugar
170g unsalted butter, melted and cooled
120g granulated white sugar
70g flaked almonds, crushed a little
1 large egg+1 large egg yolk
1tbsp vanilla extract
1tsp salt
½tsp bicarbonate of soda
INSTRUCTIONS
Oven temperature to 190°c / Gas Mark 5
Beat the butter, sugars and vanilla extract together until well mixed.
Add in the egg and egg yolk, ensuring they have been well mixed in
Pour in the crushed almond flakes, then sift in the flour, salt and bicarbonate of soda a little at a time.
Stir in the Toblerone pieces. They will all fit in and the mixture will still hold!
Lay out some cling film and roll half of the mixture into a small sausage shape on it. Wrap the rest of the cling film around it then roll the sausage longer (until diameter is approx 5cm/2 inches), ensuring it's fairly even. Repeat with the other half of the mixture, then chill in the fridge for at least 30 minutes.
Pre-heat the oven and remove the cling film from the cookie dough. Make slices 1.5cm apart ensuring there's at least one piece of chocolate in each biscuit and put the cookie dough onto a baking tray lined with greaseproof paper, spread well apart.
Bake in the oven for 8-10 minutes – the cookies will seem uncooked. Leave to cool on the baking tray for a minute or so, then transfer to a cooling rack. Try not to eat them all at once!