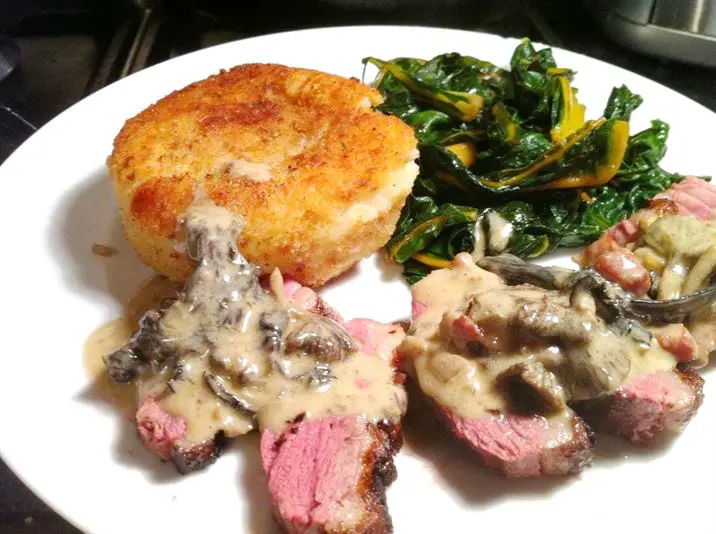 As you might expect, the texture and flavour of goose breast is similar to that of duck, though slightly richer. The main difference obviously is the size and so one goose breast is enough for two people. Cooked the Sous Vide way, as Ive done here, the flesh stays incredibly juicy and pink. You can then finish it off in the frying pan, skin-side down, to get a superbly crispy skin. An enormous amount of fat come out of the breast, which you can save for roasting potatoes. 
Ive served this with a Wild Mushroom Sauce (the recipe for which Ive used before) and Potato Cakes and Swiss Chard a very dark and rather bitter leaf, which offsets the richness of the goose and sauce.
Serves 2
1 goose breast
Salt and freshly ground black pepper
For the potato cakes
3 large floury potatoes
1 tbsp flour, seasoned with salt and pepper
1 egg, beaten
2 tbsp fresh breadcumbs, seasoned with 1 tsp paprika
For the Swiss Chard
Leaves from 6-8 chards, trim the stalks and reserve for another dish or to make a vegetable stock.
For the Wild Mushroom Sauce
1 tbsp olive oil
6 rashers streaky smoked bacon
250g wild mushrooms
250ml double cream
1 glass white wine
1 garlic clove
30g unsalted butter
2 spring onions, finely chopped
1 tbsp thyme leaves thyme
Salt and freshly ground black pepper
1. Make the sauce according to these instructions and set aside.
2.  For the goose. Seal the breast in a Sous Vide vacuum pouch and cook in a water bath for 1-2 hours at 60C. Remove from the water. Snip the pouch open and take the breast out.
3. Heat a large frying pan to a medium-heat, then cook the goose, skin-side down for approx. 5 mins, until the skin is crispy. IF YOU DONT HAVE A SOUS VIDE WATER BATH you can still cook this dish, just cook the breast in the frying pan for approx. 15 mins, but flip the breast so that it cooks through evenly.
4. Make the potato cakes (you should have enough for 4). In a large pan of salted water, boil the potatoes for 10-12 mins until tender. Drain and mash, then allow to cool. When cool, pack the mash into cooking rings to form a cake.
5. Put the flour, egg and breadcrumbs onto separate plates, then dust the potato cakes with flour. Dip the floured cakes in the beaten egg, then into the breadcrumbs. Heat the olive oil in a large frying pan and gently cook the potato cakes on each side until crisp and golden, approx. 6-7 mins. Remove and drain.
6. Meanwhile, cook the Swiss Chard. Put the leaves into a pan of already-boiling water and cook for approx. 5 mins until tender.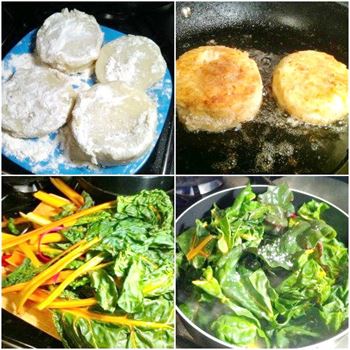 7. Carve the goose breast into chunks and serve smothered with the Wild Mushroom Sauce, along with a potato cake or two and the Chard.