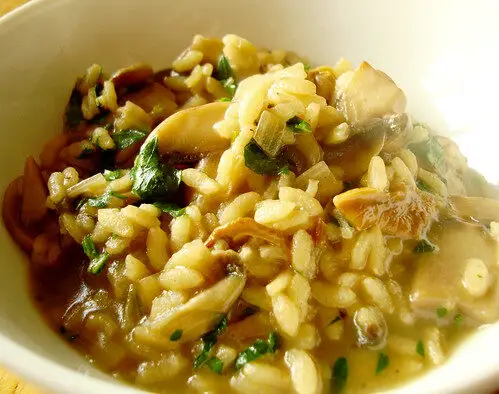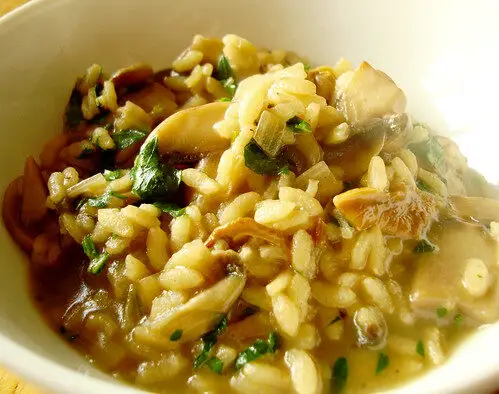 The husband loves making risotto. It's so easy to prepare, and as it all goes into one pan, there's little washing-up for me to do afterwards, so I love it too. On our recent trip to Italy, we went supermarket shopping as always, and bought amongst other things some Vialone Nano risotto rice. We'd just eaten a terrific lunch at Dal Pescatore, and one of the dishes I had was a vegetarian risotto using Vialone Nano. In this recipe, we also used up the rest of our extremely expensive but high quality porcini mushrooms from Bologna's famous delicatessen Tamburini.

Ingredients: (for 2)

mushrooms (any type or mixture, including dried porcini mushrooms, which have to be soaked in advance for about 20 to 30 minutes in hot water)

1 large (echalion) shallot

fresh chopped parsley

250ml white wine

1½ cups risotto rice (arborio or Vialone Nano)

olive oil & butter

sea salt & black pepper

freshly grated Parmesan or Grana Padano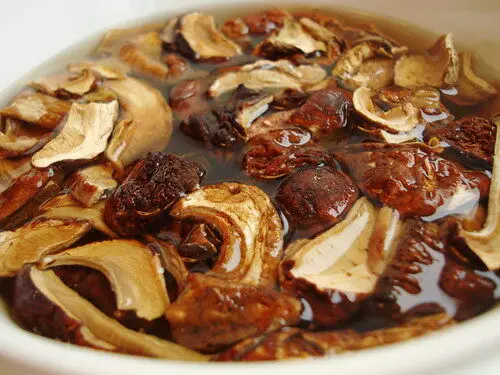 What to do next:

Chop up shallots and fry in a mixture of olive oil and butter in a heavy frying pan for a couple of minutes. Add chopped fresh mushrooms and cook for 3 to 5 minutes. Add a little more olive oil , followed by the rice.

Turn up the heat and stir until the rice is so hot that it feels like it is about to pop. Add hot, but not boiling, water to the rice and continue stirring. Add the rehydrated porcini mushrooms.

Cook on a medium heat, stirring regularly and adding water each time it feels as if the rice is going to stick to the pan. Continue this process for 10-15 minutes until the rice is soft but al dente in the centre. At this point, add no more water but keep stirring until the liquid thickens.

Add two large knobs of butter, salt and pepper to taste, some chopped parsley and a handful of grated Parmesan or Grana Padano. Stir through and serve.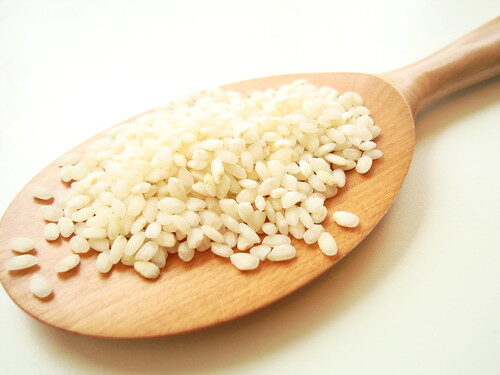 If you've made too much risotto, here's a great recipe for using it up – How To Make Vegetarian Rice Cakes

Here are some other recipes in the Italian series:

How To Make Roast Pumpkin, Butter & Sage Spaghetti
How To Make Spaghetti With Hot Smoked Salmon
How To Make Fresh Tortelloni
How To Make Minestrone Soup
How To Make Fresh Egg-free Pasta
How To Make Fresh Italian Pesto Sauce
Click for all the Italian recipes on Lay The Table.

@ Lay The Table