The other day on facebook, Melissa of My Cake School shared THIS very cute cake, and I just knew I had to cookie-fy it! (Thanks for the inspiration, Melissa!) I think they are perfect for Father's Day and the stick people lend themselves to looking like children made them…especially mine, haha! Of course, you can let your children make them if you'd like. I added written tags to attach to the cookies, with the sentiment above:)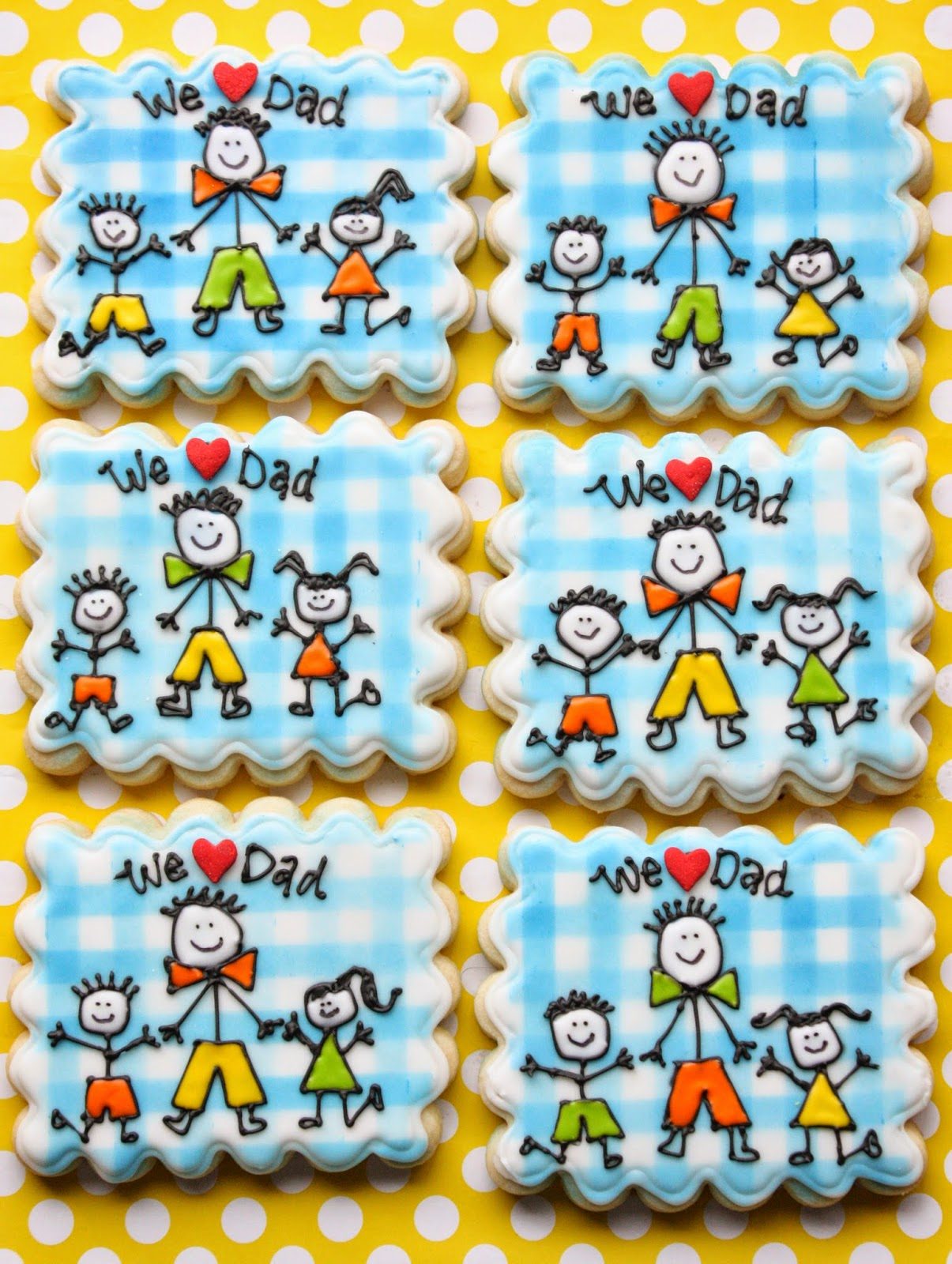 I did not make stick people templates, but piped directly onto the cookie with royal icing. The blue gingham base was made using Salsa Sweets' stencil. I love it!
Of course you can personalize these cookies by piping two boys or two girls, or even one child.
You can even have your child present this cookie to their dad, and he won't be able to resist. It's an ample (5-in x 4-in) cookie, so one is enough:)
The cookies are really quite simple.
Stick Figure Dad Cookies
Ingredients:
Assorted gel food colors, including black
1 large heart sprinkle
A gingham stencil
Blue food color spray (I used Wilton)
Black edible marker
Directions:
1. Roll out sugar cookie dough about 3/8-inch thick, and use cutter to cut out cookies.
2. Use a spatula to place on baking sheet.
3. Place in freezer for 10 minutes to help cookies hold their shape.
4. Bake cookies according to recipe, until starting to brown around the edges.
5. Let cookies cool completely.
6. Use white royal icing to outline and fill each cookie.
7. Let them dry for 6-8 hours, or overnight.
8. Place gingham template on each cookie and apply the food color spray.
9. Let color spray dry.
10. Using black tinted royal icing and a small decorating tip (I used a 1.5 PME tip) to pipe on the stick people. (Leave room to pipe words above dad.)
11. Pipe the words above dad, and with a dab of royal icing add the heart sprinkle.
12. Let the black royal icing dry.
13. Tint a few portions of the royal icing with various colors for the clothing. (Reserve a small amount of the white royal icing for the faces.)
14. Fill in the clothing with the royal icing (I used a #2 tip).
15. Fill in the faces with the white royal icing.
16. Let cookies dry completely.
17. Add facial details with the black edible marker.
18. If you'd like, add tags that state: Dads always "stick" by your side.
Linked to:
Kitchen Fun and Crafty Friday