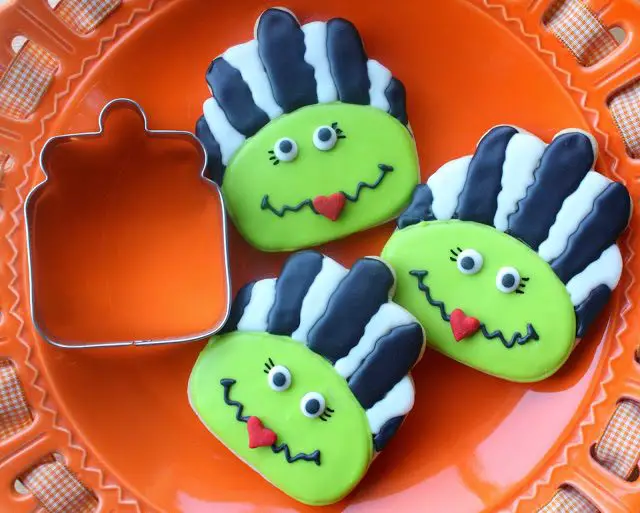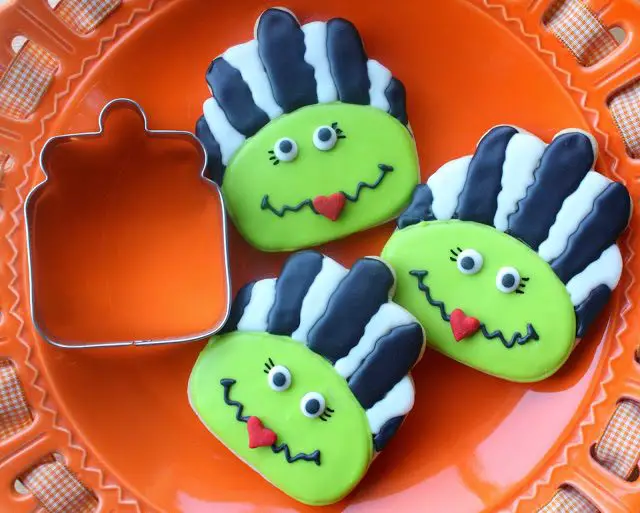 A friend of ours requested Halloween cookies for her niece and a friend's children, with my choice on which cookies to make:) I chose Frankenstein, pumpkins and skeletons, but came up a few cookies short with the batch of cookies I made.
I was kind of short on time and didn't feel like making more cookie dough, so decided to check in my "cookie freezer" (comes in very handy, especially over the holidays) in the garage. Maybe I would be able to channel Callye (Sugarbelle) and her creative cookie cutter vibes:) I poked around in the tupperware container and took out the recent cookies I had baked using the cookie jar cutter, newly purchased from Karen's Cookies, and designed by Sugarbelle herself…Aha, maybe that's why I was able to "think outside the cutter"! If you 're not familiar with Sugarbelle, it's about time you got acquainted:)
I have wanted to make Bride of Frankenstein cookies for some time, so when I looked at the cutter and the protruding knob on the cookie jar I thought that maybe, just maybe it would somehow work with the Bride's straight up hairdo. So, I traced around the cutter, sketched it out, and sure enough it did work!
I was pretty excited because I am still a fledgling with cookie cutter versatility~making a cookie with a cutter intended for another design. I was pretty happy with the results!
Besides Sugarbelle, Lisa The Bearfoot Baker has also been inspiring me with her cutter creativity! I am smitten every time I visit her blog, and I'm sure you will be too!
Thanks so much for the inspiration you two!
Bride of Frankenstein Cookies
Sugar cookie dough
Royal icing
AmeriColor Electric Green gel coloring
AmeriColor Super Black gel coloring
Untinted royal icing
Candy eyes
Large red heart sprinkles
AmeriColor food marker
1. Mix up a batch of sugar cookie dough.
2. Roll out dough, cut out cookies with cutters and transfer to parchment-lined baking sheets.
3. If needed, freeze dough on sheets for 10-15 minutes so that they will hold their shape longer, before baking.
4. Bake according to recipe.
5. Let cookies cool for about 10 min. on baking sheet and then transfer to cooling rack to cool completely.
6. Make royal icing.
7. Tint some of the icing, green, some of it black, and keep the rest untinted.
8. Using the green icing and a #3 tip, outline the face, and then fill it in. Let it dry for at least an hour.
9. Using the black with a #3 tip, outline the black segments of the hair and fill it in.
10. Let the green and black dry completely before continuing.
11. With the black icing and a #2 tip, make a mouth and while wet, gently place a heart sprinkle in the middle.
12. Dab a small dot of white royal icing on the back of the eyes and place gently on the face.
13. Using the edible marker make eyelashes on both eyes.
14. With the white icing, fill in the remaining segments of the hair, and let dry completely.
If you want to make your own Bride of Frankenstein cookies, but don't have a proper cutter, or even a cookie jar cutter, look through your collection of cutters and see what you can do. It's fun!
Linked to:
Two Cup Tuesday
Kitchen Fun and Crafty Friday
I'm Lovin' it Party
Link Party Palooza