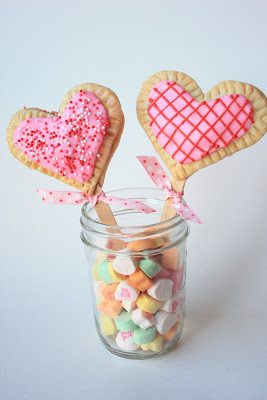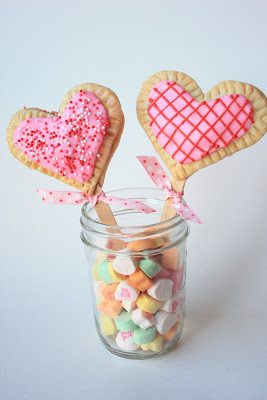 Pop Hearts
Well, Family Fun magazine has come through again. The February issue has a cute and simple idea for Heart Tarts. The only variation is that I also made some Pop Hearts and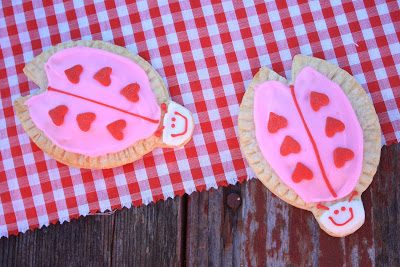 Love Bugs!
Aren't they cute? (I just used a ladybug cookie cutter.) They are so simple to make! Kids can easily help out.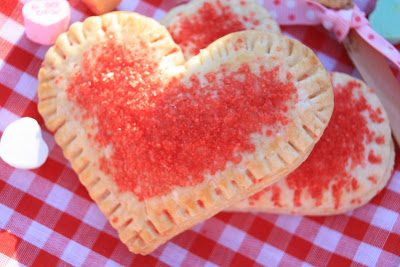 Heart Tarts
Of course you can make some Heart Tarts too! I filled all of the pops, bugs and tarts with my daughter's homemade strawberry jam~YUM!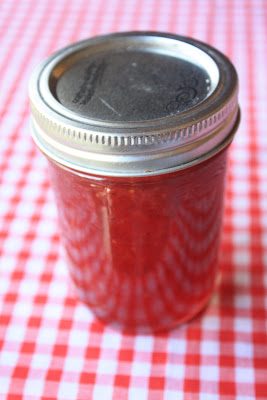 You may fill the tarts with store-bought jam or whatever you'd like: marshmallow creme, peanut butter, mousse, Nutella, or a combination…the sky's the limit! I think next time I'll try lemon curd!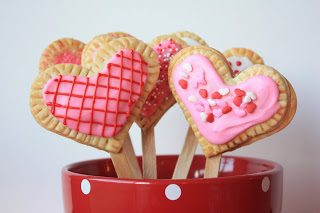 Whatever you decide, get in the kitchen and spread the LOVE!
HEART TARTS (from Family Fun Magazine)
Ingredients
Prepared piecrust (I used Pillsbury)
Jar of strawberry jam
1 egg whisked with 1 teaspoon water
2 ½ cups powdered sugar, sifted
1 tablespoon water
1 tablespoon softened butter
2 tablespoons light corn syrup
Red food coloring
Nonpareils or colored sugar
1. Heat the oven to 400 degrees and cover a cookie sheet with parchment paper.
2. On a floured surface, roll out the piecrust to a 1/8-inch thickness. Use a large heart-shaped cookie cutter to make pairs of hearts, gathering the scraps and rerolling the dough as necessary.
3. For each tart, spread 2 teaspoons of strawberry jam on a heart, leaving a 1/2-inch margin on all sides. Brush the egg mixture around the edge before placing a second heart on top. Use the tines of a fork to seal the edges, then brush the tops with the egg mixture
4. Bake the hearts on the prepared cookie sheet until their edges are just beginning to brown, about 15 minutes. Let them rest on the sheet for a few minutes, then move them to a rack and let them cool completely.
5. Whisk the first four frosting ingredients in a medium bowl, adding more water a teaspoon at a time if needed to make a smooth, creamy frosting. Add a few drops of food coloring and mix until well blended. Spoon the frosting into a ziploc bag, snip off a corner, and squeeze it onto the tarts. Top them with nonpareils or colored sugar.
Serves: 9 (4-inch)
Hands on time:25 minutes Total time: 1 hour Linked to Tidymom's "I'm Lovin' it Fridays"! and Lisa's "Sweets for a Saturday". Come join in on the fun, and great ideas!