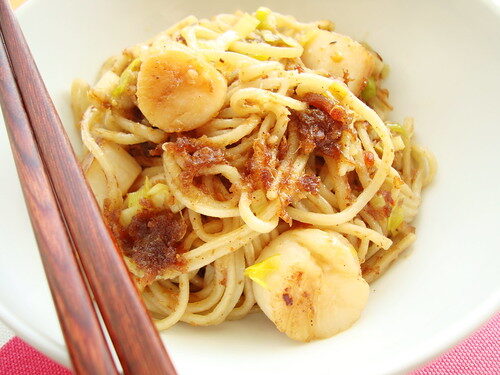 This is a quick and easy meal that can be rustled up in 15 to 20 minutes. It's based around one delicious ingredient, XO sauce, a spicy seafood sauce from Hong Kong, containing dried scallop, shrimp, fish, chilli, garlic and oil. The combination of XO sauce and ginger gives this dish a somewhat spicy kick. I came up with the recipe one lunchtime after craving the taste of XO. But you can 'XO' practically anything you like! Just experiment…

You'll find seafood and other dishes like tofu cooked using XO sauce in upmarket Chinese restaurants. It can be bought in Chinese supermarkets, but do make sure you're not buying cheap fakes. The Chinese supermarket I shop at keeps the jars behind the cash desk, so that they can't be easily stolen, and one jar costs around £10. Stored in the fridge, it goes a long way. It's also a great condiment that complements rice, noodles and congee, and can be used as a dipping sauce for things like dumplings or hot pot. And it's very addictive!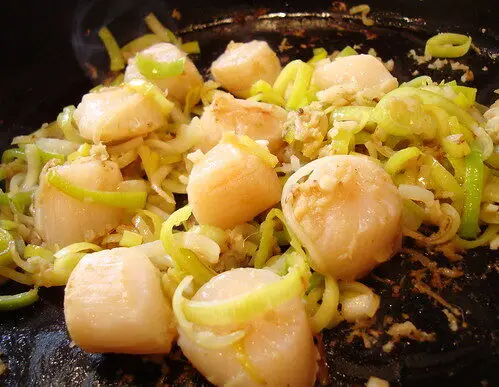 Ingredients: (serves one)


8 to 10 small frozen scallops (which can be cooked from frozen). You can of course use fresh scallops, which are larger but will take far less time to cook

1 medium-sized leek

2 cloves garlic

1 inch piece of fresh ginger, grated

sea salt and freshly ground white pepper

1 tbsp XO sauce

2 tbsp vegetable oil

1 portion of noodles – you can use any type that you like. I have a large stock of various types of dried noodles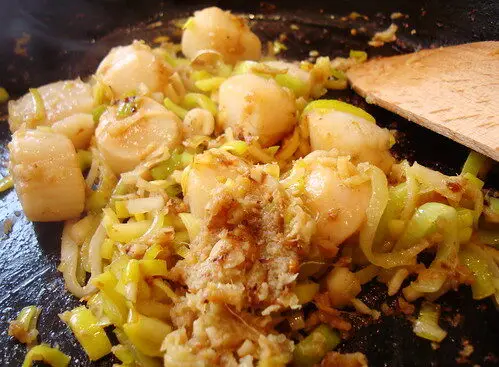 What to do next:

Heat water in a saucepan to cook the noodles.

Finely chop leek and garlic. Grate the ginger. Heat up a frying pan or wok, add some vegetable oil and fry leek, garlic and ginger.

When they are gently browned, add the scallops. According to the instructions, they need to be cooked for 9 minutes if frozen, but you'll know when they're ready.

Season with a little sea salt and white pepper, and keep tossing and stirring so that nothing sticks to the pan. Add noodles to saucepan and drain when cooked.

Toss noodles in with scallops, add XO sauce and mix well until noodles are coated. Serve immediately.

You can also serve this dish with or without the noodles, as part of a Chinese meal with other dishes and steamed white rice on the side.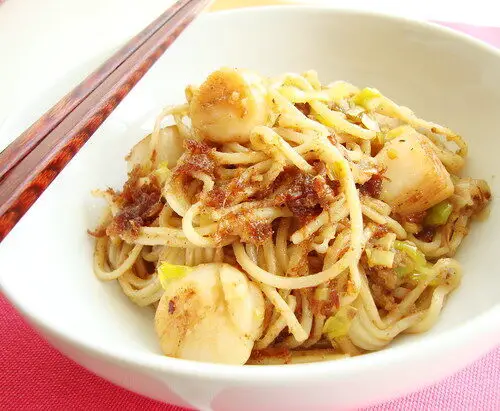 If you like noodles, you might like to try making another dish, which is just as quick and easy – How To Make Asian Vegetable Noodle Soup.

Click for all Chinese recipes on Lay The Table
@ Lay The Table