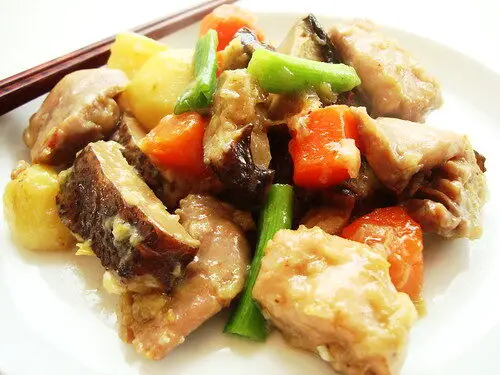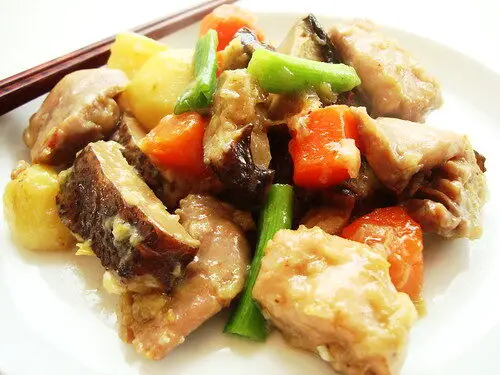 Chinese chicken and potato stew is my all-time favourite childhood dish. I think my mother invented this many years ago, and she always cooks it for me. Other relatives have tried making it, but it's never quite the same. My mother wrote down some of her personal recipes and sent them to me when I went to live in Beijing, and ten years on, I still have them. This is one of those treasured recipes, and I recently attempted to replicate it for the first time…

Ingredients: (serves 4)

Chicken Marinade:

1 tsp salt

pinch white pepper

1½ tbsp soy sauce

½ tsp white vinegar

1 tsp sugar

cornflour / cornstarch

1 chicken
The Stew:

4-6 good sized dried Chinese mushrooms

carrots

leek

potatoes

onions

3 slices fresh ginger, with peel left on

2 cloves garlic, crushed

2 or 3 spring onions

vegetable oil

½ tsp sugar

½ tsp soy sauce
What to do next:

Soak Chinese mushrooms in hot water until soft (I did it for 30 minutes), then remove stalks and slice.

Chop up a chicken – it's better to use a whole chicken rather than breast meat, as the thigh parts are full of flavour. My mother removed the skin from the chicken pieces, but kept the thigh bones. I also don't remember the wings ever being used (they must have been saved for another dish!).

Marinade chicken in a bowl for 30 minutes with one tsp salt, pinch of white pepper, 1½ tbsp soy sauce, ½ tsp white vinegar, 1 tsp sugar and 1 tsp cornflour.

Chop up some carrots, leek, potato and onion into largish pieces (it's a rustic stew, so if the pieces are too small, they will disappear).

Heat wok or large saucepan with some vegetable oil and add 2 or 3 pieces of chopped ginger (with the peel left on) and crushed garlic gloves. Fry the chicken in the ginger, garlic and some of the onion for about 10 minutes, or until the meat is almost half cooked. Then add the rest of the vegetables with the rest of the onion.

Boil some water in a kettle.

Add a little salt, ½ tsp sugar and ½ tsp soy sauce, white pepper and hot water. You need enough water to cover the ingredients, but it will cook off, so don't worry if you think you've added too much. The wok or saucepan should be covered with a lid, otherwise it will take a very long time to cook.

Simmer on a low heat for about 20 minutes or until the potatoes are soft. Add some chopped spring onion (2 or 3 inches in length), and cook for another 5 minutes.

Check to see whether the sauce is thick or runny, as some types of potato absorb more water than others. If it's runny, mix 1 teaspoon of cornflour to 2 teaspoons of cold water and stir well, then add to the sauce and stir for a further 2 minutes. Alternatively, turn up the heat, remove the lid and stir for a few minutes until the sauce thickens.

Serve with other dishes and steamed white rice as part of a family meal. Or just eat it on its own, like I did. It's even tastier the next day, as with most stews. Enjoy!

See my recent post on my favourite Cantonese home-cooked meals for my mother's other recipes.

Click for all Chinese recipes on Lay The Table

@ Lay The Table