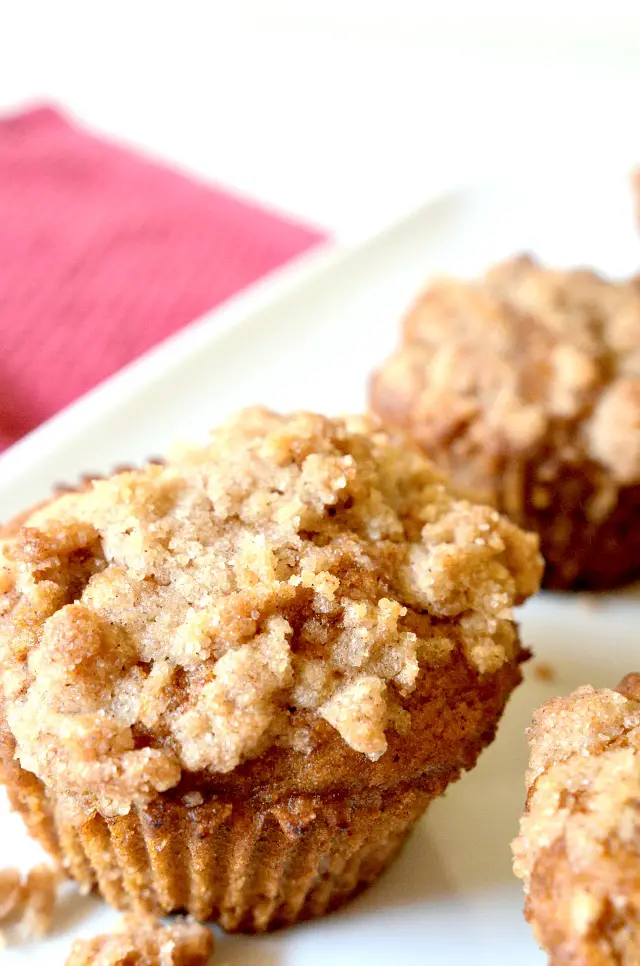 The vegan blogging community has shown me so much support, and I just feel blessed to be a part of it. It's all been a whirlwind, and today's vegan mofo prompt to make something using ingredients I already have really resonated with me. I've been busy, and our cabinets are pretty bare!
I really wanted to make some muffins, and though we're low on white sugar, we do have a ludicrous amount of brown sugar (thanks to some barbecue projects last month). In the name of mofo, I decided to just go with it.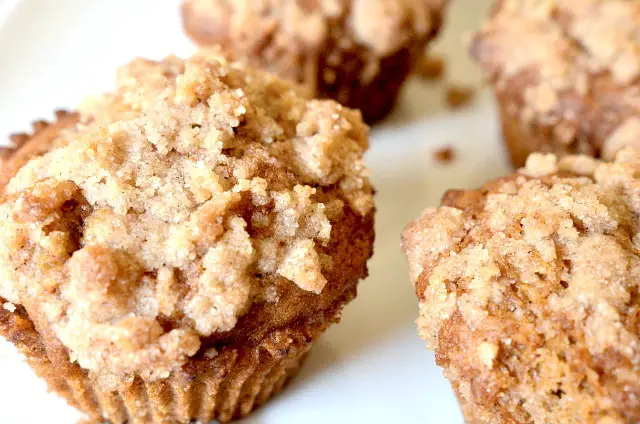 I don't make muffins often, but every now and then they're nice to have. I like to get in as many seasonal flavors as I can this time of year, and baked goods are the easiest way.
These Brown Sugar & Maple Apple Crumb Muffins are really delightful. On first bite, the spiced crisp topping breaks easily making way for the tender pastry underneath. The ingredients are true to the season without being overwhelming, and best of all, you probably already have everything you need to make them.
Brown Sugar & Maple Apple Crumb Muffins
Makes 12 muffins
Crumb topping ingredients:
3 tablespoons all-purpose flour
3 tablespoons granulated white sugar
1 tablespoon granulated brown sugar
½ teaspoon cinnamon
2 tablespoons vegan margarine (such as Earth Balance)
Muffin ingredients:
1 ¼ cups all-purpose flour
1 teaspoon cinnamon
1 teaspoon baking powder
¾ teaspoon baking soda
¼ teaspoon salt
1/4 cup maple syrup
6 tablespoons granulated brown sugar
½ cup melted vegan margarine (such as Earth Balance)
½ cup unsweetened applesauce
1 ¼ teaspoon vanilla extract
2 tablespoons unsweetened non-dairy milk
Directions:
1. Preheat the oven to 350°F, and line a muffin pan with muffin liners.
2. Make the crumb topping by combining the all-purpose flour, granulated white sugar, granulated brown sugar, and cinnamon. Using your fingers, cut in the margarine until the mixture is combined and crumbly. Set this aside, and prepare the muffins.
3. In a large mixing bowl stir together the all-purpose flour, cinnamon, baking powder, baking soda, and salt. Set this aside.
4. In a smaller mixing bowl whisk together the maple syrup, granulated brown sugar, margarine, applesauce, vanilla extract, and non-dairy milk.
5. Pour the wet mixture over the dry mixture, and use a flexible spatula to fold the ingredients together until just combined. A few small lumps are ok.
6. Pour the batter evenly among the muffin cups, filling each cup a little over halfway. Evenly distribute the crumb topping between the tops of the muffin batter.
7. Bake the muffins for 15-17 minutes, or until a toothpick inserted into the middle of one comes out clean.
Shared to:
Nifty Thrifty Sunday #215
Pin it!