You know that tin of tomato soup thats been lurking at the back of your cupboard for the last year? You keep meaning to open it, simmer it and eat it, but then something more appetising appeals and you ignore it once again, saving it for the day Armageddon strikes or theres a global food shortage.
Well, hoard no more! Use it with this recipe to create the most authentic-tasting restaurant-style lamb masala youve ever tasted.
Butternut squash curry is a great accompaniment, though it does make the final plate look rather orange and brown, so you might prefer something green, like a spinach bhaji.
Serves 4
500-700g lamb shoulder, trimmed of chunks of fat and then cut into 2cm cubes
For the marinade
300g natural Greek yoghurt
2 garlic cloves, minced
2cm piece of ginger, grated
1 tsp paprika
1 tsp turmeric
1 tsp cumin powder
1 tsp coriander powder
1 tsp salt
2 small dried chillies
Juice of 1 lemon
For the curry sauce
2 tbsp sunflower or vegetable oil
1 onion, sliced
4cm piece ginger, chopped
4 garlic cloves, chopped
1 cinnamon stick
4 cloves
3 bay leaves
4 cardomon pods
1 can cream of tomato soup
1 tsp chilli powder
1 tsp paprika
2 tsp cumin powder
1 tsp coriander powder
1 tsp turmeric
Salt and freshly ground black pepper, to taste
2 tbsp chopped coriander leaves, to serve
1. In a non-metallic bowl, mix the yoghurt with the garlic, ginger, marinade spices and lemon juice. Add the lamb cubes, mix thoroughly and put in the fridge for 2 hours, or ideally overnight.
2. Add the oil to a large frying pan, then gently cook the onions, garlic and ginger until very soft and slightly caramelised. Add a little water if it starts to burn. Allow to cool, the transfer to a food processor and whiz to a puree.
3. Wipe the frying pan clean, add a drop of oil, then add the dry spices (cinnamon, cloves, bay leaves and cardamon). Fry for 5-10 seconds.
4. Add the onion/ginger/garlic puree and stir-fry for 12 mins before adding the lamb and the yoghurt marinade. Stir to combine with the onion puree, then add the powdered spices. Cook for a further 2-3 mins before adding the can of tomato soup.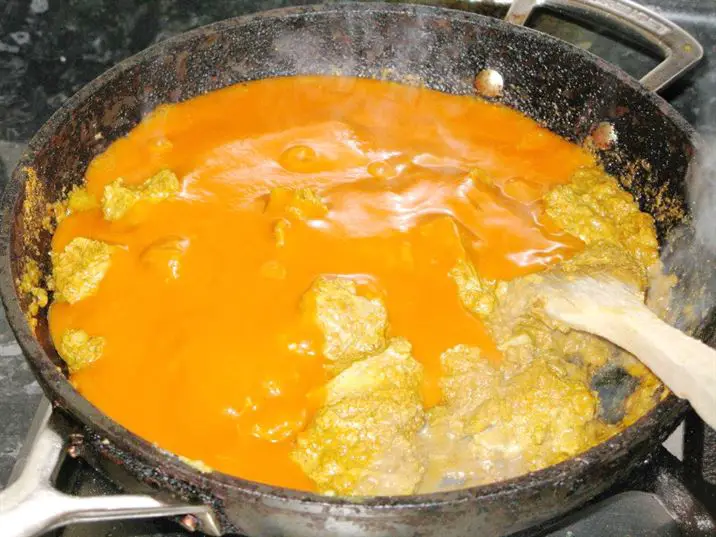 5. Stir to combine everything then transfer to a slow cooker, lidded casserole dish or baking dish tightly covered with tin foil.
If using a slow cooker, cook on LOW for 3-4 hours until the lamb is very tender. If using a casserole, cook in a pre-heated oven at 160C/Gas 3 for 2-3 hours.
6. Serve scattered with coriander leaves.
TO MAKE THE BUTTERNUT SQUASH CURRY¨
Peel and chop 1/2 butternut squash into chunks. Add a little oil to a large frying pan and gently cook 3 sliced garlic cloves and 4cm peeled and finely sliced ginger. Add the squash chunks and stir-fry for a few minutes. Add 2 tsp mild curry powder (shop-bought is fine), then stir for 10-20 seconds, ensuring the squash is coated. Add around 1 litre of water and bring to the boil. Cook for approx. 20 mins until the squash is tender. Towards the end of cooking, add 20g creamed coconut, from a block. This will thicken and enrich the sauce. Season with salt and freshly ground black pepper. Serve with the lamb masala.