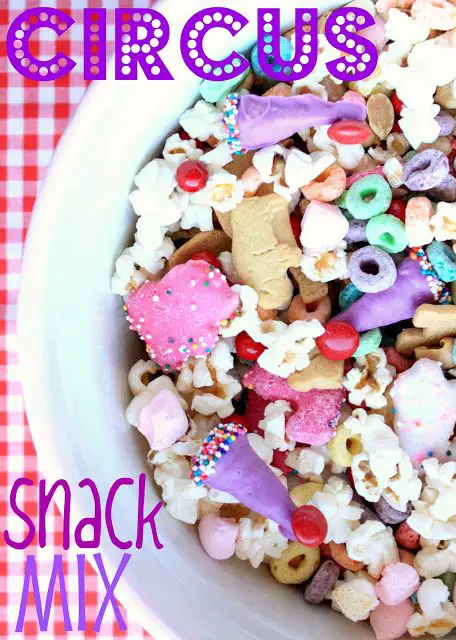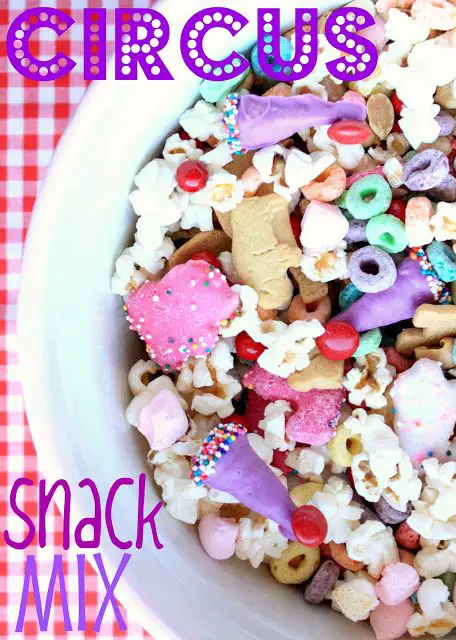 This fun, sweet & salty snack mix has been brewing in the recesses of my mind for quite awhile now. I finally got around to gathering the supplies for it… So, without further delay, "Ladies and gentlemen, boys and girls, children of all ages, let me direct your attention to this amazing circus snack mix!"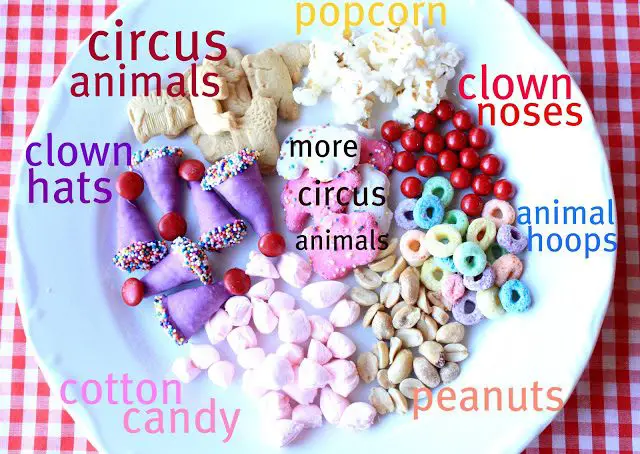 CIRCUS (or carnival) SNACK MIX: (You can tailor it to your own preferences)
Featuring (from the top, clockwise):
Popcorn~classic circus snack, salted (1 micowave bag)
Clown Noses~red sixlets (1/2 cup)
Animal Hoops (for "jumping through")~Froot Loops cereal (about 3 cups)
Peanuts~Favorite circus snack food for people, and elephants too:) (1 cup)
Cotton Candy~pink marshmallows, cut up (1 cup)
Clown Hats~candy-coated Bugles original, topped with m&m candies(2-3 dozen)-Directions below
Circus Animals~Animal crackers (big handful)
More Circus Animals~iced animal crackers (big handful)
Mix all of these ingredients together and you end up with a big bowl of circus snack!
Clown Hats
1 bag of bugles original flavored snack, 4.1 oz. bag
7 ounces of purple candy melts (half of a typical bag)
red m&m's milk chocolate candies
sprinkles
Place a piece of wax paper on a work surface before you get started. Open the bugles and set aside the amount you will need for your clown hats (I made about 3 dozen) on the wax paper. Place some red m&m's in a bowl. Melt the candy melts as the package directs. Use a fork and dip each bugle in the purple melted chocolate one at a time, until completely covered. Place a red candy at the tip of the bugle while the purple chocolate is still wet. Place on wax paper to dry. Do this for each hat.
Once they are all dry, re-melt the purple chocolate, dip the bottom rim of each little hat in it and then dip it directly in the sprinkles, or whatever you are using to decorate the rims. Set on wax paper to dry.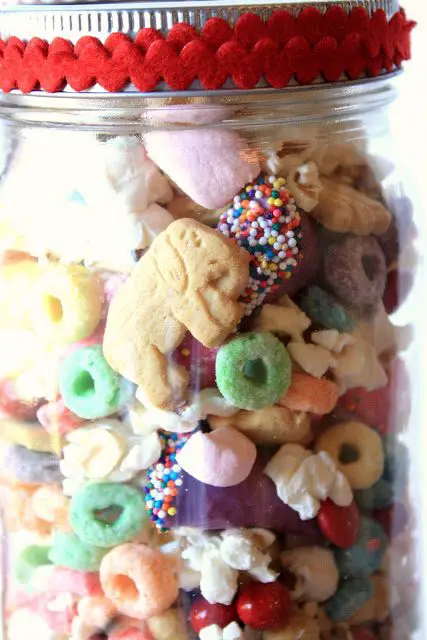 Serve this in snack bags at a party, school carnival or in the classroom.
I also thought it would be fun to include this familiar cookie (think Rudolph's Nose Cookie Pop) and relate it to the circus theme…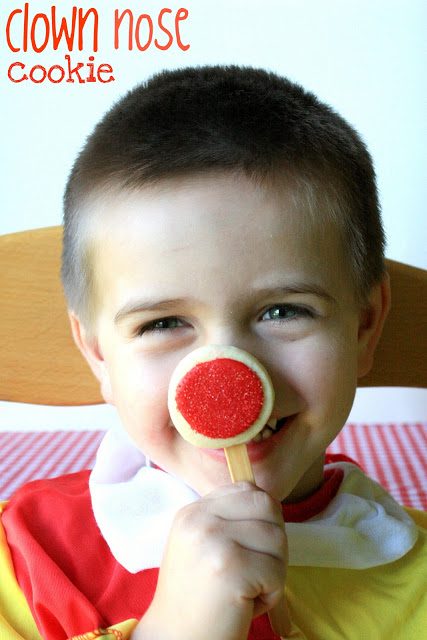 You can't get much easier than these clown nose cookie pops, or much cuter:)
Simply use your favorite sugar cookie dough, roll it out, grab a small (1.5-inch) round cutter(I used a biscuit cutter) and cut out circles (clown noses). Insert popsicle sticks and bake the cookies. When cooled, ice them with red tinted royal icing. Optional: Sprinkle red sanding sugar on the icing while still wet. Let cookies dry completely.
What a darling party favor this would make!