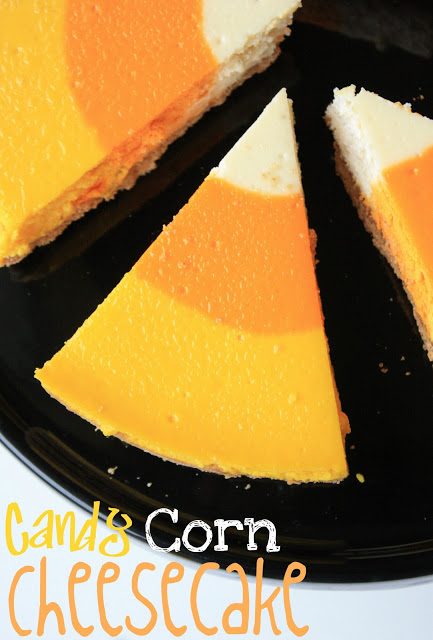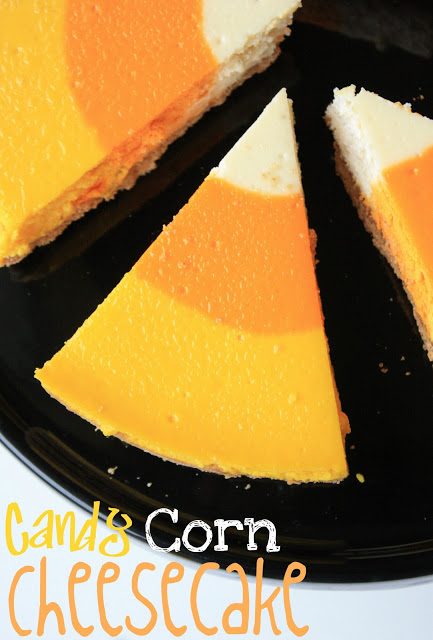 There are so many cute candy corn treats all over blogland, that I just had to jump on the bandwagon, or should I say, hayride:)
I have been having so much fun on Pinterest, pinning like crazy! I can't believe how many creative people there are!
When I first thought about making a candy corn cheesecake, using a special insert/pan set *(which I have), I thought I had come up with an original idea…then it dawned on me that maybe I had "pinned" such a cheesecake to my Halloween Pinterest board. Sure enough, when I looked, there it was. Somethimes I pin things at such a fast and furious rate, that I forget what's there!?! I'm not as creative as I thought I was~ha ha! Surely a "senior moment"!
*If you don't have the insert/pan and don't want to buy it, I'm sure it would look candy corn-ish just to swirl these colors around, or layer the colors:)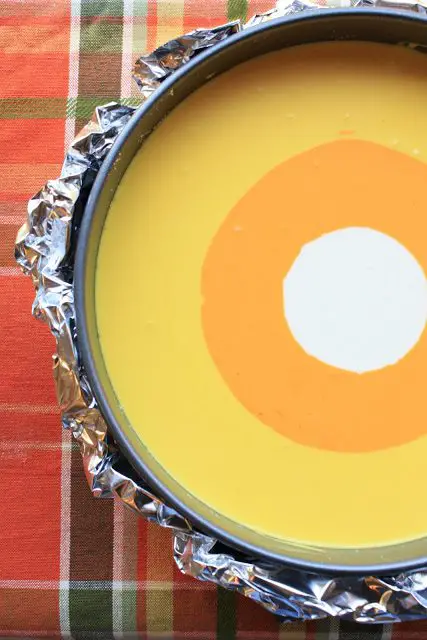 This is what the pre-baked cheescake looked like, after the insert was lifted out.
FYI: I was going to take a shot of the whole cheesecake, but for some reason my lens would not adjust/focus at that distance. I had the same problem in May. When I took it to the camera store, the tech was perplexed, but it was determined that it was my lens, not the camera. I bought a new lens, but the duplicate problem is happening again:( Back to the camera store…
This cheesecake design was found on the Wilton site, which included a no-bake recipe, but I wanted to use a baked 9-inch (the size of the pan) cheesecake recipe and found this recipe, which had over 3,000 reviews with an average 4.5/5-star rating.
I was a little anxious to cut the cheesecake into wedges and didn't let it cool completely before I released the sides of the springform pan. Consequently the sides did not release cleanly, and it didn't look very pretty:( I manged to salvage some for the photos though:)
My husband and I decided that the cheesecake deserved the 4 1/2 stars! We loved it! It was dense and creamy! I love the LOOK too!
Chantal's New York Cheesecake (All Recipes) Adapted
Ingredients:
15 graham crackers, crushed 2 tablespoons butter, melted 4 (8 ounce) packages cream cheese 1 1/2 cups white sugar 3/4 cup milk 4 eggs 1 cup sour cream 1 tablespoon vanilla extract 1/4 cup all-purpose flour
Directions: (My additions in BOLD)
1.Preheat oven to 350 degrees F (175 degrees C). Grease a 9 inch springform pan.
2.In a medium bowl, mix graham cracker crumbs with melted butter. Press onto bottom of springform pan. Place insert on top of unbaked crust.
3.In a large bowl, mix cream cheese with sugar until smooth. Blend in milk, and then mix in the eggs one at a time, mixing just enough to incorporate. Mix in sour cream, vanilla and flour until smooth.
For the candy corn effect:
Pour some untinted cheesecake batter into the middle section of the insert, to about 1/4-inch from the top of the divider. Tint the remainder of the batter yellow~I used a mixture of Wilton Lemon Yellow & Golden Yellow(as Wilton suggested, and I had them on hand). Pour the yellow batter into the outer section of the insert. Tint the remainder of the yellow batter orange, by adding Orange coloring to it. There's no problem with the yellow becoming orange.
Carefully lift the divider straight up, out of the cheesecake.
Before baking, I put heavy-duty aluminum foil around the bottom/sides of the pan by setting the foil on the counter, placing the cheesecake on it, and wrapping the foil up and around the sides of the pan) and placed it gently in a water bath (I filled a roasting pan with about an inch of HOT water, put it in the oven and then placed the cheesecake pan in it).
4.Bake in preheated oven for 1 hour. Turn the oven off, and let cake cool in oven with the door closed for 5 to 6 hours(I only left it in the oven for only an hour since I had used a water bath); this prevents cracking. Chill in refrigerator until serving.
5. Cut into wedges to look like candy corn🙂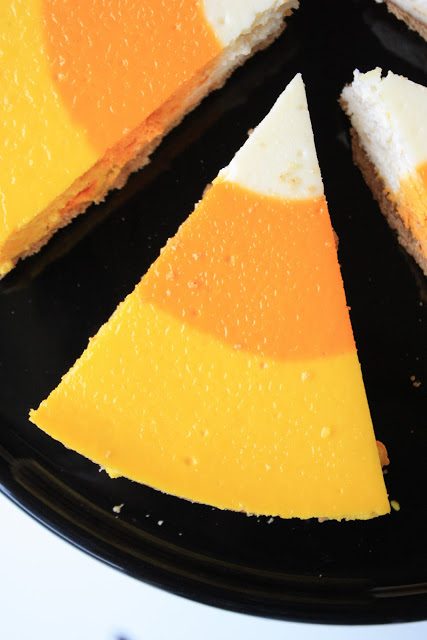 Linked to:
Inspiration Friday
I'm Lovin' it Fridays
Weekend Wrap Up Party
Sweets for a Saturday
Fusion Fridays
Wickedly Creative Halloween Ideas