I really struggled with what to call these Bacony Roasted Chickpeas. Although I've done it a bunch in the past, I really do try to avoid using non-vegan descriptors in my recipe titles. Even though I love to veganize things I don't love using words like bacon. It bums me out, you know?
However, there wasn't a better name for these suckers.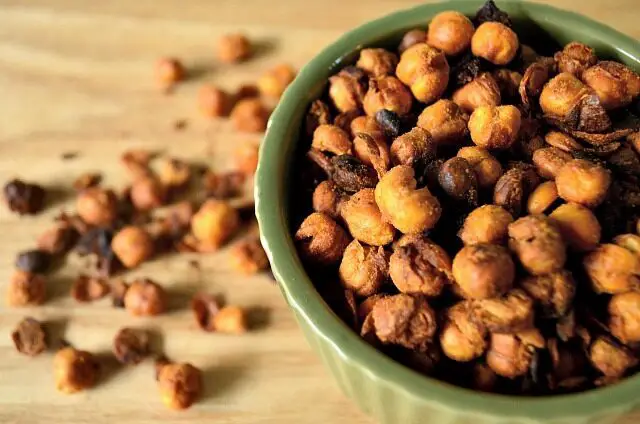 I made these roasted chickpeas to accompany a recipe that I'm sharing later this week, and they were so good that I decided to give them their own dedicated post. They were intended to be kind of a healthier version of Bac'n Bits (now apparently called Bac'n Pieces), but they far exceeded those expectations.
As they cooked I knew the bacony chickpeas were going to be baller. Their smokey and roasty aroma was so inviting that I ended up pulling them out of the oven to stir a few too many times just so I could get some up close whiffs. They took a little longer to cook because of it, but it all worked out.
Have you made roasted chickpeas before? I know I'm like years behind in singing their praises, but better late than never, right? As they roast the beans shrink a tiny bit becoming crunchy and compact little snacks that are high in fiber and protein, and theoretically low-fat (if you make them that way). I did not make them low fat, but they're still pretty nutritious. They're crazy filling too!
If you grew up covering your food with Bac'n Bits like I did, then you should definitely welcome this alternative into your life. They don't taste like Bac'n Bits, but they're conceptually similar, way tastier, and can be used in the same ways: on soups, on mashed potatoes, on baked potatoes, on salads, etc. And unlike actual Bac'n Bits, you can just snack on them whenever you're hungry. Well, I guess you could snack on Bac'n Bits too since they're just flavored TVP, but I don't know. That sounds kind of icky.
Mentioned in this post and recipe:
print recipe
3 tablespoons Bragg's Liquid Aminos
1 tablespoon apple cider vinegar
1 tablespoon vegetable oil
2 teaspoons liquid smoke
1 teaspoon smoked paprika
1/2 teaspoon garlic powder
1 1/2 cups cooked chickpeas
1. Pre-heat your oven to 450°F, and spray a baking sheet with a little bit of oil.
2. Combine the Bragg's, apple cider vinegar, vegetable oil, liquid smoke, smoked paprika, and garlic powder in a large mixing bowl. Add the chickpeas to the bowl, and use a flexible spatula to stir the chickpeas into the marinade. Allow the chickpeas to marinate for 20 minutes, stirring often to make sure they're evenly marinated.
3. After 20 minutes drain the chickpeas and transfer them to the prepared baking sheet. Bake them for 20 minutes. Pull the chickpeas out of the oven and give them a stir. Put them back in the oven for another 15-20 minutes, or until they're brown and crispy.
4. Allow the chickpeas to cool completely before storing them in an airtight container at room temperature.

Shared to:
Healthy, Happy, Green and Natural Party Blog Hop
Pin it!