about these Snickerdoodle Rice Crispy Treats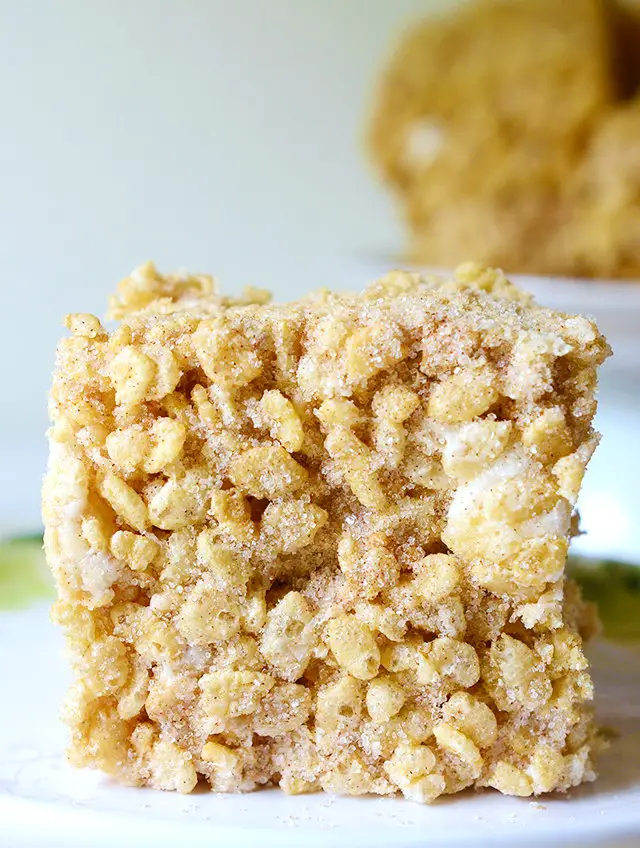 Happy Vegan MoFo! This is my first MoFo since 2010, and I'm glad to be back. This month I'm planning on cooking up lots of great Fall treats as the weather gets cooler, the football gets better, and the pumpkins get more plentiful.
I'm kicking off this month with my Snickerdoodle Rice Crispy Treats. Everyone's going back to school and rice crispy treats are a classic after school snack. They're so comforting and sweet! Meanwhile, Snickerdoodles are such wonderful Fall cookies, aren't they? So chewy and sweet with that wonderful cinnamon sugar topping that you get to lick off of your fingers.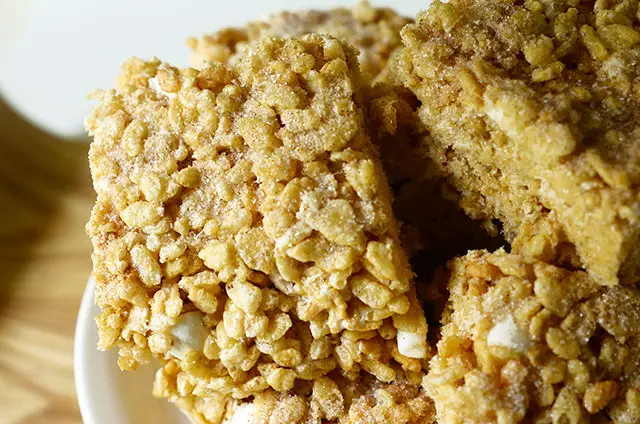 The pairing of the two desserts seemed like a great combo for an early September treat.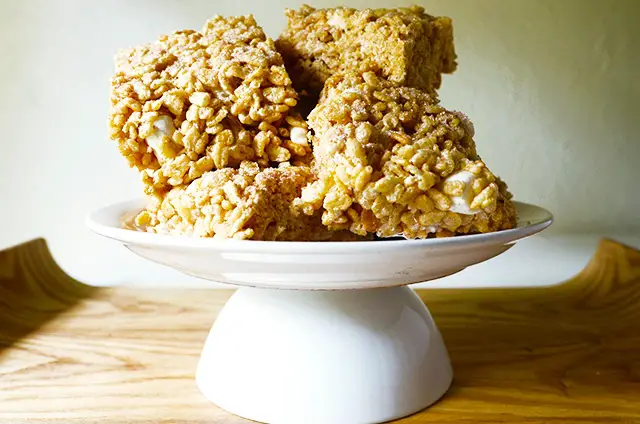 So gooey and soft with that wonderfully lickable cinnamon sugar topping.
Hello Fall 🙂
Snickerdoodle Rice Crispy Treats
Topping:
Ingredients:
¼ cup sugar
¼ teaspoon cinnamon
10 oz Dandies Vegan Marshmallows, preferably mini
3 tablespoons Earth Balance, or another vegan margarine
6 cups crispy rice cereal
½ teaspoon vanilla
½ teaspoon molasses
¼ teaspoon cinnamon
Directions:
1. Make the topping ahead of time by combining the 1/4 cup sugar and 1/4 teaspoon cinnamon in a small bowl. Set aside.
2. Pour a ½ cup of the marshmallows into a small bowl to reserve for later.*
3. In another small bowl (last one, I promise) combine the vanilla, molasses, and cinnamon.
4. Melt the Earth Balance in a large stock pot over medium heat. Once the Earth Balance is melted add the vanilla/molasses mixture to the pot, and stir.
5. Add the marshmallows to the pot, and stir constantly until they're completely melted.
6. Remove the pot from the heat, and add in the crispy rice cereal and reserved marshmallows. Stir until they're completely coated.
7. Pour the mixture into a greased 8×8″ pan (or 9×13″ if you prefer thinner treats), and press into the pan. Sprinkle the cinnamon sugar topping all over the treats, and let them cool for 15-20 minutes before cutting in. 
Pin it!