October went by so quickly, and I'm excited to move forward into a fantastic November. I actually really love November. It's the only month where pumpkins and Christmas can intersect! It's also the month that things finally start to cool down in central Texas. My husband got to wear his new coat last night, and I have been thoroughly enjoying my long socks. More important than the clothing we get to enjoy is the food we get to enjoy. Soups and stews all day all the time!
This White Bean Stew is a good stick-to-your-bones kind of stew. Perfect for cold weeknights when all you want to do is curl up to warm up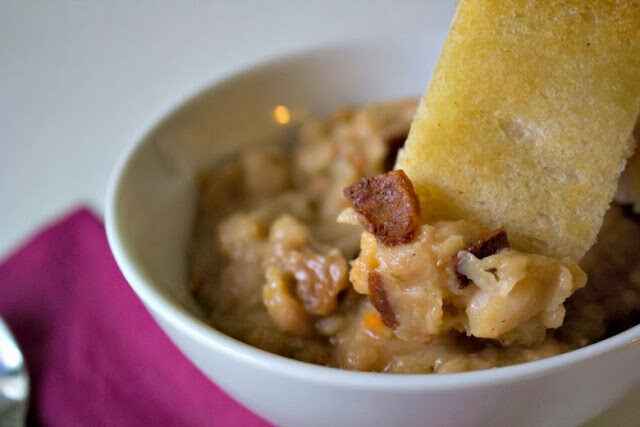 Add a side of crusty baguette with Earth Balance if you really want something special!
Smokey White Bean Stew
Adapted from this recipe at TheCozyApron.com
Makes 6 servings
Ingredients
1 tablespoon Earth Balance or olive oil
5 oz Upton's Naturals Bacon Seitan (or any vegetarian bacon)
1 small onion, diced
1 carrot, diced
1 celery stalk, diced
3 garlic cloves, thinly sliced
1 1/2 teaspoon dried thyme
1 teaspoon dried sage
1 lb dried white beans, cooked (or 6 cups cooked beans or 4 15oz cans)
4 cups vegetable broth
1/2 – 1 teaspoon liquid smoke
1. Heat the Earth Balance in a large pot over medium heat. Add the seitan and cook until browned and slightly crisped. Remove the seitan from the pot leaving as much Earth Balance behind as possible. 
2. Add the onions, carrots and celery to the pot and cook until soft.
3. Add the garlic and herbs to the vegetables and stir until fragrant – about 20 seconds.
4. Add the white beans and broth to the pot and bring the soup to a boil. Turn it down to medium low heat and let it simmer with the lid ajar for 20 minutes.
5. Mash the beans slightly with the back of your spoon and let the soup simmer for 15 more minutes.
6. Stir in the liquid smoke according to your tastes and the reserved bacon seitan. Add salt and pepper to taste.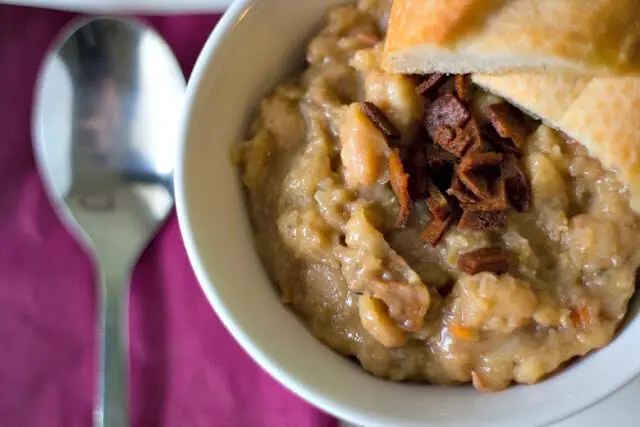 Can you spot me in the spoon?