These two additions to the Once Upon a Time series are all about comfort for a cold day: Snow White Chili and Cinnamon Hot Chocolate. 


While there is no mention of Snow White making chili, I bet she would if she had this recipe.

The chili flavor comes from fresh chiles while the rest of the ingredients are kept very simple. This is one of our favorite recipes, and we eat it quite a bit in the Fall/Winter. It's so easy and satisfying.
Snow White Chili
Adapted by Vegetarian White Chili from Wheatfreemeatfree.com
Ingredients:
1 medium onion, diced
2 poblanos, seeded and diced
1 jalapeno, seeded and diced
4 cloves of garlic, chopped
1 teaspoon cumin
1 lb. dried white beans
1 quart (4 cups) vegetable broth
2 cups water
lots of chopped cilantro
1. Combine all of the ingredients – minus the cilantro – in a large pot and bring to a boil over high heat. 
2. Once the chili is boiling, lower the heat to low and simmer partially covered for 2-3 hours – until the beans are soft.
3. Season with salt to taste at the end of cooking. Top
with cilantro, crushed corn tortilla chips and dust from the diamond mines.
—-
A favorite between Emma and Snow, Cinnamon Hot Chocolate is a classic drink in the Once Upon a Time universe.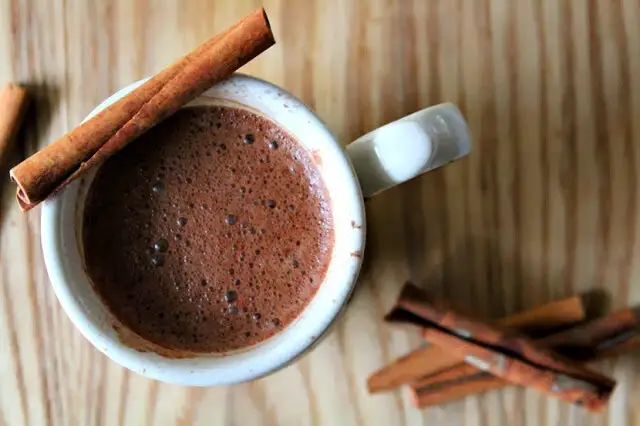 I happen to love cinnamon with chocolate so I was all too ready to make this my first hot chocolate of the season.
Cinnamon Hot Chocolate
Ingredients:
1 tablespoon cocoa powder
1 tablespoon sugar
1/4 teaspoon cinnamon
1/2 teaspoon vanilla
2 tablespoons + 3/4 cup nondairy milk (something a bit thicker like almond) measured separately
1. In your favorite mug combine the cocoa powder, sugar, cinnamon, vanilla and 2 tablespoons of milk. Mix thoroughly with a fork until you're left with a thick chocolatey syrup. Set aside.
2. Warm the 3/4 cup of milk over medium heat until it reaches your desired temperature.  
3. Pour the warm milk into the chocolate syrup and give it a good stir.
4. Drink up while it's still hot!