about these Black and Orange Halloween Dinner Rolls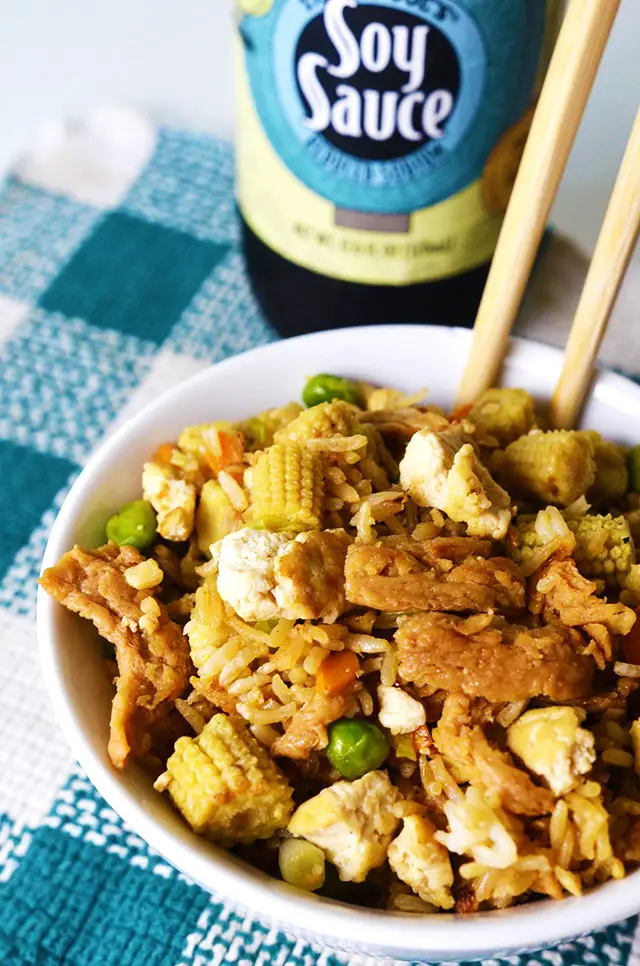 How legit does this fried rice look? I mean really. I looks like it came straight from a Chinese take-out box, and it tastes like it did, too. I thought I'd be eating more take-out while I work on my upcoming Fall book, but somehow I've been able to find pockets of time to still cook for us. When those time pockets aren't available though, my husband takes over. He's a doll like that.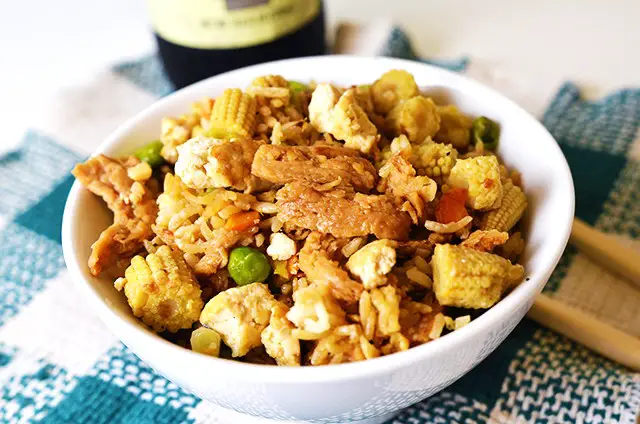 This is one of my favorite meals to make when I'm low on time because it comes together quickly and is really tasty. You know how many homemade fried rice recipes out there are like, "This is better than takeout!", but they include things like beets and squash, and you're like "WTF, why is this happening?" It's such a bummer. All I ever want is for it to taste like take-out in a real way, so I just made my own recipe that succeeds in satisfying those cravings.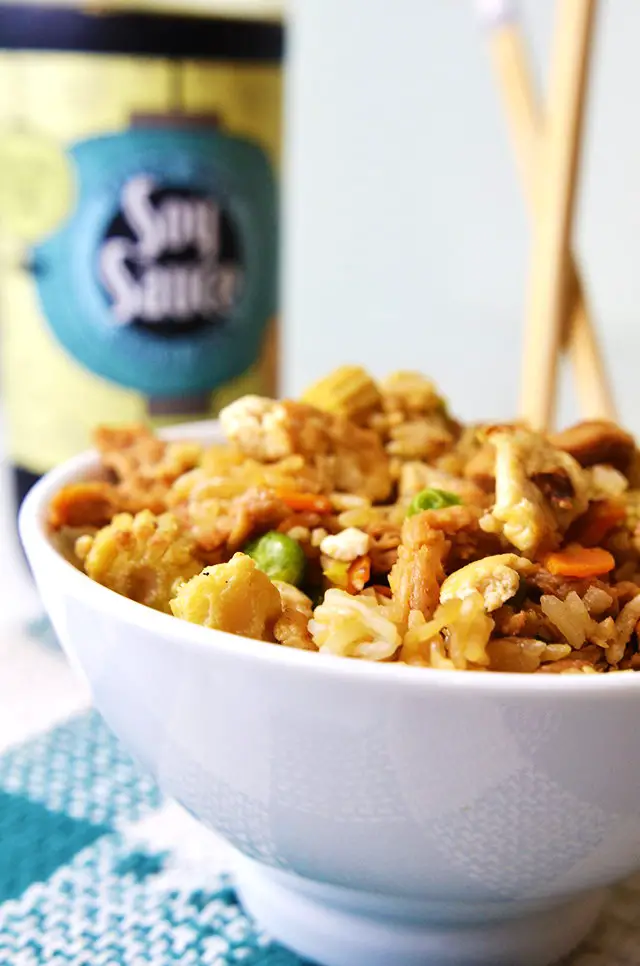 This is not healthier fried rice, or done up fried rice. It uses white rice, oil and salt, and doesn't include things like ginger or spicy mustard. It tastes like what you'd expect fried rice to taste like, and in that fact it's perfect to me.
I keep this recipe basic with peas, carrots, baby corn (Which I love, haters), tofu, and soy curls, but you can totally sub out the soy curls for another protein or vegetable. Fried rice is wonderfully adaptable that way. You could even add beets or squash, but as your friend, I'm going to ask you not to.
(if you do, please don't tell me about it)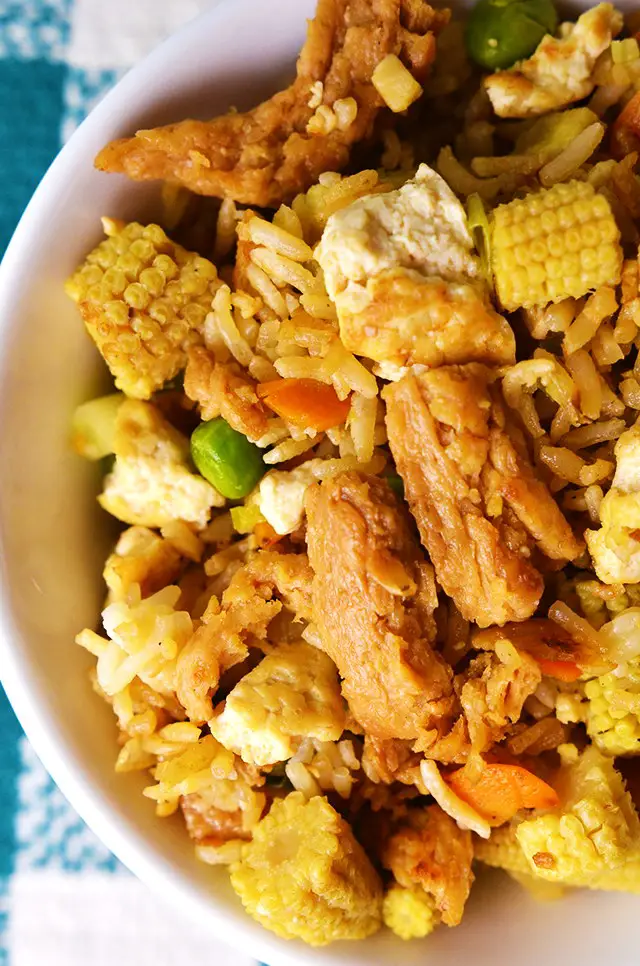 I know things have been quiet on here, but it's for good reasons! I am working day and night on the book AND Vegan MoFo, and I know I must be totally bananas trying to do them at the same time. They're coming along, though. If you don't already, be sure to follow me on social media for Fall related giveaways, updates, and general fun. In fact, I have a giveaway going on right now on Facebook and Instagram so check those out if you're into winning things.
Mentioned in this post and recipe:
Legit Vegan Veggie Fried Rice – Makes 4 Servings
Ingredients:
1 cup dried soy curls
1 1/2 cups water
Oil for frying
1/2 block firm tofu, crumbled
kala namak (optional)
4 whole scallions, thinly sliced
1 small carrot, small diced
14 ounces baby corn, drained, and cut into 1 inch pieces (optional I suppose)
3 cloves garlic, minced
1/2 cup frozen peas
2 1/2 cups cold cooked white rice
1-2 tablespoons soy sauce
Salt to taste
Directions:
1. Place the soy curls and water in a medium sized mixing bowl to rehydrate. It should only take 5-10 minutes.
2. While the soy curls rehydrate, cook your tofu. Drizzle about a teaspoon of oil into a large cast iron skillet over medium heat. Add the tofu to the skillet, and stir it around to get it evenly coated in oil. Cook the tofu, stirring and scrambling frequently, until the liquid has completely evaporated, and the tofu is browning. Season the tofu with kala namak or regular salt before removing it from the hot skillet. Set the tofu aside for later.
3. Add the rehydrated soy curls to the skillet with another teaspoon of oil. Cook the curls until they're evenly browned. Season them with a little salt then remove them from the skillet.
4. Add about a tablespoon of oil to the skillet along with the scallions, carrots, and baby corn, and cook the veggies until the carrots have softened a bit.
5. Add the garlic and peas to the veggies, and cook, stirring constantly, until the peas look somewhat thawed, and the garlic is quite fragrant.
6. Turn up the heat to medium high. Add the rice, and use a sturdy spatula break it up in the pan. Fold the rice into the veggies and oil to get the ingredients all mixed up and incorporated.
7. Add the tofu and soy curls to the rice, and keep frying the mixture, stirring frequently, until you notice that the rice is starting to brown. Add the soy sauce to the pan, the stir it into the rice. Use this opportunity to scrape up the sticky bits from the bottom of the pan. Continue cooking until the soy sauce has been completely absorbed by the rice, about 30 more seconds.
Pin it!