Disneyland vegetarian gumbo recipe. I'm so excited to finally share this Vegan Blue Bayou Gumbo. This post has been on the back burner for years, and it was our upcoming trip to California that inspired me to make it happen. This is my go-to gumbo recipe, and I just adore it. It comes in at such a close second to my favorite gumbo ever: the vegetarian gumbo from Royal Street Veranda in Disneyland. 
There are a lot of vegan meal options in the park, but I could never seem to stray from that sourdough bread bowl overflowing with dark and thick gumbo. I mean, how could I?
I have great memories of ordering my vegan gumbo, and eating it while tucked away on some steps near Pirates of the Caribbean. As I watched excited families scurry by I would polish off the entire meal (bowl and all) while contemplating how lucky I was to be there. My husband and I spent countless hours wasting time with each other in one of the most popular and beautiful vacation sites in the country, and I never took it for granted. Mealtime was a wonderful time to reflect on just how special and unique our situation was.
One of the cool things about Disneyland is that Guest Services can provide you with many of the recipes made in the park. All you have to do is ask, and that's exactly what I did before we left California. However instead of receiving Royal Street Veranda's recipe, Disneyland gave me a copy of the only gumbo recipe they share, Blue Bayou's. 
The bad news? Well obviously it wasn't my beloved gumbo, and it wasn't even vegan. The good news? With some adjustments it become my all time favorite gumbo recipe to make.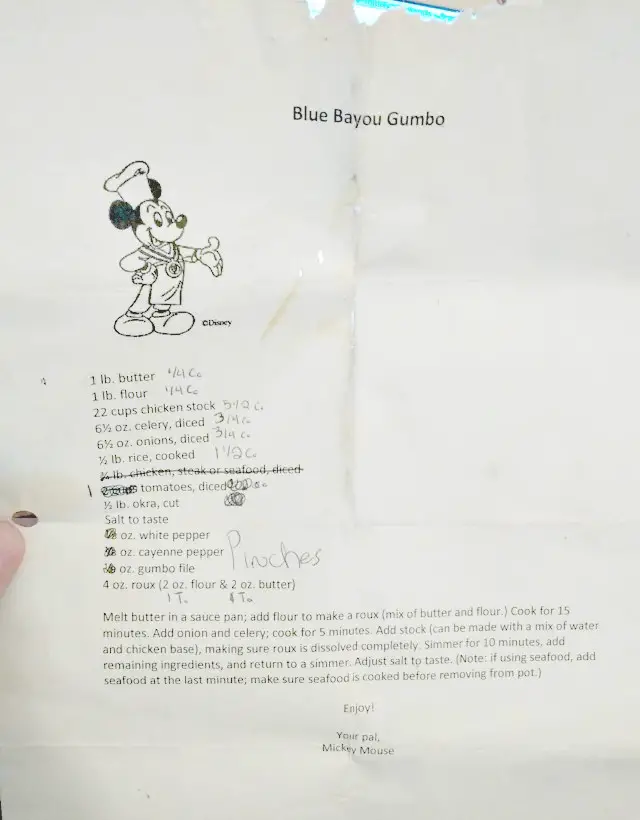 This is the actual piece of paper that Disneyland gave me 6 years ago – tattered and well loved. There's just something about this simple recipe that is so dang good. Maybe it's the complexity achieved from the roux. Maybe it's the perfect application of okra. Maybe it's the high fat content. I don't know what mojo happens in the pot, but I do know that it's great.
Despite it's simplicity, what really makes this gumbo fantastic is the technique behind making the roux. It takes a little bit of concentration and patience, but those virtues will be rewarded.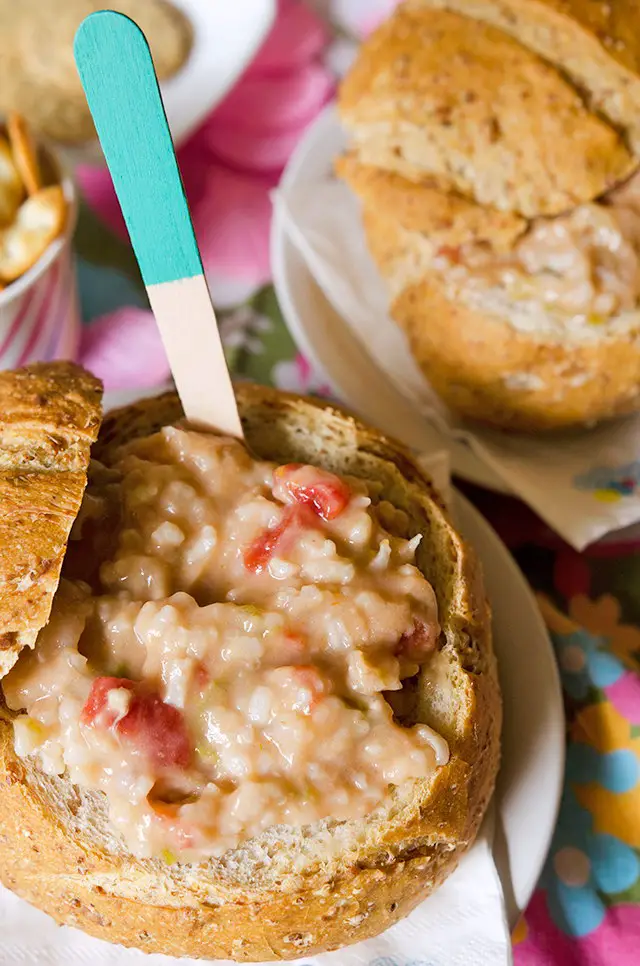 This recipe has gotten me through many long Texas okra seasons, and it will forever be my favorite gumbo to make. Truth be told though? I. Cannot. Wait. To eat at Royal Street Veranda in a few weeks. We may even go twice.
The one thing I don't understand about this recipe is that it uses both okra and filé powder. I was under the impression that Louisiana gumbo contains one or the other, but not both. Anyone know?
Vegan Blue Bayou Gumbo
serves 4-6 depending on the serving size
adapted from Disneyland's official Blue Bayou Gumbo recipe
Ingredients:
1/4 cup + 1 tablespoon non-dairy margarine
1/4 cup + 1 tablespoon all purpose flour
3/4 cup small diced celery
3/4 cup small diced onion
5 1/2 cups vegetable or no-chicken broth
1/2 cup uncooked long grain white rice
1 15 ounce can diced tomatoes, drained
1 1/2 cups sliced okra, fresh or frozen
pinch white pepper
pinch cayenne pepper
pinch filé powder
salt to taste
Directions:
1. Melt 1/4 cup of the margarine in a large dutch oven over medium heat. Add 1/4 cup of the flour, and whisk constantly until the mixture reaches a medium brown color. This can take up to 10 minutes.
2. Add the celery and onion to the darkened roux, and stir the vegetables to coat. Stirring often, cook the vegetables until they begin to softened, about 5-7 minutes.
3. When the vegetables have softened add the remaining ingredients. Bring the mixture to a boil then turn the heat down to a simmer. Cover the gumbo, and allow it to cook for 20 minutes.
4. While the gumbo cooks, combine the remaining margarine and flour together in a small bowl. I find it easiest to use my fingers to completely incorporate them.
5. After 20 minutes check your gumbo. The rice should be totally cooked and soft. If not, cover the pot and cook the gumbo for another 5 minutes, or until the rice is done.
6. When the rice is cooked through, stir the combined flour and margarine into the gumbo. Keep stirring until the soup has thickened.
7. Salt the gumbo to taste and serve it immediately.
Pin it!
Let's be friends! on Facebook, Google+, Pinterest, Bloglovin' & Instagram! You can also get Lay The Table posts delivered right to your inbox by using the opt-in option on the very top of this site!