Great Pumpkin Cookie Recipe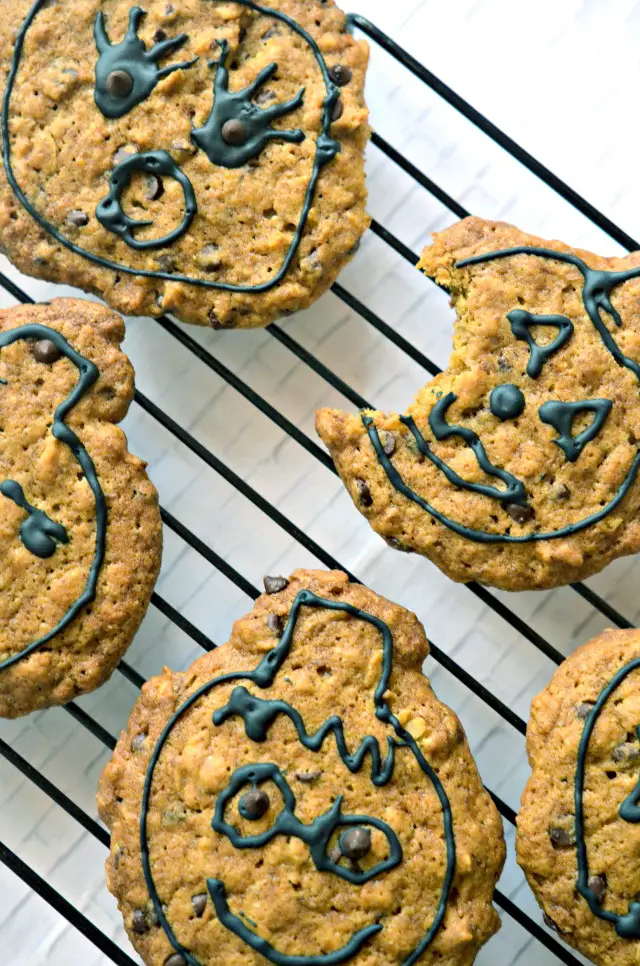 Isn't October just the best? We're only a few days in, but I feel like it's basically Halloween already. I spend all year waiting for this month, and when it gets here I freak out because I feel like it lasts for like a day. We're doing our best to get in as much Halloween fun as we can!
In our house, that means many things, including tapping into my love of the 80s.
Let me rephrase. It inspires me to extra tap into my love of the 80s. I pretty much live in an 80s way every day anyway, but there's something special about 80s Halloween that gets me.
I just can't get enough. The decade had the best spooky episodes on TV, and my some of my favorite kid Halloween movies. Teen Witch, E.T., Beetlejuice, Ghostbusters, the list goes on.
It actually wasn't my favorite holiday until I realized that I could focus on kid Halloween, and ignore the stuff I didn't like. I mean obviously, right? Halloween is the best when you're a kid. It's so exciting to dress up, go wild, act a fool in front of your neighbors, and then go home to eat candy and pizza while you watch movies. Like, that's honestly what I want to do all October long.
Because I'm extra, I take this appreciation almost a little too far. Like, I love putting on retro Halloween commercials and searching for era-published recipes. Especially recipes like the one above. Cute and old and pleasantly cheesy (noochy?). This adorable recipe kept popping up in my searches, and it caught my eye for clear reasons. I believe it was originally published in The Great Pumpkin Cookbook from Libby's in 1984. Well obviously I had to veganize it.
This isn't the only 80s recipe that I've veganized, so I was a little concerned about how these would come out. The 80s was a weird time for food, and these are pretty old school. But you know what? Sometimes old school really = timeless. Man, these are SO good. They're soft and chewy with a pumpkin flavor that isn't overwhelming. The only spice added is cinnamon which means that these are pretty universal. Pumpkin spice haters would have no problem enjoying these. They're kind of like really delicious oatmeal chocolate chip cookies, but they have a clear leg up being pumpkin-shaped and all.
This one is going on record as one of my top 5 favorite Halloween cookies. It's hard to crack that list, but dang these are good. Give them a try for yourself. And put some retro Halloween commercials on YouTube while you do it. You'll feel just like a kid in the kitchen again. And since the dough is egg-free, you can sneak a little taste.
Lay The Table: 
  
Get my book!
Includes:
15+ cozy and delicious fall-inspired recipes (like Pumpkin Pie Almond Milk)
Helpful tips to make this your best fall yet
Step-by-step instructions to ensure that you don't miss out on any of your favorite fall activities or pastimes
Guides to celebrating Halloween and Thanksgiving the vegan way
Immediate download so let's get planning!
print recipe
1 cup all-purpose flour
1/2 cup rolled oats
2 tablespoons ground flax seed
1/2 teaspoon baking soda
1/2 teaspoon ground cinnamon
1/4 teaspoon salt
1/2 cup vegan butter or margarine, softened
1/2 cup packed brown sugar
1/2 cup granulated sugar
1/2 cup pumpkin puree
1 tablespoon water
1/2 teaspoon vanilla extract
1/2 cup vegan mini chocolate chips
1. Heat your oven to 350ºF and line a large baking sheet with parchment paper. 2. In a medium-sized mixing bowl, combine the flour, oats, flaxseeds, baking soda, cinnamon, and salt. Set this aside. 3. Using your stand mixer or a handheld mixer over a large mixing bowl, cream together the vegan butter and sugars until they are incorporated and fluffy. Add the pumpkin, water, and vanilla extract and mix thoroughly to combine. 4. Pour 1/3 of the flour mixture into the butter and sugar, and use a wooden spoon (or a strong spatula) to completely incorporate the ingredients. Repeat this with another 1/3 of the flour mixture, followed by the last 1/3. At this point, you can fold in the mini chocolate chips. Your dough should be wet like a chocolate chip cookie dough. 5. Scoop 2-3 tablespoons of dough onto your prepared baking sheet, and, using wet fingertips, shape the dough into something resembling the base of a pumpkin. Take a little more dough and add it to the top of the base, and shape it to look like a stem. This all is a lot easier than it sounds. Repeat the process with the remaining dough making sure to leave at least 2-3 inches of space in between. These are definitely spreaders! I'd only do 7-8 at a time so you'll need to bake in batches. 6. Bake the cookies for 22-25 minutes, until the edges start to brown. Allow the cookies to cool on the cookie sheet before transferring to a wire rack to cool completely.
7. Once the cookies have totally cooled you can decorate them however you like. Vegan gel icing, vegan royal icing, peanut butter, melted chocolate, whatever you want! Once they're decorated you can store them in an airtight container at room temp.
Pin it!
Let's be friends! on Facebook, Pinterest, Bloglovin' & Instagram